T

he perfect successor to the incredible Sweet Vengeance. The band is surely here to stay.
Descent Into Chaos is the new album by the new Greek/Swedish band Nightrage. Forming from the ashes of the Greek band Exhumation, mastermind Marios Iliopoulos went to Sweden to form a new band and along with his friend Gus G joined forces with the legendary Tomas Lindberg (ex-At The Gates). This is their second album after 2003's incredible Sweet Vengeance. Michael Stanne from Dark Tranquillity is the guest musician and does vocals for parts of some songs where clean vocals are needed.
Fredman has done another miracle and the production is crystal clear with the decent sound such album would need to have. Music wise the album is in the same vein as it's predecessor and we once again have a melodic Swedish Death metal album full of maiden like melodies from the guitars and sharp guitar riffs with aggression and feeling at the same time. Tomas' vocals need no comments at all, the guy carries on his back half of Sweden's Death metal scene and his influence to so many singers is uncountable. His voice is a trademark and a guarantee. The new drummer of the band is doing an awesome work, Fotis (ex-Septic Flesh) surprised me a lot with his playing, not that I didn't know how much of a great drummer he was, but his playing on such music style is the best these songs need. Trying to judge Gus G's performance on the album would be pointless. The guy is a phenomenon and I don't have to praise him in this review, there are many others who have done that better than me. We all know what this guy can do and his approach on the songs is amazing.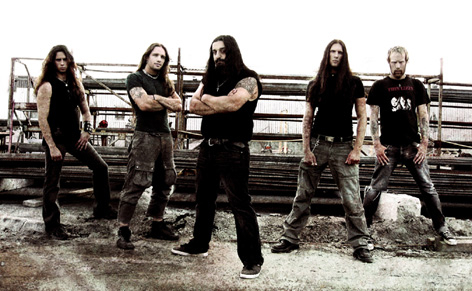 Marios has written some really good tunes once again and his band shows a more mature face both composition wise and performance wise as well. "Being Nothing" which starts the album is one of the best songs of the album and the power and aggression of this song are presenting the trademarks of the band's sound. "Phantasma" is another killer song and "Poems" which follows is in the same high standards. The self title song of the album "Descent Into Chaos" is among my fave songs of the album. "Frozen" is another highlight of the album with Stanne's clean vocals exchanging lines with Tomas' spitting voice. "Omen" hits you from the first second, a very powerful song, a great death metal song the Swedish way! "Release" slows the tempos a bit and Foti's drumming is spectacular. "Solus" is a nice instrumental song with some amazing melodies thrown in and great Gus' solos. Last song of the album is "Reality VS Truth" and is another diamond in this album.
In general Descent Into Chaos is the perfect successor to the incredible Sweet Vengeance. It might not be that perfect as the first album but it follows very closely and there are some of the best songs Nightrage have written so far in this album. Marios is on top form and he and his band is the next big thing coming from Sweden. The band is surely here to stay and we should expect more from them. Our expectations are high from now on and I am sure these guys won't let us down.
rating: 8.8/10
---