21:00 punctual. The energetic quartet from Milan takes the stage among lively approvals: the Swiss crowd gives to them a very supportive welcome. But this is just the hors -d'oeuvre, 'cause Exilia start off with such a resolute intensity and such a self-confidence that actually you remain there with big eyes amazed. Adrenaline runs already during the first song Coincidence. Masha's vocals appear at once to be mighty, angry and unstoppable. Her stage acting is flawless and dynamic , supported by a vigorous sparkling drumming and by an irreproachable concordance of strings. Masha's headbanging and determination is impressive, their music impacts more than well: their strong Hard Rock mixed with Modern Metal elements and Crossover ones doesn't disturb the presumed Gothic/industrial oriented spectators. First of all, Oomph!'s music is for Dark and Gothic Rockers with blood, second of all we have a more varied audience than maybe foreseen, so many directions and taste from Rock and Metal converge here. Therefore Exilia find their Swiss admirers, and, at the same time, raise the general interest. The first applauses burst out sincere after the first song . "We are Exilia! We are really happy to be here, my friends of Switzerland!" says Masha thankful.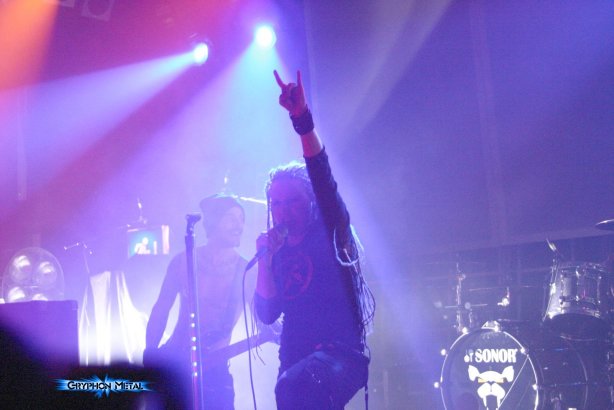 But immediately is music, is maximum Rock at once with Invincible and the well known Underdog. Horns up! Warmth! Assault! There is no weak moment. Masha masters the stage and modulates her voice how she wants among shouts, screaming's , lower rasping timbres and melodic tenderness with passion and self-involvement. Exilia are simply a vortex of energy. The only one who appears more delicate and gently goth is guitarist ElioAlien who represents a nice contrasts with the power of his three mate fellows. Another important thing, always concerning Masha, is that you can clearly see that she fully believes in what she's doing, in what she's singing. The angriness , the emotion, the will to transmit a message is authentic, and it's the more natural thing when she takes a guitar, when she jumps, when she bangs involving her whole body, when she sings from the depth of her throat, when she feels an emotion and whispers.
"Keep in mind these words...Stop... playing...god!!!" And the successful track , included also in a preview trailer of a famous German television, resounds in the venue with its strong sonority, a bit Korn -like, full of temperament, always supported by the vigorous drums. The crowd has total fun, gets pumped up, and so much that the announce of the last song is really hardly accepted. The withering show ends with Where i'm wrong, an interesting communicative song with pathos. During a suitable extended musical bridge the band is presented by Masha, who is not Britney of course! and Exilia kicks ass, able to excite the effective, demanding, down-to-earth Swiss blood. In few words: a success!
setlist
COINCIDENCE
INVINCIBLE
UNDERDOG
STARSEED
MOONY
DAY in HELL
STOP PLAYING GOD
WHERE I'M WRONG

21:45 The stage is completely re-set, while Exilia's energy still flies in the air. And of course everybody, completely tonified , is aiming to see the band of Augen auf! In particular in the German speaking territories the single Augen auf has quickly become a chart-assaulting track. Hard and perfidiously catchy, Augen auf has been and still is a winning hit. Oomph! finally deal with the great reward of their career. The first rows are in a seventh heaven, eager to see live Dero, Flux and Crap. Everything gets ready very soon. A screen panel hangs on the background wall.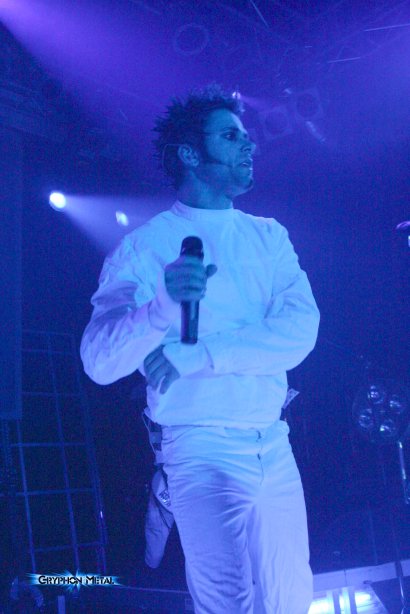 Around 10:00 lights fade off, people shout almost hysterically. In a surreal picture Flux, Crap, live bassist and drummer take position, dressed completely in white like an hospital staff. Tausend neue Lügen intro , unmistakable for all who knows the new album Wahrheit oder Pflicht. Questions of few seconds and he arrives acclaimed: frontman, singer and lyric writer Dero. Dressed in white as well, but like the crazy patient, his shirt looks almost like a strait-jacket. He impacts with his inspired craziness launched on the wave of the propulsion for Tausend Neue Lügen which opens the show. It is immediate singing along! Flux serious and concentrated, Dero tormented and sensitive, Crap almost hieratic. Among chorus , hands that clap and the communicative vocals from Dero, the first song goes away lik e in a dream, letting at its place the more theatrical Wenn du weinst and its tears. "Hier voller Sehnsucht" and the venue sings a long "Sehnsucht" ! A word that becomes a motto. "wie viele Tränen hast du" is the question asked with a passionate pain and the audience gets rapidly in passionate rapture, while Crap remains nearly impassive. At the end of the song the microphone is directed to the audience that sings: this is a thing that Dero will do very often during this gig, cause Dero sings for and WITH his fans. General enthusiasm and banging and jumping in the first rows for Viel zu tief. Stroboscopic and cold neon lights give a total icy scary psycho dramatic atmosphere . Surgical lights that suggest afterlife of our souls, if there is one. Hammering, implacable, jumping, rotating around themselves Dero and Flux, supported by the general soundscape, undertake the path of craziness and bitterness wit feelings through songs like Unsere Rettung, Fieber, Burn your Eyes, Keine Luft mehr. Psycho fear that gives us the doubt of life , of love and religion, a fear that invokes an help. With this impression, but also with much fun, we reach another track of the new album: Dein Feuer, followed by Mitten in's Herz. And finally "Sex hat keine Macht. .. küss mich noch ein letztes Mal...". Fantastic response. Good guitar solo. Dero leans forward, towards his audience, bass sounds that daze. Dero walks erratic , jumps on the case that prolongs the stage till the gate. The images on the screen run behind and over the band " you can start from.. WHERE I END!" we have approached Supernova. Total sing along .
Dero gets a bit ironic with Feiert das Kreuz, while he becomes like a poor broken clown in Das Weisse Licht, angry, extrapolated, dramatic, under the terribly psycho vibes. Das weisse Licht is surely one of the most magic moments of the concert and one of its undisputable highlights. Gekreuzigt, Dein Weg, and the melodic Niemand follow.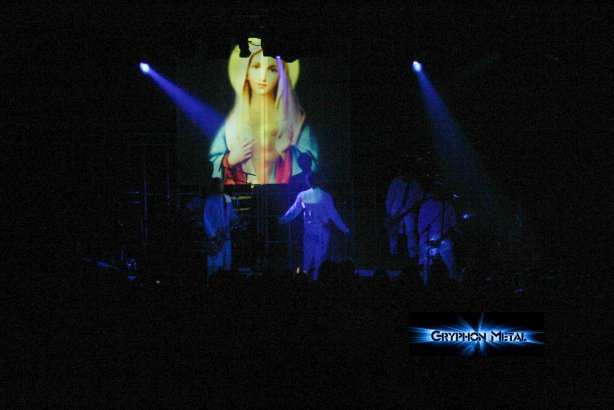 And it is during Niemand that Dero does his third stage diving, promptly restrained by the security, but sufficient to deliver Dero to the arms of his passionate fans ...
11:20 the show should be finished, but the encore is unavoidable and highly acclaimed, and indeed the band doesn't make us wait too much. Shortly after having left the stage, the band appears again, visibly satisfied. Shouts, joy, arms stretched, applauses. A kind of triumph or better said pre- triumph cause the audience now wants, wants and wants Augen auf, for the final rite. But no, it's still not time: the video images speak us about Frankenstein and his crazy experiment: it's Brennende Liebe, the bright new single. Es lebt! yes the girl animated in this experiment lives. The final is ..a strange love! We are all pleased to get this song and video almost simultaneously with the release day (it is out just since the day before yesterday). But now, yes, it's the pick of the show, the screen shows the well known children protagonists of the video clip. The venue is an unison pounding chorus "Eckstein Eckstein alles muss versteckt sein" , " eins zwei drei vier fünf sechs sieben acht neun zehn!" and it's apotheosis at the Rohstofflager.
AUGEN AUF...ICH KOMME!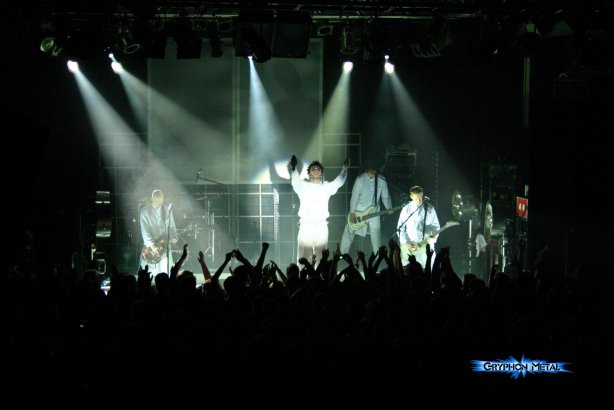 The song is a hymn and when it finishes among warm acclaiming, the bands knows well that the moment to stop is still rather far. Though at 11:30 the band leaves the stage, the audience calls another encore, with ola waving's. The bands come back and offers a last song Willst du frei sein?; after the final greetings to a warm and extremely appreciative pit, the band goes with exception of Dero! Dero still remains delivering a short medley with only his pure vocals and no instruments at all, closing with the immortal " you were always on my mind...you were always on my mind"