T

he search for an atmosphere full of darkness but characterized by a powerful and more original sound

The return of Poisonblack sees the light after 3 years from the debut album! I admit that this cd is much more better than the previous one, both for the quality of the songs and also for the sound!!!

Without doubts the band abandons the love-metal shadows of the debut Escapextacy, it's evident the search for an atmosphere full of darkness but characterized by a powerful and more original sound!

The vocalist is Ville Lehiala , and of course he shows the already known style that can't but remind of Sentenced!

There's a shadow of Sentenced in some of the songs of this album, but in my opinion Poisonblack shows better ideas concerning the music in comparison with the latest Sentenced albums; The guitar riffs are various and at times the band is able to create a gothic-dark atmosphere using a very powerful guitar style that sometimes goes to nu-metal and death!!!

The passion of the band is into songs like "The darkest Lie" that is pure symbol of the essence of the band: Deep, powerful, obscure!!!!

In this song there's a great atmosphere characterized by a perfect structure made by a very good drumming , a dark piano and an involving guitar riff….without forgetting the good vocals!!!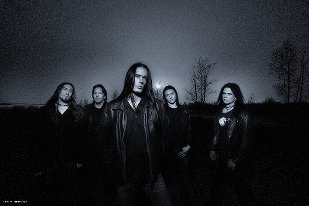 "Nail" is another pearl in which the band finds the same elements and the great groove; Still another unforgettable one for all dark-metal fans!
Another unforgettable song is "The living Lie" that closes the album, in which , again, the great melody makes of it another involving song for all those who need a powerful music full of feeling!
There are a lot of agreeable songs that can't but be appreciated by all those who would like to listen to a kind of new Sentenced; "Hollow be my Name " and "Love controlled Despair" are good songs made by great melody and great guitar riff! There's also the nice ballad "Pain becomes me", an acoustic song in which the band is able to find a fair depth!
There are a couple of not great songs like the "Never enough" that seems not to find a good groove and it's evident that was composed without the right inspiration and also "Nothing else remains", which is the title track….a song without that passion which otherwise characterizes most of the songs of this album!!!
It's important to underline the great production, in which I notice a perfect arrangement characterized by a great sound made concerning drumming and a wonderful guitar distortion!
Much more better than the début album….
rating: 8/10
---