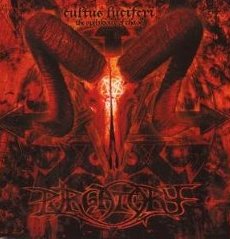 Realm of the Vortex
Chaos Aeon
Ruler of the East
Forbidden Wisdom
Red Prison
Hammering the Nails - Vengeance of the Damned
Pits of Utumno
Burial of a Plague
The Enemy within
All music created by Purgatory, except "Pits Of Utumno", originally performed by Morgoth. All lyrics by Sick and Purgatory, except "Pits Of Utumno" by Morgoth.
Dreier - Vocals
René - Guitars
Peter - Bass
Lutz - Drums
Guest appearances: Onielar (Darkened Nocturn Slaughtercult), Martin van Drunen (Asphyx/Hail Of Bullets), Wannes Gubbels (Asphyx/Pentacle), Marc Grewe (Morgoth), Bernd Korades (Korades).

PURGATORY: "Cultus Luciferi - The Splendour of Chaos" purgatory

Recorded and mixed at the end of 2007 by Bernd Korades in Halle/Saale. Engineered and produced by Purgatory and Bernd Korades. Mastered by Patrick W. Engel at "Temple Of Disharmony" in January 2008.
All music created by Purgatory, except "Pits Of Utumno", originally performed by Morgoth. All lyrics by Sick and Purgatory, except "Pits Of Utumno" by Morgoth.
Cultus Luciferi - The Splendour Of Chaos" Digi 2008 (limited to 1000 copies) / LP (with poster, limited to 500 copies) 2008
---
Tame this fury for your delight!
The German Death Metal horde Purgatory strikes back, and again the band opens a gateway to Inferno. Fortunately unrepetant, in spite of 2 changes in the line-up, Purgatory celebrate, with this recently released (on May 30th 2008) fifth album, a kind of sequel of their formidable work "Luciferianism" (2004). The titles disclose a subtle evolution: from a dynamic Luciferianism we reach now the persistence and evolution of a "cult". A cult for an uncorrupted music with a lot of technique and care in the sound, this time with much groovy fashion. The album Luciferianism was already a great piece of brutal uncompromising tracks tainted with blasphemy and unrestrained flaming force. Now Cultus Luciferi establishes the certainty but also the modernity and ability in composition of Purgatory in the European Death Metal scene (just see the billing of the FTC XI and Party-San 2008).
Once more open to Black Metal influences , still tied hard to the genuine patterns of Death Metal, Purgatory reveal a new freshness. Vocals are varied with solid growls and plumbed evil shrieks. The sound is well structured with a valuable harmonization of the guitars; all in all the pace of the album is fast nonetheless there are often tempting moments of abyssal midtempo's ( practically always counterbalanced by the persistent drum speed) and thunderous violent flagelling launchers. It is the art to transmit the concept of demolition, of wipeout, of that kind of eradication that gives birth to new essences and new substance. Therefore Cultus Luciferi is everything else than blind brutalism: indeed, starting from the track number 4 Forbidden Wisdom, the album prospers with tracks infused with attractive hooks and loops, with a logical structure of composition that can be appreciated immediately, because the explosive frame doesn't hide this structure, which is, on the contrary, emphasized. In this way, after three good fast tracks that pave the way in a quite known way, the listener is surprised and unholy beatified by five songs that are simply a blast and that represent a very positive evolution in the style of the band.
Forbidden Wisdom is bulldozing, multilayered, true roaring headbanging possession with incredible chords, staccatos and a fast cadenced drive. A true pleasure for brain and body. A killer that will raze every pit.
Then, when the track number 5, Red Prison, attacks us, it's clear that the album has definitively taken an outstanding direction. Red Prison is able to give everything: hammering rhythmic flow, varied structure of the string who cuts both blunt and sharp , blast beats, rabid loops and reverberation, brutal yet harmonic decelerations. Hammering the Nails has something gloomy that invites to a trance state yet the percussive whipping scourge to active ecstasy breathlessly. The cover Pits of Utumno gets a little touch of atmospheric panache, a great work of the rhythm session and the presence of lead guitar sound. Burial of a Plague is an evil implacable fiend.
A tempest of blood and nihilism is the personality of the closer The Enemy within, a bit too nervous outburst with a fading away outro that leaves behind a short but intense sinister industrial-like gloominess with a brief statement: "This is the age of Satan, Satan rules the Earth".
If the 3 initial tracks would not be somehow predictable, i would rate this album a ten out of ten. Anyway Purgatory, with this Cultus Luciferi, deliver a brilliant work in Extreme music.
If you are strong, buy this album and tame its hot fury for your delight!
Rating: 9,8/10