04-05/10/2002
review by Dalia "gryphon_spirit", pics © by Stefan "absolut-evidence" Vogelaar The public use of these fotos (© by Stefan "absolut-evidence" Vogelaar) is strictly prohibited without written permission.
---
TOUR BLACK SUN UNITY 2002
GIG AT Z-7 IN PRATTELN (CH) - 02/10/2002

with
RAGE
PRIMAL FEAR
19:30 h Here we are again in the Swiss Rock/Metal cathedral Z -7 in Pratteln for an event of primary importance: Rage and Primal Fear play together in Europe the "Black Sun Unity Tour" and obviously Pratteln is a traditional stage. This evening we have the occasion of seeing the "Peavy" + Shepeerds concert, this is to say the opportunity of seing in action two great live bands: an opportunity that all metalheads should grasp as soon as possible. The venue is good crowded, and, while we are taking the last agreements for the interview to Primal Fear, i'm noticing that the first rows begin slowly but inexorably being occupied. Rather used as i am to late beginning shows i'm wondering who's happening, which band is going to play now? So i almost don't believe that...
RAGE
www.rage-on.de
our CD review
...that some minutes before 20:00 h o'clock lights already dim and the presentation for Rage is beginning. The lightshow is giving its touch of surreality. And after the presentation of the 3 Rage members a voice tells us loudly
PREPARE FOR POWER OF RAGE!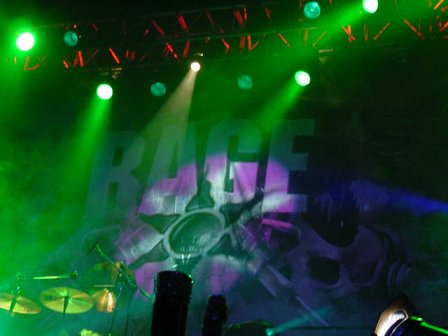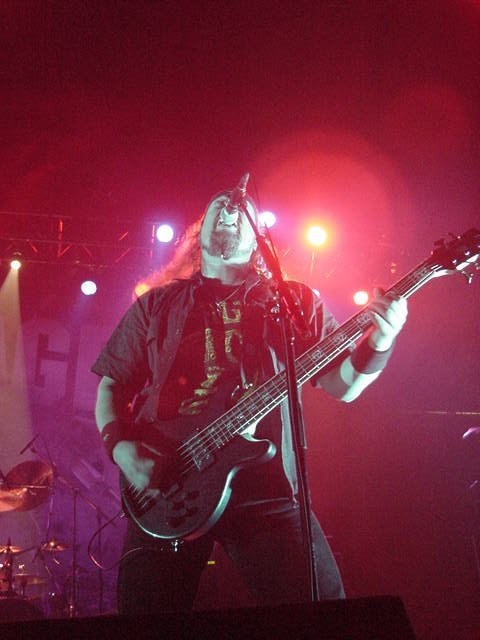 "Peavy" Wagner, Victor Smolski and Mike Terrana , whose album Unity i have reviewed with so much pleasure last springtime and whose career i admire, are there on the stage! Finally i can see them live! Eh yes it's an emotion, but i understand very soon that with Rage every thought, emotion and remind are immediately swept away by a megacharge of involving good mood and positive energy. Peavy Wagner has a wonderful entertaining attitude and quite at once everyone can get the impression that he will never let his audience alone, accompaning its show with a lot of personal interest towards his fans, smiling at them, cheering them on, speaking to them, like he would embrace and "set on fire" the whole world .
Opener of the gig is All I want from their last album Unity, no wonder cause this song is the opener of the cd as well and a perfect one. With the first enthralling notes of All i want the ice is quickly broken and the audience begins to show how much welcome Peavy's band is. The drums which open All i want have already sounded awsome like an invitation to a big meeting, but, during the proceeding of the song, i am simply astonished in observing the self confidence, the vigour, the strength and above all the precision and the virtuoso capacity of the 3 Rage members. To tell the truth i imagined it, but one thing is to imagine, another thing is ,on the contrary, to experience it in first person. After All i want it follows Paint the Devil on the Wall and then it comes the moment for the greetings accepted with enthusiasm by the Z-7 audience "es ist schön hier zu sein!" (it's beautiful to be here!) is saying Peavy just before Insanity is proposed. And with Insanity and its catchy but not easy notes the audience knows 100% for certain that not only Peavy, but Victor Smolski and Mike Terrana too are in a very good shape.




"where are you going? you're goin'....? and everybody is answering "down!" no, Peavy wants to hear it much louder, so again he asks "you're goin..? " "down!" Ah not enough satisfied! "you're goin?...? "DOWN!!!" ah much better! and Down can begin wit its conquering heavy chords, involving Power proceedings, persuading stop-starts, and the impact is formidable. Ovations . Peavy showcases brilliant entertaining qualities and is really pleased about his fans throwing himself in a speech where he is underlining how much important is the atmospehre "die Stimmung ist wichtig! und jetzt eine schöne ballade für euch!" The flames of the lighters dance on the sound of the first melodic, acoustic -like and catchy notes of Set this world on fire, in the darkness. Peavy says "merci", but the tempo change very soon , lettin start a powerful, anthemic rhythm. Lighters are switched off, it's better going on banging heads now! I can watch very good Terrana now, while he let whirl his sticks in the air catching them fast , without losing one single beat.With his extreme self confidence is mastering drums in a resolute way and the sound coming out is good round, never too sharp, never too high. In the meanwhile Victor Smolski's virtuoso moments begin to be countless.
"Straight wohin?" "(straight towards..?) is asking Peavy. Oh damn "...Straight to Hell" !! Peavy is mentioning that this song is included also in the soundtrack of the german successful movie "Der Schuh des Manitu - extra large- " and however Straight to hell rocks a lot live!





The audience is enthusiastic and good mooded, the quantity of energy in the air is high, the right moment for Peavy to present his band has come: so "from Belorus Victor Smolski". Applauses and applauses! From United States of America..Mike Terrana! Applauses, applauses! And who presents Peavy?, yes it Victor " from Germany Peavy Wagner!" Applauses, applauses and applauses! Really sincere are the approvals and everyone is very pleased. And you know, this success is really big cause the audience at Z-7 is highly demanding. On the wave of these emotions Peavy & Co. shoot another Unity song, and indeed Unity itself, a track that i would have never supposed it would be presented live: a completely instrumental song which has divided the opinions, but that sounds great anyway with its difficult passages and sometime experimental schemas. A song that cannot be easily proposed if you are not Rage, this is to say being able to master it with ability but also with a big quantity of sympathy and capacity to be loved and fully accepted by the audience. cause this track is requiring attention from those who play as well as from those who listen to it.
20:36 h Terrana's great solo begins, Peavy and Victor leave the stage , the spotlights are directed only to this formidable drummer, that till now has powered the band with such impressive strength and accuracy . Methinks we can say that Terrana is absolutely one of the greatest drummers of the metal scene. Greeting the audience with a "guten Abend", Terrana starts proposing a show of first class. A complete solo with every kind of percussions and every kind of virtuosism is developping in front of us minute after minute. Evryone is enjoying the cymbals shoots, the double bass drums, and in general all strokes coming from every part of the drumkit, bounded by a kind of music structure. While drumming, Mike doesn't miss the occasion to speak again and longer to the audience, in a funny and agreeable way, so that the drums tension can be tempered by a smile "me, the sexiest drummer of the world! hehhehe " or "ihr seid ein geiles Publikum" or, even better, when he starts singing the universal known words of the italian classic evergreen Volare- oh yes i'm happy (and italian! wow!) so volare!! oh oh oh oh - cantare oh oh oh oh- and again - volare, cantare! - well please Mike next time add at least the second verse - "nel blu dipinto di blu!!" - but anyway great! and all this lighthearted - volare, cantare - has a meaning, cause Terrana prepares a tremendous final asssault "it's time for me to destroy"- . And we let's try to survive!! and indeed a furious drums- burst makes almost quake the stage. 20:47 h the solo ends among the general enthusiasm while Peavy and Victor appear back , being clearly so happy to have such a great drummer in their ranks. Methinks that at Rage's home noone is envy about the capacity and the success of hte bandmates, so that everyone finds his space, his place and his individuality within the group. Have you noticed however? Terrana solo was 10 minutes long, 10 minutes of maximum energy after having on the shoulder already a lot of songs powered with the same vigour!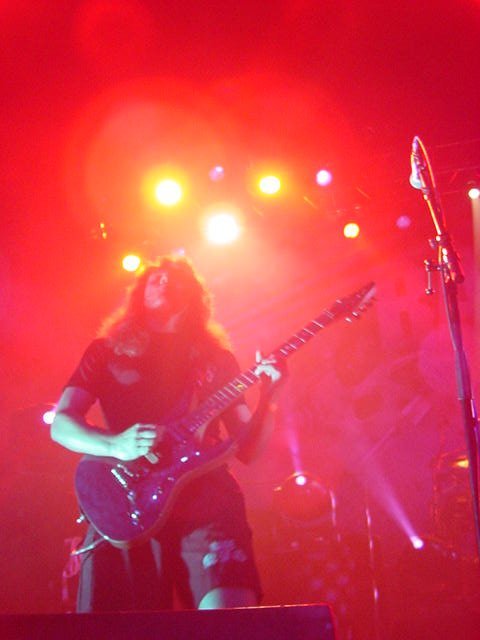 The band goes on now with From the Cradle to the Grave, followed by another great moment: Victor Smolski's guitar solo track. He is proving that he is with his guitar as cool as Terrana is behind drums. Chords are changed with unbelievable agility, sounds are produced more or less distorced, strings are plucked ,percussed, played in every way. No wonder, considering how young he was when he learned to play guitar (after piano and cello) so that at the age of 11 he reached already a professional level. Incredible, incredible. Not mentioning all work he has done together wit h his father. well i'm astonished. And this for good 5 minutes.




Again the whole band is on the stage proposing now the monumental Dies Irae . Hymnic, impressive, dark, mighty. Followed by Peavy's question" Spass gehabt?" (had you fun?) Yes!! We had a great time and we can get enough hehhhe! Before going Don't fear the Winter is played for the headbanging joy of their fans. But obviously the encore is acclaimed, and coming back Rage propose a wonderful track , which is fascinating everyone: Higher than the Sky. A chorus of fans is singing together with Peavy
Higher than the sky, we're
Higher than the sky

Like an arrow in the air
Falling endlessly
And I know we're gonna be

Higher than the sky, we're
Higher than the sky
Simply fantastic. In my Unity review i wrote "I am sure that this new stuff will work superb live". Now i am sure that Rage, nevermind how new the stuff is, play superb live.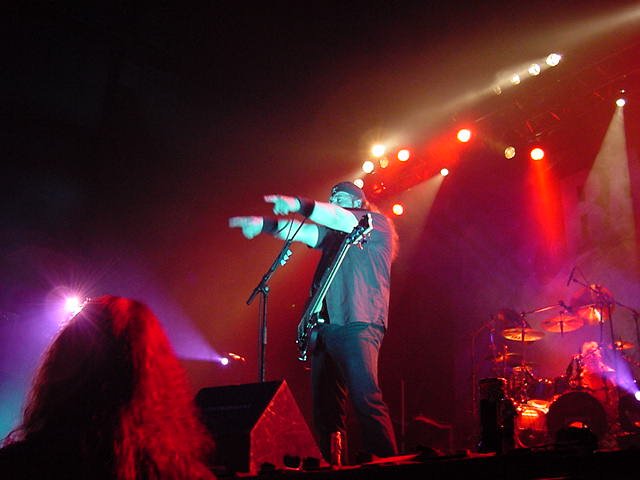 ---
PRIMAL FEAR
www.primalfear.de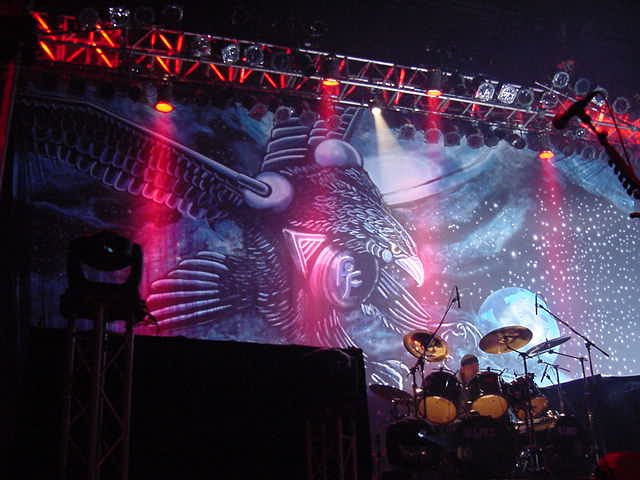 21:46 h and now the iron eagles fly! Intro, blue lights and a little smoke are announcing the German Metal Commando . Solid beginning for them, who , the one after the other, appear after a short pyrotecnic effect playing the sharp opener Chainbreaker. The heavy and anthemic riffs of this song recharge the energy of the audience, that maybe is still thinking of Rage. Though there are surely some musical connections between the two bands, the atmosphere is standing out very different, thing that is very positive for the whole show. While Rage provided for incredible cool songs flavoured by a dose of good mood and entertainment, only veiled by a little bit of nostalgic feeling in the background, now with Primal Fear there is a kind of deep seriousness in the air. The eagles appear at once to be very pleased for being on the stage and showcase a high mobility and energy, but one notices immediately that their ranks are closed: concentrated, heavy and solid. But it's clear: one cannot sing about missions, black suns and armageddons with too many smiles on the lips. It wouldn't be believable. And on the contrary Primal Fear appear very conscious of the meaning of their music and this is a damn good music, a Metal of first class, one of those mixtures of Heavy and Power i really like. Primal Fear are very convinced in giving not only a concert but a feeling, an experience. a fly into another dimension, and not with psychedelic notes but wit their lyrics, their strength and their concrete, massive proceeding. Ralf Scheepers appears surely less relaxed than Peavy, but this doesn't influence his vocals which sound mighty and (ah sigh of relief) not excessively high, supported by the backvocals of bassist Mat Sinner. And now it's the turn of Black Sun.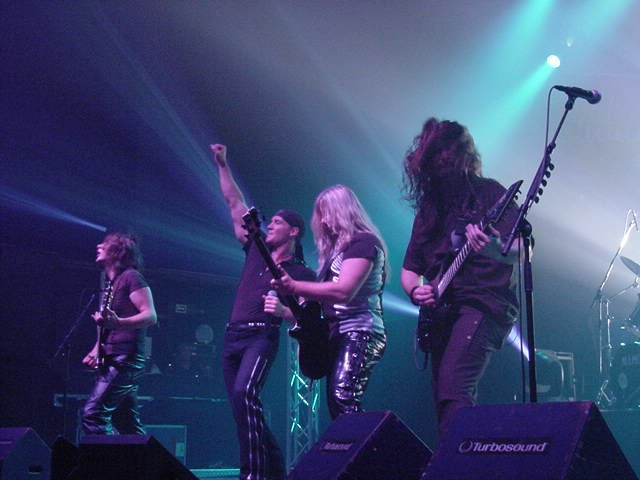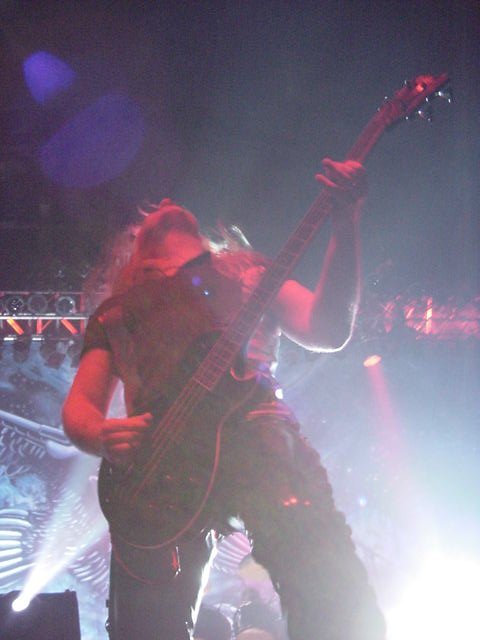 The more they play and the more is clear how much important is the role of the 2 guitarists Henny Wolter and Stefan Leibing who are supporting the riffs with cleverness, headbanging a lot, and throwing on those guitars so much work, while Mat Sinner , though playing his bass in no sensational way, is supporting punctually the rhytmic soundscape, being also an important point of reference for the whole band, without mentioning his contribution to the vocals. Though being still very impressed by Terrana's performance i don't forget to observe drummer Klaus Sperling and can realize that is fully up to the task anyway. And this impression of having in front of me one of the best metal band in their genre is confirmed by the performance given during Mind Control, where Scheepers throws also a wonderful final high note, and during Running in the Dust, song which is preceded by Scheepers' question to the audience "ist es zu leise?" . (are we too silent?) . Always during Running in the Dust the flames lit in the 2 braziers set on the sides of the stage and the anthemic mid-temp fill up the air.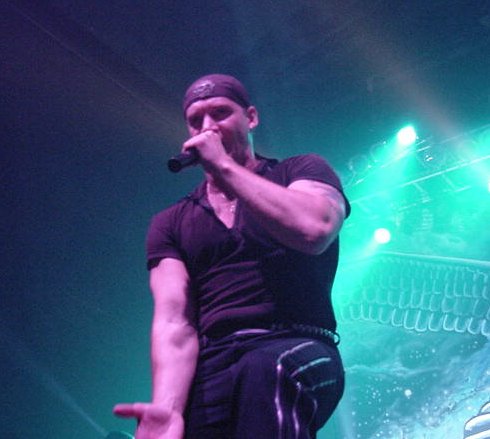 The presentation of guitarist Henny coudn't be missed: he greets us all and asks " wollt ihr gitarre spielen? mit mir zusammen? (do you want to play guitar with me?) . Eh yes! if i only could!! hehhehe and the general opinion expressed by the audience is "Jaaa!" Ok, so for more than a minute we are pleased with a thick shower of angry distorced chords and hard starts - stops. The band comes back on the stage among a lot of applauses. This moment is the ideal frame for Under your Spell, followed without any break by the more power oriented Silver & Gold. And we go on with Eye of an eagle and Nuclear Fire. In all this time the splendid guitars fill every possible music corner . So obvioulsy Leibing too is presented and he too is gifting us with an one -minute- long- virtuoso solo.


The show goes on then till one of the top moment of the evening is matched: and precisely when the stage is assailed by rays of cold blue light, which stand out in the darkness. The bands stop in order to stress more the song it will be presented: a dark, surreal atmosphere is prepared for Tears of Rage, a fantastic slow and hard ballade, incredibly impressive with its initial pauses, and its keyboard background. The performance is absolutely excellent and mesmerizing, Scheepers' voice is mastering a super song, which has so much sadness inside and a tremendous melodic heaviness, dispersed only by high tuned guitar riffs, which counterweight the bass rhythmic strokes . Ovation and ovation, and it couldn't be otherwise. Tha band thanks saying "ihr seid super!" (you are super!), but super have been Primal Fear for sure, congrats. I would have stopped time for a moment, damn cannot we make a backward like we are doing with our Cd's or tapes? And on the "iron wings " of this success the hit Armageddon, from the last work Black Sun, follows. The first work and the last production meet and shake their hands.
Now every members of the band are presented by Mr Scheepers, who keeps a valuable shout for Mr Mat Sinner, and it's Sinner who presents Schepeers among the general approval. And it's not the end , cause Scheepers performs a succession of vocalisms, repeated by the audience, just in order to roar finally the title Final Embrace. Like an angel in black we are reaching the acclaimed last part of the concert in which the best songs proposed are Living for metal and Judas Priest's Metal Gods. The pushing , catchy , overwhelming, rocking, breathless, heavy-metallic Living for Metal becomes the better monument that Primal Fear could do in honour of the Heavy/Power and of this fantastic Black Sun-Unity evening. And me, dark as i am , i see myself standing here moved and touched by this hymnic track , trying to hide a little tear
Living For Metal - You Keep Us Going
Living For Metal - We Hear You Roaring
Metal Is Our Life
The German Metal Commando ends its show with the Judas Priest masterpiece Metal Gods, played really very well, and, above all, proposed with a modern soundscape. Nevermind how beautiful this song can be, unfortunately it is actually no more that enjoyable nowadays in the old original version. But this evening it achieves a kind of up-to -dated fresh incisiveness. Finally the well deserved applauses for a great show : though Rage were more self-assured, granting for a lot of experience and top virtuosisms, the less extrovert Primal Fear have defended very well their image on Swiss ground anyway. Fly eagle, fly! cause we are ...living for Metal...
They Were Comin' To Our City
With A Wall Of Energy


This Heavy Sound Has Got Into Our Veins
Living For Metal...
review by Dalia "gryphon_spirit" Di Giacomo
---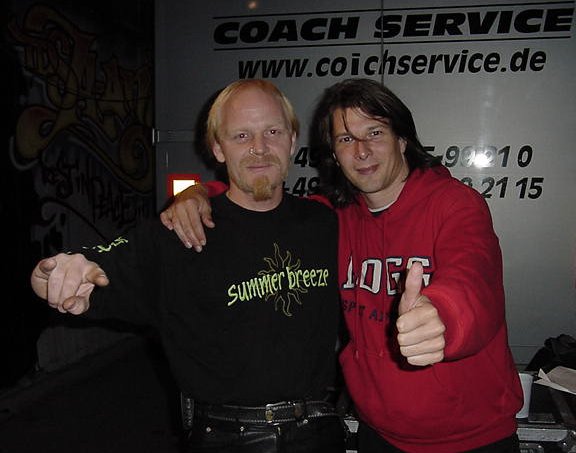 our interview with Henny Wolter is online
---
---