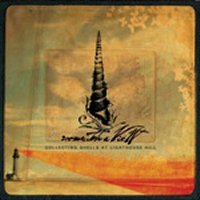 Breathe The Water
Friction
Sometimes Anywhere
Penitence
Against My Will
Till Morning Comes
Collecting Shells
The Farther Side Of Heaven
Remember Our Goodbyes

Francesco Grasso - vocals, guitars, acoustic guitars
Alessandro Mita - guitars
Gino Palombi - bass
Piero Arioni - drums

Guest musicians: synth & piano, vibraphone on song 9 by Mario Di Trani, synth on song 1 by Gianluca Giardi, sticks on song 6 & percussions on song 9 by Mauro Munzi, trumpet on song 4, 9 by Paolo D'Antonio, trombone on song 9 by Amedeo Croce.

ROOM WITH A VIEW: "Collecting Shells at Lighthouse Hill"
room with a view
my kingdom music
Recorded: at Acme Studio (Rome, Italy). Engineered by Simone Angelini, Cristiano Fini, Mauro Munzi.
Mixed & mastered: at Fascination Street (Örebro, Sweden) by Jens Bogren. Mixing assistance by Johannes Linder.
A superb CD full of originality. The confirmation of a great band

The wait is over! After many shelves, the new Room With A View album is here!!!! Compared to the previous album, this is something completely different; If the first was beautiful thanks to the charm of Gothic mixed to an old and deep passion for the story and for melancholic songs, this is the confirmation of a great band who gives us a brilliant album , different, under many aspects, but sensational!

The band is able to amaze me with a superb cd full of originality, that is the result of a complete compositive approach that get inspiration from the historic Gothic bands like Katatonia ..but it's impossible not to notice the modern approach to the sound, that sometimes reminds me of post-metal or alternative nu-metal, and also of an incredible jazz inspiration in the last song!!!

"Friction" is pure energy mixed to passion!!! Francesco shows a very involving voice timbre and the riff of this song is great!!!! The song seems to mix alternative metal and gothic with an unmistakable class! I 'd like to underline the great rhythmic work that gives inspirations to the guitars and to keyboards in order to create a very involving mood...but this is the secret of this band, and I notice it in the most of the songs of this album!!

"Sometimes Anywhere" is another gothic anthem that seems to mix Katatonia, Evanescence and also a shadow of Dark!!!! A great refrain and an incredible ability to find the right groove!!!!

"Penitence" is not very original , but I still underline the ability to mix Alternative metal and Gothic with mastery! Piero Aroni is a great drummer, able to create an incredible drumming groove!

"Against my Will" is a sweet travel into the abyss of modern Gothic, but for me the best song is the next "Till Morning comes" , where shadows of Gothic Rock are involved into a great Rock refrain ...A very passionate and original song that is ready to be imitated also by the biggest band of this style...(if it's possible to affirm that Room With A View are a Gothic band...).

"Collective Shells" is an acoustic suite that introduces the melancholic power of "The Father Side of Heaven" . The cd is closed by an amazing jazz influenced song "Remember our Goodbyes".

The confirmation of a great band!!!!!

rating: 9/10