SadDolls: "Happy Deathday"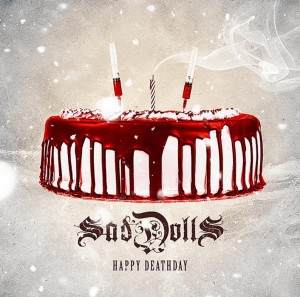 1. Happy Deathday, Dear 1:59
2. Killing Sorrow 3:55
3. Bloodred 4:05
4. Be Darkness 3:40
5. Criminal of Love 4:08
6. The Drug 3:38
7. Psychedelic Love 4:47
8. Dying On the Dancefloor 3:28
9. Amanda Blood 3:53
10. Embrace the Dark 6:08
11. Coma Song 4:40
12. Watch Me Crawl Behind Bonus Track (feat. Morgan Lacroix) 3:58
13. Bloodred (bonus – Mandragora Scream Remix) 3:48
George Downloved - Vocals
Paul EviLЯose - Guitars
Daniel Aven - Guitars
Mary Mc Blood - Bass
St.Gas - Drums
Label: Lunatic Asylum Records (Italy) k http://www.lunaticasylumrecords.org
Webseiten: khttp://www.saddolls.com khttp://www.facebook.com/saddolls
kInterview with George Downloved
The future of a style
This is a very awesome album realized by a band able to blend with an incredible ability influences from classic lovemetal and modern elektro-metal.
This combo gets a very personal mark even if it would be impossible not to recognize the clear Finnish touch mixed with other goth-elektro stuff.
Happy Deathday is a travel into the twist and turns of pure romanticism…sung with the "rules" of a style that Ville Valo and other important Finnish bands have tough in the recent past, but here there's a sort of re-modernization of it; Could we define them the new HIM? Noo!! Absolutely wrong statement!
Without losing the charm and romantic approach, the Greek band gets personality and every member shows incredible skills to harmonize the songs with awesome arrangements.
George gets a very good voice, and he's able to valorize very precious jewels of melancholic rock like "Dying on the Floor", "Amanda Blood" "The Drug" in which there's the participation of TO DIE FOR vocalist Jape Peratalo, but also "Criminal of Love", and "Embrace the Dark"…and why not…the single "Bloodred" in which the band never fails; the perfect use of electronic loops and parts make it very original.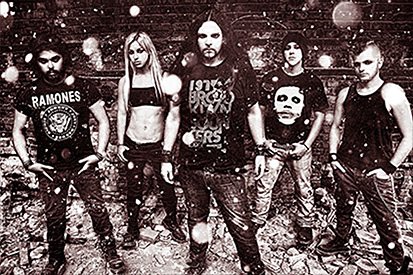 The band shows his passion for modern elektro metal band….and Deathstars`shadows appears in "Psychedelic Love" in which the band "plays" to change completely his approach….no time for romanticism…but a very modern metal song full of modern guitars, growl and scrams….but without forgetting the elektro parts….just perfect as always…
"Be Darkness" is another pearl of "gothic in love" in which the band finds another little masterpiece embellished by a great guitar solo , here there's the participation of Elina, vocalist of Seduce the Heaven and John Mcris from Anorimoi.
There's also space for a remix of Bloodred made by Mandragora Scream (Italian horror gothic band)
In sum, this band could represent a valid name for the future of a style that can't but give strong emotions to all those who likes the melancholic & sad part of alternative music…
From gothic to lovemetal…passing through elektro music…They're SadDolls; a name for the future…

Rating : 9/10