"I've tried to become alive..."
If we needed confirmation from this band, it's punctually arrived! After that jewel of melancholic-dark emotional rock called "Empty world Excursion", Shamrain comes out with another pearl! This cd is getting darker and gloomier than the previous one, even if the elements of their music are the same!
Ethereal music in which darkness and melancholy are the main influence of this band. Attention!!!It's impossible to make comparison with others gothic Finnish bands. ShamRain are influenced by The Cure, This Empty Flow, Sigur Ròs and in my opinion from their music sometimes can remind of soundtrack films!
Matti Reinola has been able to create a very important band, able to give deep emotions through songs full of passion in which Mikka vocals (Entwine singer) gives that special touch of romanticism mixed to dark! A very awesome interpretation for every song...a perfect singer for this band, Mika shows us what he's able to do...singing' in a delicate way, getting inspiration from the deep of these compositions.

Try to listen the ethereal refrain of "Aura"
"shades of blue
swallowed you
now i am sinking as you were
my voice was mute
as i called you
you left my heart empty"

this refrain is able to enter into your heart as delicate touch into the a very sad composition full of gloomy atmosphere in which Mikka seems to whisper the lyrics.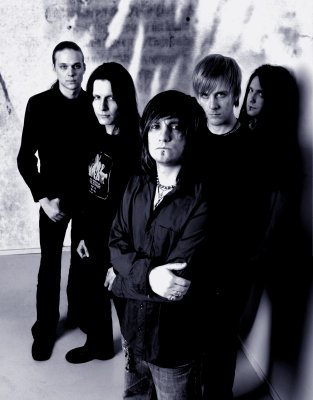 If it's necessary to find elements that can remind of others bands, it's impossible not to notice a touch of the best THE CURE mixed to ANATHEMA in "Still Aeon" in which the the atmosphere is full of darkness. I underline a typical dark sound in the guitars both arpeggio and main theme! Not amazing and less inspired "To leave" that doesn't get that special feeling , but it may be the only one uninspired song (in my personal opinion); the refrain doesn't leave a mark and I prefer to let me fall in the dark of

"Slow Motions" that is another jewel of pure sadness that seems the cry of passion in music!!! A very great song in which the melody is able to create a special feeling...a very deep melancholic song...followed by the "Missing Places" inspired to THIS EMPTY FLOW, a mix of funereal and romantic atmospheres perfectly mixed by this special band!


The best of the album must still arrive......

The pearls of this album are without a shadow of doubts : "A woeful Song" , "Laren U Freht Ona " and "The Empty Flow ". The first is a melancholic poetry in which the band is still able to amaze me by an unmistakable passion created by a sad refrain and a melancholic vein that bring us away from reality...and near to their emotions , a very masterpiece!
"Laren U Freht Ona" is pure romantic - darkness . It seems the cry of desperation !

"i've tried to become alive again
to get out of this night
i've tried to become alive
to live with a dead soul
i have tried "




The music seems to inspire a soundtrack for a romantic film, and Mikka is perfectly able to sing with his unmistakable voice!!!! One of the best singer for this style !!!! More than 6 minutes full of passion and desperation and ShamRain by their soul are able to create feelings ...pure feelings of gloomy romanticism.
The album is closed with the emotional "The empty Flow" in which an ethereal female vocal create a very special feeling into the funereal atmosphere of this song. 10 minutes of sadness and cry.

Matti Reinola & C. have realized another masterpiece of emotional music. This cd is another jewel for all those who demand emotions from music....Deep emotions.