I had to turn off my game
and pay attention.
I was a little surprised that this is Sinamoreís debut CD. With a band that sounds like this, one would think that they would have at least one or two underground CDís out by now. Although, this group has put out three demos and had a record contract with a Japanese label, they still hadnít released anything. I just ask, why not? This is some good stuff, although a-typical of Finland to put out this type of music. Let me explain, Sinamore sounds like HIM and To/Die/For. Not shockingly are also from Finland and have the same pop-goth sound. To be honest, I hadnít read the description when I put the CD into my home theater system, so when I went to go play Madden 2006, the music came to me as a surprise. I was about to start playing this half-way intense game, then I heard the piano intro on the 8th track (had it on random), thinking that the guitars were going to come in soon, I heard Mikkoís vocals, then I knew it wasnít going to be black metal! LOL! To me, Mikkoís vocals sounded like Jape from T/D/F, I had to turn off my game and pay attention.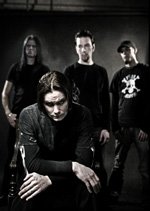 The next track, Crimson Leaf is my favorite on the whole CD. Itís rocking and itís depressing, otherwise known as gothic. The track has a tid bit of love in it, but itís still all-good. The chorus is a bit catchy and so is the guitar riff. Out of all the tracks on this CD, I have listened to this one the most. In this song, Sinamore combine electric guitars and acoustic guitars in this track adding depth. I highly recommend this track. My Rain sounds more original than anything else. It has a faster pace and Mikko is intentionally lowering his singing, showing off his good tone. This song also contains some excellent guitar harmonies that are also worth noting. The band made a video for Darkness of Day. I have watched this video, but I donít understand it. The music sounds good, the problem is I canít understand what is being sung. It sounds good, but I canít make out the words. Itís catchy, but itís a bit slower and very sad sounding. This track evokes a lot of emotion that canít be ignored.
It took me a month to review this CD. Because I couldnít figure out what to say about it. One of the problems I have is in the production and the way the tracks are laid out. It laid out in a way where just about every song sounds the same. Matter of fact, even after I rearrange the tracks in iTunes, it still comes out as sounding the same. The producerís responsibility is that this doesnít happen. Sonically, the album is near perfect with the exception that I canít hear the bass at all. Mikko great tone in his singing and has a ton of potential! But, itís a bit monotone. There isnít enough vibrato in his singing and heís singing the same lower tones in every song. He doesnít attempt to scream or sing really high. When he does this, no one can stop him.
As sad as I am to say this, because I love this CD, this is a To/Die/For clone. They sound exactly like them, only without as many solos.
rating: 8.3/10