simply deep melodic metal!
It's with great surprise that i listen to this great band that comes out after 4 years of carreer. A demo in 2002 and this is their first official release, that probably it's nothing original, but I underline the capabilities of all musicians to write great music with a sound which comes directly from the essence of melodic power metal.
The title-track reminds me of the best Secret Sphere!!! A major song with great chorus and the ability of Daniele (the singer) to give a special pathos!
The next song is "Wicked Angels" that is a classic melodic epic metal song in which I notice a deep musician's technique! The song is immersed into a power metal timing and a great melodic finale!
"Queen of the Damned" is another power-metal song that can't but remind of Italian band Secret Sphere! A typical melodic refrain that seems to remind also of the classic Halloween style!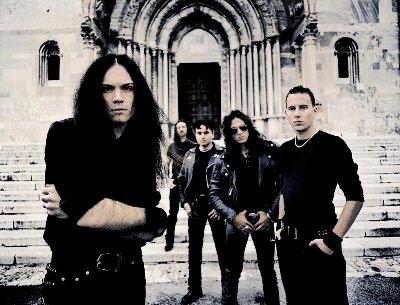 "Devil's Bride" is another great song in which the melody is the essence…

The sound is very melancholic, yet very rich and powerful!

"And Julie no more" and "Ghost of War" are other two pearls of great melodic metal, joy of fans of this style! The songs of this band is born from beautiful melodies, the band is able to give pathos also through the great ability of all musicians that gives pathos by a great interpretation of all dynamics.

It's still tears in "Tempation" that I'm sure can be appreciated from all melancholic gothic souls by passages that can remind of Theatre of Tragedy in particular concerning the piano melody; Power metal is mixed to deep sensations….Great!!!

"Waiting for the rain" is my favourite!!! The melody is one of those you can't forget!!! The band creates an "hymn"!!! Daniele reveals the substance of his soul through a very good interpretation!!! It's simply deep melodic metal!

"Sands of time" nothing adds to this album, while the end is marked by the acoustic song "Maryann": another awesome moment, again.

A great album in which all things are well studied and interpreted, although I'm sure that the band can add quality to the their music through a little bit of search in order to give more variety to their compositions. The arrangements are well studied also, thanks to the presence of a great chorus and of a sound that sometimes goes to melancholic gothic metal and for this reason gives originality to the band. The production is good.

Anyway, this is a precious jewel of melodic metal….

rating: 8,5/10
---