A very amazing CD.
After 5 years from their debut album, Tristema comes back with a very amazing cd that will be the joy of all modern rockers…
The band blends different kind of influences into the main rock essence .
The album is very well made under all aspects…there's care for lyrics; they all gets important messages …absolutely actual, and every song is based on melodies, nearer to melodic international modern rock…

"L'Impercorribile" is a pure jewel of modern melodic rock; the lyric tells about the importance of self-confidence; the music gets a very sad and melancholic mood that goes from rock to techno!!!Yes….there's an amazing and wonderful techno attack, that show an incredible inventiveness…
Sad melancholic music .."L'Assenza"(the absence)…is divide in two part…one italian and the other in English sung by the Daniel Gildenlöw (Pain of Salvation), first important guest of this album; it's a very sad song in which the band describes the hidden feelings of a melancholic person, that realize about a very bad and unwanted life…the band shows awesome abilities "to play" into different musical solutions, always keeping the melancholic mark…
Pure modern rock blended into different styles, but without forgetting classic 70'-80's rock; they never pick up the thread of main musical theme always showing their musicality;
….and what could I say about the amazing "Vortici"!? Classic rock meets lovemetal into a very unmissable song…
The influence from Finnish melacholic bands like Him or Entwine is evident both for the lyrics and most of the moods; It's incredible …rap-rock meets melancholic rock into a song that tells about the Italian actual moment…the great guest here is the rapper Fuossera!!!....What an amazing song!!!!

There's space for (in my opionion) less agreeable songs like "L'Eclissi" that brings them into folk rock music with another guest, Paola Salurso. Anyway this song shows their incredible musical versatility.

On the whole , this South Italian band shows incredible skills, and even if they sing in Italian , the album is ready to be appreciated everywhere…
Rock for smooth taster…a word to the wise.


Rating : 9/10

visit us at FACEBOOK >http://www.facebook.com/GryphonMetal

written by Salvo Russo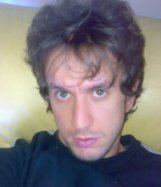 Salvo Russo is editor for gryphonmetal.ch since 2001.
He is based in Italy, reachable at this e-mail address nightofdreams@hotmail.it. More in Team