Switzerland like Finland in this cold winter-end. the sky today is quite clear but the air is icy. However neither the low temperature nor the recent snow can represent an obstacle for the fans interested to the Samurai tour 2005 that shows a relevant stay in Switzerland where 3 dates are scheduled . the third date brings Die Apokalyptischen reiter and "Battle Metal" Turisas here in Winterthur at the atmospheric Endstation. this means that more dates in Switzerland are actually rewarding, because the country may be small enough, but its metal scene is wide and active. Therefore a satisfactory assemblage of fans takes the occasion to attend a different form of metal tonight, absolutely folk oriented, in an dark fascinating venue that is no longer synonim of gothic only, from the moment that its doors are open to a wide range of interesting Metal proposals. Tonight it's "reitermania" supported by the death/folk/epic warriors Turisas.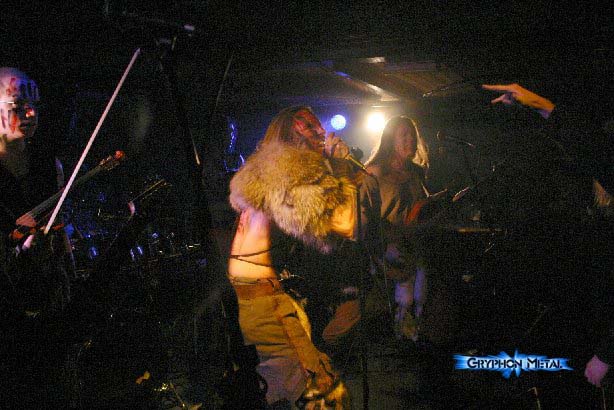 Right, Turisas are my target, i find them fresh, enjoyable. let's see their behaviour live. because Turisas are interesting "newcomers", reasonably epic, with influences from heavy, Power and gothic, inspired by the historical culture of their land and their Finnish ancestors. Eight band members are awaited on the stage and then observed from the pit area and from the gallery. Though most of the spectators are surely here in order to see the "apocalyptical knights", Turisas are not unknown: their album Battle metal was a nice surprise, and has left a sign. Mathias "Warlord" Nygard, Jussi Wickstrom and mates appear respectful, even incredulous of the good response in this club. I bet that these kind of humble picts would have appealed to Mr Wilhelm Tell. The eight Turisas know how to manage a show in good coordination by emphasizing music instead of pretentious and (as such) useless effects. Fortunately i can see that the attentive keys fill the background without stealing anything to guitars or to the violin, and the trumpet sequences are not too invasive Consequently the guitar riffs can stand out while the violin is that gear more, that protagonist that becomes soon the favourite of the audience. Turisas' look is based on Barbaric northern motifs, decent enough to make them as a distinctive feature without falling into hopeless kitsch. Even the bare feet of the accordion player don't disturb making a nice contrast with the leather or hairy furry boots of the other members. But it's clear that the borderline is thin, very thin. To expand the number of instruments or to underline even more the costume aspect would be both negative things. it is good to remain within this vision, without forcing it. Let's consider now the tracks proposed. Turisas open with Victoriae and Triumphi Dominus followed by The Land of Hope and Glory. Rex Regi Rebellis is proposed also. But one of the most successful and appreciated songs is , obviously, Battle Metal (title track of the album, presented as final song of the concert), and One More announced by Lord Nygard through the question "what do you drink here in Switzerland?"

As the golden sunbeams reach my eyes
I stand up and raise my pint up high

One more for our brothers who fought beside us
One more and forward again
Once more, we'll fight and conquer
Until we'll meet again

As mentioned before, the young violinist impacts well, he tries some words in German too, apologizing for the not perfect pronunciation. "Wollt ihr ein Solo hören?" (do you want to listen to a solo?)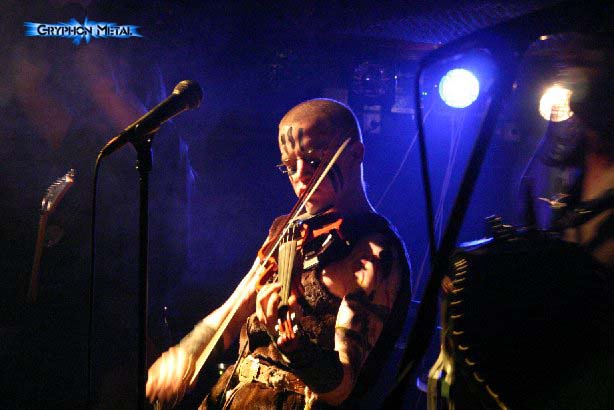 Jaaaaaaaaaaaa answers the crowd and the young small Paganini's disciple delivers a short quite smashing virtuoso. The drumming performance is good, supporting and propelling. Guitarists provide a solid sound and a good headbanging instinct, while Lord Nygard makes a positive interpretation of his role of singers and frontman of the warriors, though i notice in Jussi and Warlord a certain shadow of shyness in front of the Swiss listeners: a very competent audience, able to let flow metal in the own blood and headbanging like it were a rite but not inclined to futile jokes or silly extravagances made for free. But, after all, Warlord Nygard and his Turisas must be satisfied by the warm and lively support of Tell's "grandchildren": As long as this reaction is granted to a band, it means that band is good and doesn't need to fear any arrow (or apple).
dalia di giacomo