29/09/2002
review by gryphon_spirit, pics by absolut-evidence
---
V METAL FORCES SAK- Burghof - Lörrach (D) 28-09-2002
with
HARMONY DIES
BITTERNESS
JESUS CHRYSLER SUPERSKUNK (erster gig von ex-Destruction Drummer)
ANNULATION
Germany is not very far from our "quartering", and Lörrach , easy reachable once arrived in Basel, is just a jump away from the swiss border. So why not? Why not spending an evening dedicated to relentness metal notes there? Said, done: in few minutes decided, even because the possibility to see finally Harmomy Dies live is a good motivation. And the Burghof is really nice, though rather small. Nothing to do with disused shed or alternative social centers, this venue is embedded in an almost typical old German house in the centre of Lörrach, situated beside a modern building with a wide hall where, a smart party takes place with people looking astonished at the metallers out of the venue. A comfortable room with old wooden beams and small windows is receiving the visitors of the concert, the sound can be heard everywhere. Very probably the venue will move at the end 2003 in the old "Wasserwerk", with a mighty and more modern technical equipment. Oh that's really good, hoping that this feeling of warmth in typical country-style will not be lost.
ANNULATION
www.annulation.ch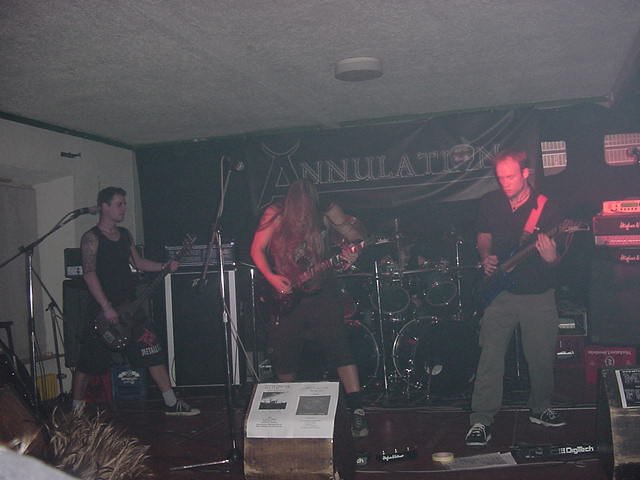 The Swiss Annulation from Zürich are the opener of the concert. The quartett is putting on the stage two guitars, one bass and obviously drums. This band is very young, it started in April 2001 and performed the first gig in June of the same year, but since then Annulation passed a dynamic period that has lead quickly to their first studio album "Burning Time" released in July this year, and tonight one really can hardly presume that this band was grounded practically just one year ago. They show concentration and a good measure of self-confidence, catching the attention of the audience. Singer and guitarist Dominique "Domi" Weber is in particular the one who more attracts the interest and not only cause he provides for vocals but also because his attitudine on the stage proves to be very positive and agreeable. Nevertheless you shouldn't think that the music is not heavy, cause the guttural voice emphasizes a rather gloomy thrash/death characterized by heavy almost slow and downtuned riffs, while recurrent short , high and distorced lead -shoots provide for an original signature. Their most used range of action is a rhythmed and pulsing mid-tempo which finds the best representation in the song Murderer , presented after Burning Time and No Masterhood. Annulation can also set a good acceleration like in song Fuck All, where Sepultura influences cannot be hidden. Impressive tone and cadence are shown by the pushing and catchy Away, rather rock oriented. Their show let grow more and more the "metallic fever" passing through tracks like Annulation and Die fucking Beast, till the well appreciated cover of Roots, Bloody Roots is proposed. No surprise from the moment that the blonde long haired Kung Fu trainer Domi seems to be an admirer of Max Cavalera. And Roots is the last song of a good show in which heavy rhythmic step pulsing tempos have been combined with dark notes flavoured by both rock and death notes. Another talented band from Switzerland is emerging.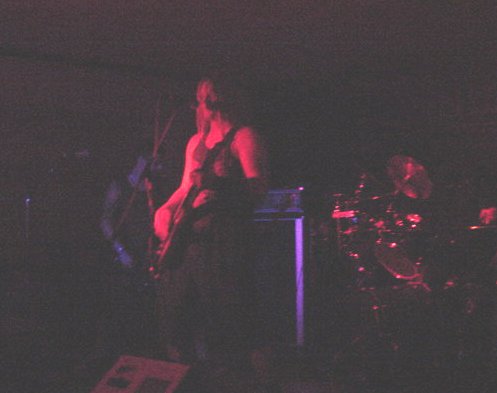 ---
Unfortunately i cannot be very talkative about Jesus Chrysler Superskunk ( www.jesus-chrysler-superskunk.de ), i simply notice that for me their music is really crap. They are in 5 on the stage performing a kind of thrash too much mixed with so many influences going from Stoner coming to a kind of Punk of the 80s. They are absolutely good -mooded and full of enthusiasm as well as the audience that shows to like them very much. if you want to know more about them and in particular if you want to see their original logo you can always visit their website, and Superskunk and their admirers
will forgive me if i prefer to eat a hot dish full of pasta,which is tasting so good and for just 1.5 Euros, hehehe. I would suggest to Superskunk to find their own style and identity, under a more modern conception, and i have not doubt that they will succed in this.
---
BITTERNESS
www.bitterness.de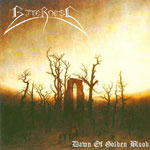 www.iguana-audioproductions.de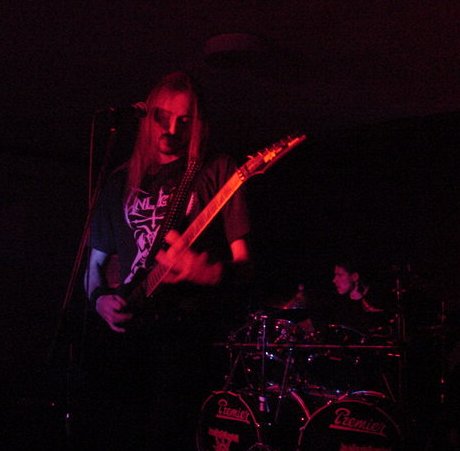 By chance it happens that, in order to see Harmony Dies, i find again the three guys of Bitterness that i already saw on 14th september at the metal concert in Luzern headlined by Tankard. Usually a longer interval passes until you can see a band playing again, or until you want to see it, unless you are a die-hard fan who expressly wants to follow the fav band. But i come to the conclusion that sometimes it is really interesting to watch the same band in action after a short period of days, cause it's really not true that bands are static and don't change, or improve or react in different ways to the venues evolving really quickly. And all this is simply amazing cause bands are formed by persons like us, who feel emotions and elaborate all the inputs of their lives developping the result on the stage and modulating it day by day. I am really happy, i must admit, to hear Bitterness again, firstly because i was so positively impressed in Luzern and i like their music, secondly because the more the shows goes on , the more i appreciate a lot of particulars i notice more and i generally see that they are even playing better than last time, offering a cool gig. Bitterness are definitely a really convincing band, beautiful to be seen and brilliant to be heard. The headbanging in front of them is absolutely due. Frank's voice is stronger, his guitars articulates also complexe chords with agility, Sebastians's bass remains an important load-bearing support for the rhythmic, drums are always telentless and extraordinary, mighty, pushing supporting and never too sharp or too high. Sebastian and Frank accompany their music very often with synchronous headbanging, matching the high attention and enthusiasm of the audience. Their melodic and heavy gloomy death/trash is sounding impressive, and this heaviness is even more stressed by stop- start moments well played, when the songs restart after one second even gloomier and heavier then before. The set list is more or less the same proposed at Wärchhof and though the time is pressing, the requested encore is not denied, and the track Bitterness is proposed (from the previous work "...And Death Marches On") . I'm impressed by this song and by its kind of sad and melodic bridge followed by a burst of very speed tremolo sounds with blasting drums. There is really much technical ability and deep feelings inside. Great gig, congratulations, with a lot of energy and dynamism, already thinking to the next one!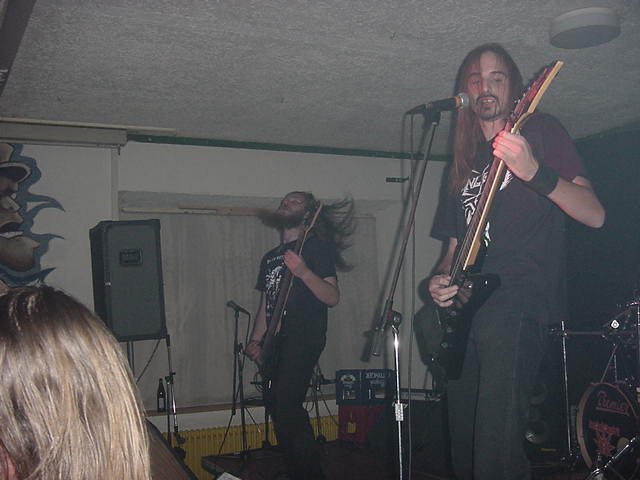 ---
HARMONY DIES
www.harmony-dies.de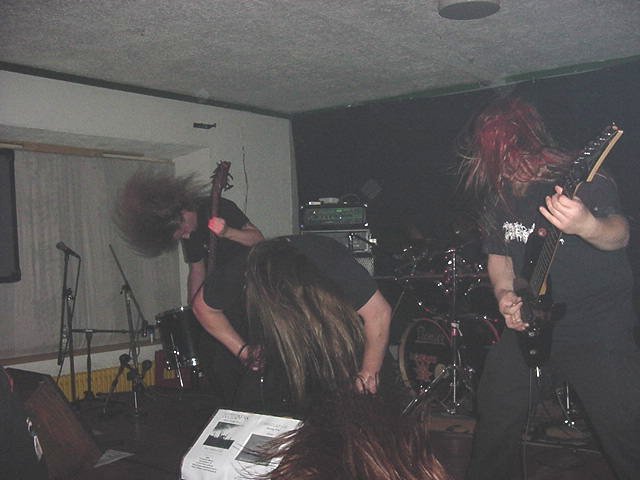 And here they are , Harmony Dies from Berlin are on the stage. I've heard a lot about this band of the Ars Metalli label, like they were a kinda of new revelation, so that it's really interesting for me to see their musical behaviour when playing live. Well, almost immediately i understand what actually brutality means. We are reading about a lot of bands who are called brutal, very brutal and hyperbrutal, often mistaking speedy rough assaults as brutality. And if it's true that many death bands showcase a big amount of brutal passages, methinks that the real brutality in itself is another thing. Harmony Dies are extremely impressive, extremely rough and proceed with a kind of straightward violence, accompanied by furious synchronous headbangings that really hypnotize the stupefied audience. Their music is a mix of Death and Grindcore, and Christoph's voice is extremely mighty, deep, angry and strong. Their music is practically not temperad by melodic passages, even though rough . No, their Death is linear, dowtuned, distorced, rather monochord, ultraheavy, angolous, rude. Rude is the keyword, they seem to be rude in everything they are doing on the stage, rude in the way they play guitars, rude in the way they propose themselves, also rather rude in the way the songs are presented. Their music is a kind of God's punishment which falls to the ground without complicated structures but with perfect timings and a lot of extreme self-confidence. Harmony Dies appear to be veterans of the metal phylosophy , presenting of the Death/Grindcore its less ceremonious face. Catch this violent push sound and ask no more ! seem to be their motto. Moreover many of their songs are rather short and end in an abrupt way, as if they were cut by a knife. Nevertheless their music is not noise and there are many features that are worth to be praised. Like have mentioned before vocals, are strong and angry, roared as if inspired by evilness itself, the 7 string guitar provides for dowtuned riffs and distorced short solos, while blasting drums are shooting a tremendous and speedy snare and double bass drums assault in such an exact way. Their opener has been I'll be your master and the show ends with Wasted Minds. Among the songs proposed Execution, violent and ultra heavy, where vocals are engaged to reach even higher tones, Catatonia and Something dies are in my opinion the most valuable ones, though Wasted minds with a good guitar work is not bad at all. In my opinion Harmony Dies are a "war machine", nothing more nothing less, and kindness, also as regards the relation with the audience, is not their best virtue, but their brusque proceeding can also have some positive sides. More or less at 0:15 the band has to stop, it's indeed forbidden to go on playing after a certain hour, otherwise, like Christoph says,. one could have a problem with the "grünen Männchen" (the police), so not even an encore is possible. Practically everybody is disappointed that the gig must end here, but laws are sometimes rude as well as Harmony Dies' songs.
setlist: I'll be your master - Like yourself - Silence - Execution - Pray to god - Catatonia - Impact - Something dies - Wasted minds






dalia di giacomo
---