02.11.2003
---
VI METAL FORCES
at SAK - Burghof - Lörrach (D) - 25.10.2003
www.metalforcesfestival.de.vu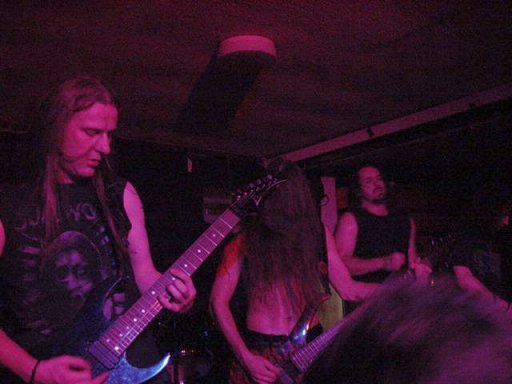 review by dalia di giacomo - pics
©
by Stefan Vogelaar
The public use of these fotos
is strictly prohibited without written permission
report V Metal Forces 2002
INTRO
ZATOKREV
UMOUNT
DARKMOON
INTRO
"Oh that's really good, hoping that this feeling of warmth in typical country-style will not be lost". This was my wish last year, and it has been fulfilled. Here we are again! The Metal Forces in Lörrach presents its VI edition which is a point of reference for the many Metal-maniacs from Switzerland and South Germany cause it's a moment in which the Swiss- German underground meets more famous Metal representatives. Established bands or newcomer ones are here one for another. The last edition has seen Harmony Dies playing together with Bitterness and Annulation a.o., with no problems at all, in a picture of metal spirit which is exactly what i like. This year too we of gryphonmetal are supporting with enthusiasm this concert, like we will go on doing in future. At the Metal Forces, words like "newcomer established and underground converge all in only one concept: Metal for ever ! and horns up! Metal as music but not only , metal as life style, metal as belief. Tht's why i like so much this event, cause it's a true, authentic, strong rendezvous. Congrats to Daniele, who has been able in these years to organize all this. And is indeed Daniele the first to greet us when we join the SAK Burghof around 18:00. It is nice to meet him again, and as well it's nice to find again Markus Wedig who is responsible for the merchandise corner, where you can find also the formidable collection of The Reaper Comes I - II- III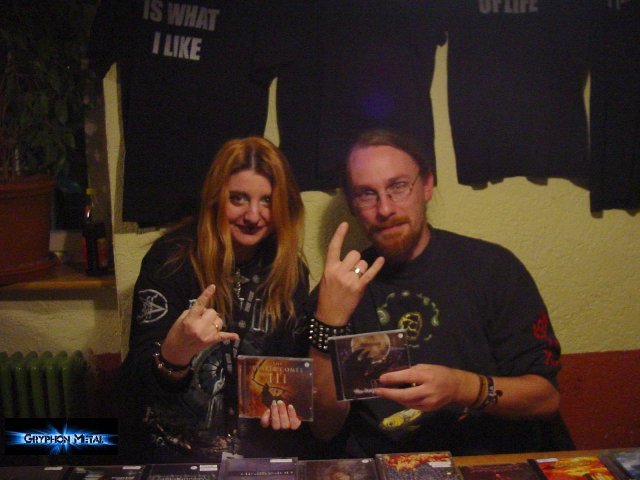 Without speaking about how content i am to see Franky Winkelmann from GurD who is taking care about sound + acts like Umount and Darkmoon. By the way GurD: thank you to Inga for the nice chat, as well we are glad to greet VO Pulver.
In few words: the SAK Burghof provides us the same warm feeling as last year, and why not? the same cool cuisine at a very cheap price too: for example: chili and rice for 1.50 Euros only! At 19:32 both rooms become to be inexorably crowded. I have a specific target this evening: DARKMOON. Oh yes. after the amazing impression got from their mini CD "Black Domain" and the fact that unfortunately i lost them at this summer edition of the Z7 Metal Dayz, finally the moment has come to see this act live, and... if things go like their music is promising they should simply kick ass. Period. We will see... people speak one another and have a beer warm- up before the first band opens the Forces of Metal and loudly. Ready?
ZATOKREV
www.zatokrev.com
20:11 Zatokrev: a band with Czech name and a Czech frontman, all in all 3 very energetic and aggressive guys. After a bit electronic intro, they start off with their brachial hardcore with such a terrorizing determination and a withering headbanging and jumping. The tall blond singer and guitarist Fredy, who has a certain charisma à la Rasputin, modulates his brachial tones with rage and inspiration powered by his band mates who seem literally possessed by an angry entity. Square massive drums and pushing grenades from the bass support the guitar. Hardcore with no compromises, with no much melody, sometimes ripetitive, sometimes gloomy, always oppressive. Tempo changings are not missed. It's not my kind of music, but i notice that people is interested and that appreciates such burst of bloody energy coming from the stage.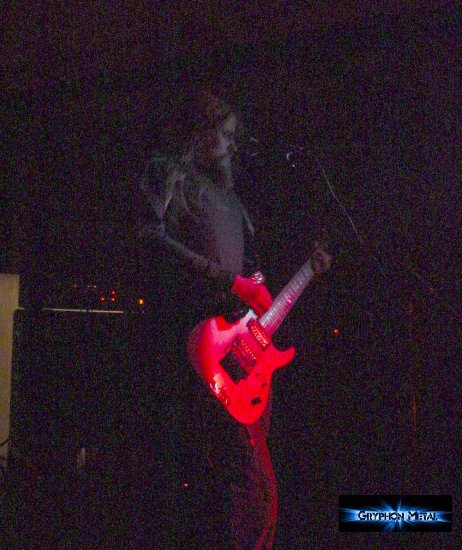 UMOUNT
www.umount.ch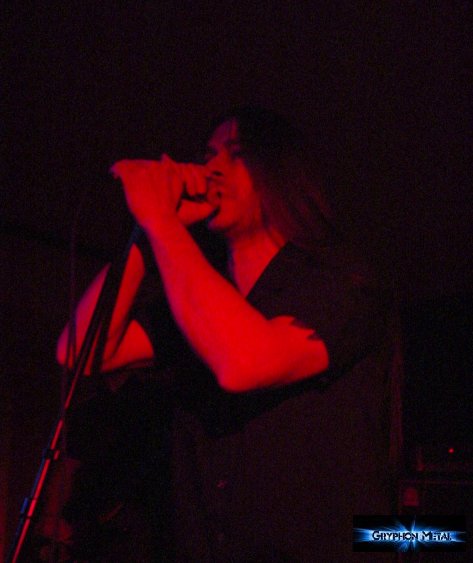 21:08 It's the turnover and soundcheck for Umount (from Weil am Rhein) that in five minutes will hit the stage after a dark intro with an "Hallo wir sind Umount!!", followed by the fast energy of the opener Scum. The sound directed, by Franky Winckelmann, is very good, obviously, and the band is welcomed warmly: sign that Umount (who have recorded their CD's at the Little Creek Studio) are well known, well judged and appreciated by the local underground scene. Their music is defined as Neothrash, and has many contents coming from Thrash indeed, Death with some Nu metal ( reminding just slightly POD and Static X) escapades, and always you can find interesting pushing melodic phrases. "Wie geht's euch?" asks frontman André. It seems that everybody is more than fine "Habt ihr lust?" of course, everyone wants more, we are getting the proper warming up in a concert that is proceeding between notes of modern metal and Death/Thrash attacks. Applauses! "Danke schön!" Rasping vocals, galloping rhythms, many nice starting points and solide drums are the connection points in a gig that opens with tracks influenced by modern and nu metal and ends with other ones that are surely death/thrash in a more classical way. I would say that, after the fifth track, (that is one of the best among those in setlist) the audience is well ready for some indisputable headbanging. The only thing that disappoints me a bit is that the band is not that much dynamic: singer apart, the stage acting is reaching level of only few degrees above zero. the ability in playing is there (guitar is played well and in a varied way) , but proposed in a flat, anonymous way. Moreover some tracks are very short, and however the death/thrashy part of the concert is the more effective, contrasting a bit with the style proposed at the beginning. Many inspirations that still need a mix and a proper identity imo. Anyway the gig is taking off and tracks like Tone colour and Burning rye demonstrate great talent, so they definately add the hammering kick that the Metal Forces is asking. At 21:42 the encore is called , André presents the band ( bassist Adam who has substituted Frank Winkelmann) and announces the last track : Terrorizer a relentless death/trash bursting with brachial aggressive vocals. It's more than evident that the band believes in this infernal composition which is really ok, but again maybe a bit short. Acclamation anyway .
setlist Umount

Scum
Hide
Wicked
Sonic Hype
Enemy
Slippery plug ugly
Tone Colour
Burningrye
Self maintained
-----------
Terrorizer








---
DARKMOON
www.darkmoon.ch

review Black Domain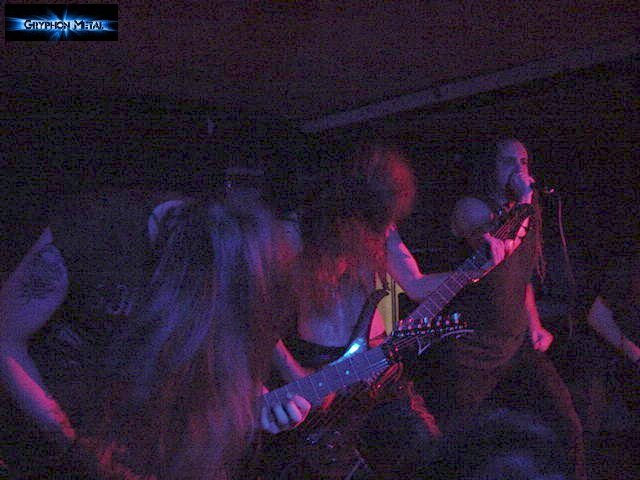 21:58 the band is doing the soundcheck. Franky too makes a short apparition on the stage in order to control the last details. When everything is ready, after a short intro, warmly welcomed at 22:09, Darkmoon start off immediately with that excellent and brilliant song that is Wings of Death from their album "Black Domain". The start is perfect , the muscles under under tension with the fast roaring black intro that launches an energetic melodic Death of first quality. Damn, oh really! folks!: i've seen many bands doing excellent shows , and this one is providing all the symptoms to be one of them. Already from the first notes you can understand that the song is performed in a superb way, the crowd is at once very appreciative, there is the will to deliver an astounding gig. Enjoying Wings of Death, and almost not believeing at my eyes, i cannot help to notice one particular that is clearly dominating the general picture: Darkmoon are a BAND: the cohesion is almost perfect, nice sense of group, they act like they were one man without the sacrifice of their single own personalities. The stage acting is more than agreeable and impressive, technically dynamic. They have the line -up capacity to create a trench of fire launching full-riffing attacks and this reminds me the attitude of Amon Amarth, but musically they could be described a bit as Kataklysm that meet Mystic Circle. This is my impression after the first live bang , knowing well their CD. I was expecting a great performance but it seems that we will beat every expectation indeed. "Seid ihr Bereit? seid ihr BEREIT?" asks loudly Matthias. "Yeahhhhhhh" we reply, super! The metal Forces is reaching at full speed one of its top moments. And just after the frist track. So you can imagine! The second track "On her f*cking grave" is announced , percussive and relentless; the moshing begins. The rhythmic is a compact fire, twin-guitar attacks, compact and effective bass. Varied the guitars. Amazing powerful drums. And the melodic passages are overwhelming. On the one hand i'm amazed, on the other hand i shouldn't be, cause if you can tell from the start what's it going to be like, it was reasonable to expect that also the songs i 'm still not knowing , from their first album, could be really interesting. Vocals are top to the task, the sound is very good, the crowd more and more excited. we pass through Far from Heaven and Drowning and lots of applauses. It's Far from Heaven that sees the first headbangings in group. All tempo changings sound natural and run like oil. The band doesn't loose energy , on the contrary they shoot arpeggios , tremolos techniques, chord variations, mighty drum dynamics, violent outburst mixed with emotional feelings, always with determination, strength and mobility. We start percussive again with The Beast, which delivers many Black tones, followed by Lost Souls , announced around 22.35, thundering crunchy and catchy. Impressive synchronicity and group work for Black Domain, with relentless banging. No sign of tiredness from this compressive engine: "Are you ready?" asks again Matthias . Yes still megaready, no problem! So we are ready for The fallen One. Around 22:51 a very satisfied but still severe Matthias announces with grit and determination the track Lord...of..the ..FLIES! it's no use telling that this is another song that sounds super, isn't it?. In particular the attacks fall to the ground in well-crafted waves. Heaviness is coordinated with melody. You can follow the music with full accessibility enjoying the taste of every chord, with the right solid feeling of pure Metal. After Terror the encore is strongly called and the band plays The Damned. "Zugabe! Zugabe! Zugabe!" again applauses and acclamation: a great concert! still not finished , cause Darkmoon present as last song Evil Goddess of the Night. Among the applauses of a really content audience Matthias makes the final greetings to the festival where sound master Franky is obviously included. What a gig, folks!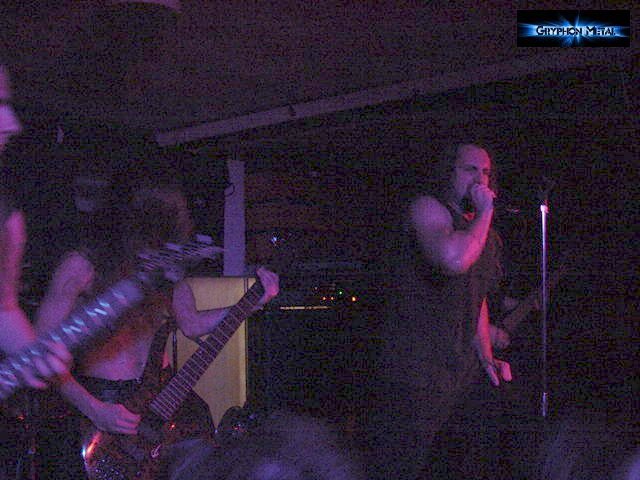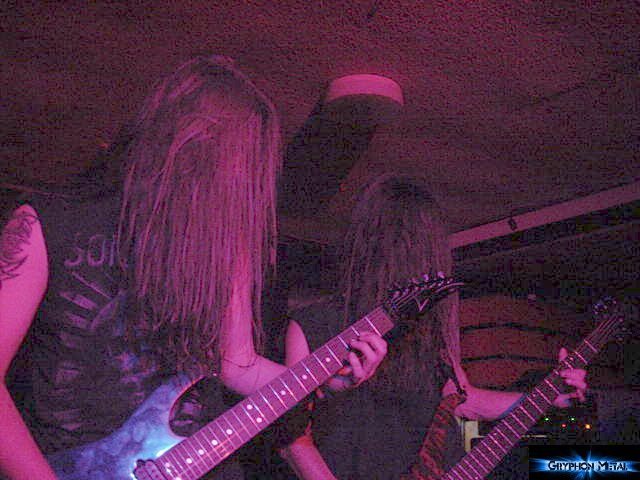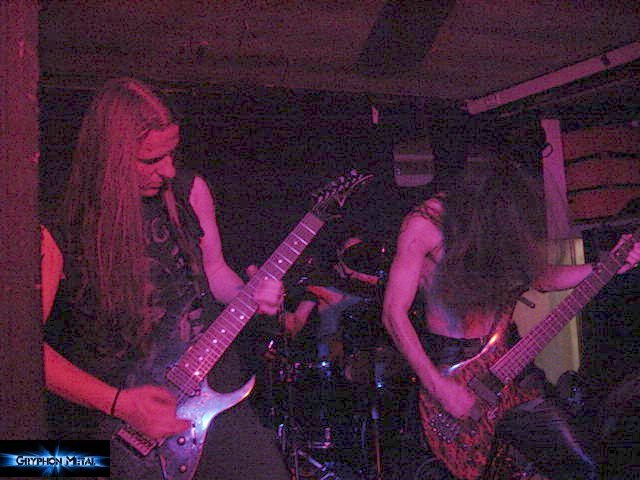 setlist Darkmoon
intro: The Darkside
Winds of Death
On her Grave
Far from Heaven
Drowning
The Beast
Lost Souls
Black Domain
The Fallen One
Lord of the Flies
Terror
------------------------
The Damned
Evil Goddess of the Night
ps - for the journalistic record Disillusion were announced as headliner of this VI Metal Forces edition, but they had to cancel their partecipation, therefore they are substituted by Human Bloodfeast
( www.humanbloodfeast.de ) . This band , though being the headliner, is not reported, cause honestly said, this edition is for us above all the Darkmoon concert. I hope there will be another occasion for reviewing Human Bloodfeast. See you next year, Metal Forces!
dalia di giacomo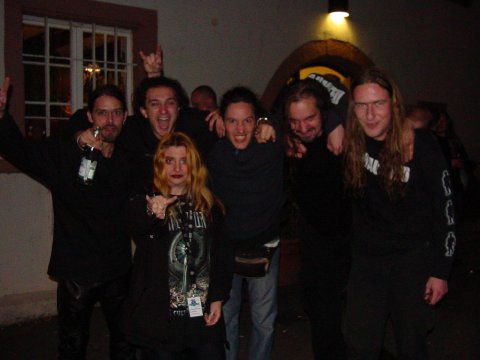 ---
presentation|news|reviews|interviews|live reports|specials|f**king bollox|tours|dates
upcoming releases|underground|artwork|videoclips|MP3's|venues