SPECIAL
BRIAN "HEAD" WELCH `S
"WITH MY EYES WIDE OPEN: MIRACLES AND MISTAKES ON MY WAY BACK TO KORN"
Release Day May 17, 2016 - Thomas Nelson Publisher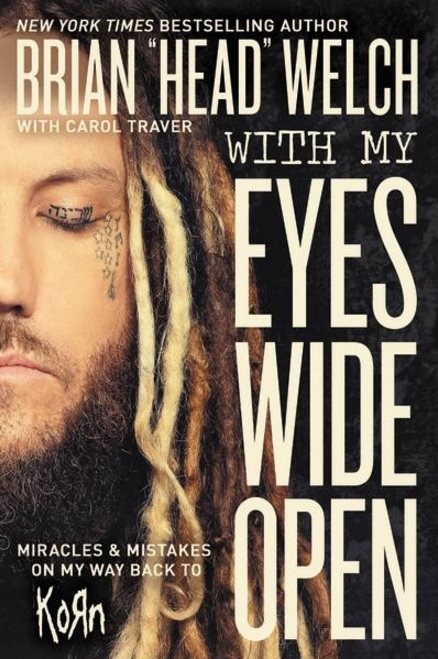 OFFICIAL SYNOPSIS
He left KoRn to help himself. He went back to help others. And along the way, he nearly lost everything.
A life-changing spiritual awakening freed Brian "Head" Welch from a stranglehold of drugs and alcohol and prompted him to leave the highly successful nu-metal band KoRn in 2005. What followed was a decade-long trial by fire, from the perils of fathering a teen lost in depression and self-mutilation to the harsh realities of playing solo and surviving the shattering betrayal of a trusted friend. In this intensely inspiring redemption saga, perhaps most inspiring is Brian's radical decision to rejoin KoRn and reconcile with the tribe of people he once considered family in the metal music scene.
Brian returned to his musical roots with a clear head and a devoted heart. Though his story is wild, hilarious, and deeply poignant, the message is simple: God will love you into the freedom of being yourself, as long as you keep the relationship going and never, ever quit.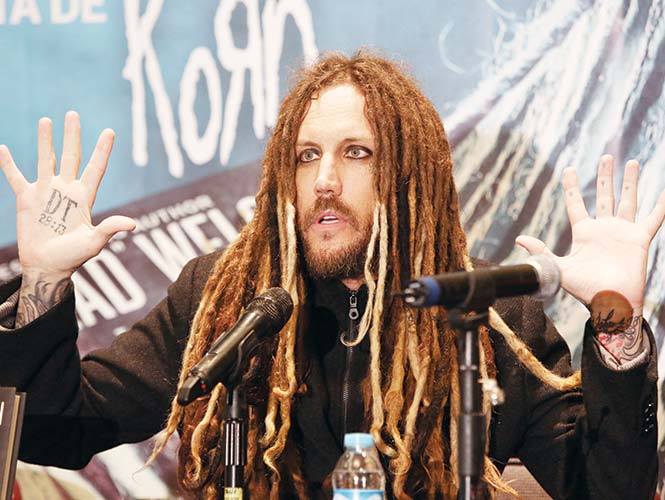 photo source Harper Collins Mexico facebook, all rights reserved to the author and copyright owner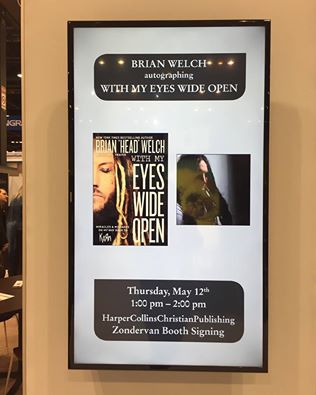 Brian "Head" Welch was at BEA16 in Chicago.
Photo source : Brian "Head" Welch facebook, all rights reserved to the copyright owner
Inspirational antidote
Do you remember the lyrics of Russel Watson`s song Where My Heart Will Take Me: "It's been a long road, getting from there to here"? Well, " With My Eyes Wide Open: Miracles And Mistakes On My Way Back To Korn ", the much anticipated new book by Korn' s lead guitarist Brian "Head" Welch (the third act of what we can define a trilogy) pictures a great long journey in the personal and public life of Brian: a rock star that has chosen to dedicate his life to values that normally are not associated to the Rock Star System. From there to here or, better said, from KoRn to KoRn. "With My Eyes Wide Open" is about the eigth years that Brian was away from KoRn and how the circle closed when he connected with KoRn again. You will read how Brian dedicates himself to his role of single parent , with a devoted heart . The relationship father-daughter is brilliantly pictured with joyful, funny moments as well as with sorrows and big worries, and with all reactions of the society around. But Brian is not only a lovely father, he is a artist who begins a new musical career, never giving up his passion for the seven notes. Therefore the father and the musician are two figures in the author`s soul that he tries to unify, never loosing his Faith in Christ. The book captures the reader`s attention from the first to the last page. Lots of crazy stuff, challenges, hope and disappointment, pain and joy, ups and downs await the reader who will have a glimpse into what the music business is and into what the life of a Rock Star can be. The prologue is impressive, lively, worrying and the reader feels immediately empathy for Brian and his daughter Jennea. But the best is yet to come because , chapter after chapter, the book becomes more and more impelling, more dense, packed with emotions and with things that must be endured , until the bright vision at the very end of the book in which all parents (especially those who have daughters) will "recognize" themselves. I can say that "With My Eyes Wide Open" is a testimony, a companion and an inspirational source, a must-read for every metalhead, no matter if Christian or not, for every rocker...and for every parent . It is a kind of antidote to egoism, to depression, to materialism. Last but not least, this book has a very cool foreword by Nikki Sixx, Alice Cooper, Corey Taylor, Scott Hamilton, Eric Metaxas, David Ellefson, Michael W. Smith and Lacey Sturm.
dalia di giacomo