PHOTO GALLERIES
KISS - End Of The Road Worldtour
STORACE
at Hallenstadion in Zürich, Switzerland, July 07, 2022
Event presented by Good News Productions AG
Photos by Daroc for GryphonMetal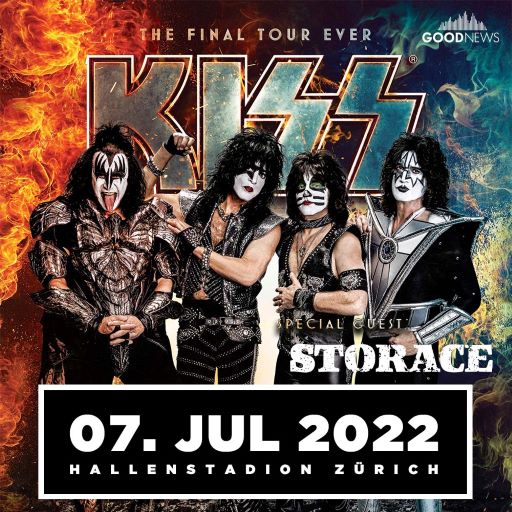 In unmistakable costumes and make up, Paul Stanley (The Starchild), Gene Simmons (The Demon), Tommy Thayer (The Spaceman) and Eric Singer (The Catman) have pumped adrenaline in every heart of those who were attending the show at Hallenstadion in Zürich on July 7, 2022, bringing the final tour to Switzerland too.

Accordingly to Wikipedia: "In the tour program for the final tour, both Stanley and Simmons commented on the tour:
Kiss is much more than a rock and roll band. The band and its fans are a tribe. It's humbling for me that we can be the magnet that brings people together. What we have with the fans is reciprocity. The fans are our oxygen, they are our blood. They make it possible for us to exist. This tour is a celebration of 40 years of that connection between Kiss and the fans.
– Paul Stanley
Kiss has always marched to the beat of their own drum. It's amazing how a band like Kiss that started off innocently enough as just four guys off the streets of New York who wanted to put together the band they never saw onstage turned into a worldwide phenomenon. The fact that it actually worked beyond anyone's wildest dreams is amazing.
– Gene Simmons"

Opening Act was Storace, the solo project of Marc Storace, well known as frontman and songwriter of the Swiss Hard Rock band Krokus.

Our Daroc was there to take pics of this unforgettable concert for you all, Gryphons!
https://www.instagram.com/gryphonmetal_photos/
Photo Gallery STORACE
Photo Gallery KISS