Presented by Good News Productions AG
LIFE OF AGONY (US)
with Second Function (CH) and Blood Runs Deep (CH)
EUROPE - SPRING 2017
May 30, 2017
at Dynamo, ZÜRICH, Switzerland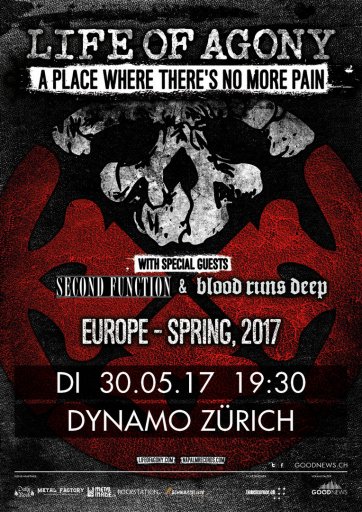 http://www.lifeofagony.com/ https://www.facebook.com/lifeofagonyfamiglia
http://www.bloodrunsdeep.net/ https://www.facebook.com/bloodrunsdeep
Accreditation: GOOD NEWS
Running Order:
18:30 - Doors
19:30 - Blood Runs Deep
20:35 - Second Function
21:45 - LIFE OF AGONY
In support of their new album "A Place Where There 's No More Pain", Life Of Agony have stopped at the mythical venue Dynamo in Zürich, during their short European Tour, on May 30, 2017. No panic, other dates are already planned in Europe and in UK for LOA, and I truly suggest to go and see them live (for example at the Into The Grave Festival or at Summer Breeze or at Turock Festival, but there are many other dates) . Moreover Mina Caputo (transgender role model) is truly a great front woman , aggressive, yet lovely and very interactive with the fans and thankful for those who follow the band through many shows. Of course at Dynamo too there were faithful die hard fans that have enjoyed a lot the show. I say at once that it could have been a perfect evening to celebrate Life Of Agony and their new album, pity that a girl has injured herself during the LOA show and was promptly carried out from the crowd to the area near the photo pit and then , very probably, taken to hospital. The band stopped the concert for a while and , together with the fans, was very supportive in helping. I dont know the details, because me and the other photographers have left the photo pit since long and we were no allowed to remain near it. When this happened I was among the crowd and I had no sight to the first rows, But it didn't seem a very bad accident anyway.
Two Swiss bands have shared the stage with LOA during this tour and therefore in Zürich too: Blood Runs Deep and Second Function. The evening has been characterized anyway by different moments indeed also concerning music. There weren't many people attending when the first band, Blood Runs Deep, has entered the stage, but, minute after minute, the venue became more and more crowded, so the band from St. Gallen could enjoy their audience. When LOA played the pit was not totally packed but surely heavy crowded and very lively. The fans of each band were totally digging the music and no one was disappointed.
Blood Runs Deep has brought on the stage a slow, doomy , percussive and dark music with low tuned guitars, synthetizer and dry drumming . This dark Swiss quartet is preparing a new album , so this tour has been a kind of test for new songs. Unfortunately the Spanish dates of this tour have been cancelled for reasons beyond the bands' control, otherwise Blood Runs Deep would have played in Spain for the very first time. Blood Runs Deep have also shared the stage with Moonspell and Schammasch at the end of April in Zurich this year, and they played with Coal Chamber in 2015 . To tell the truth I think that their music perfectly fit indeed with concerts based on dark, gothic and or doom music. This evening they were surely a different spot in comparison with the Second Function and LOA. Well, why not? ;).
After the gloomy atmosphere risen by Blood Runs Deep, Second Function have paved the way to LOA with another and more aggressive style. Second Function's touring activities included concerts with Dog Eat Dog (USA) and Arcane Roots (UK) . But this Swiss act has shared the stage also with Biffy Clyro, New Found Glory, Young Guns, Twin Atlantic, Skindred, among others. This lets understand their musical genre, oriented to Alternative Hard Rock. And the band is absolutely able to warm up the venue, moreover they played at "home" and they could even interact in Swiss German with their fans. The mobility of the band on stage was big , they rocked hard a venue that became, as already said, right crowded. In their set list there were songs like Falling Down , The List , So Long, The Other Side, Slaves to The Sea, Navigation Road, Behind The Mask, Spotlight, Shame On The Gods.
Life Of Agony have played a great concert, warmly supported by their fans. As already mentioned some of them were long time fans and therefore well known to the band. An autographed band-flag was placed on the metal barrier , and the fans supported LOA non stop: they moved and sang and ad a good time during the whole concert. Mina Caputo has started the set with an incredible energy , it was clear that she (yes, she and not he) was beyond happiness and that she wanted togive everything for her crowd: great voice, great stage acting and great interaction , and even a question or a statement concerning her age didnt ruined her mood, on the contrary she said some wonderful words telling, more or less , that age is just a number that doesn't reflect the real inner age of a person. She recognized and thanked her die hard fans and she put on the stage a killer first part of the show . During the concert Mina's interaction with the pit dicreased a little bit anyway, even because the concert seemed really structured on two levels: a first part with catchier and more melodic songs and a second part with harder and more difficult tracks. The rest of the band was energetic and solid and indestructible. LOA opened with River Runs Red and presented then a quite varied set list with tracks like This Time, Other Side Of The River , Love To Let You Down , Lost At 22 , Weeds , A Place Where There's No More Pain , Method Of Groove and many other ones. An encore was really missed but the setlist was already well nourished and a tthe end of story the crowd was very happy. I hope that LOA will play again in Switzerland soon, because Switzerland loves them. Without doubt.
dalia di giacomo
Blood Runs Deep
Second Function
Life Of Agony