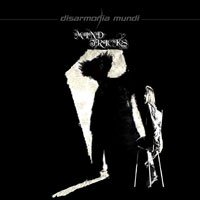 Resurrection Code
Mindtricks
Celestial Furnace
Nihilistic Overdrive
Parting Ways
Venom Leech And The Hands Of Rain
Liquid Wings
Process Of Annihilation
Last Breed
A Taste Of Collapse
Mouth For War

Ettore Rigotti - guitars, drums, vocals, bass and keys
Bjorn Strid – vocals, cleans
Claudio Ravinale – vocals, lyrics
So much energy and creative discipline. This new release MindTricks, is tight from beginning to the end.
Disarmonia Mundi, another great band from Italy! So much energy and creative discipline. This new release MindTricks, is tight from beginning to the end. The third album from these guys should make new fans immediately and older fans more even more die hard. Grinding guitars, solos, unrelentless drumming, both clean and death vocals – which make songs #8 and 9 my favorites, but that does in no way mean the rest of the album in inferior. Since getting this CD to review I have listened to it many time and will continue to do so. The first song Resurrection Code, begins with some atmospheric portion but soon is shot forward with explosive energy which generates some serious head banging.
The second song Mindtricks which is also the title track continues with its thundering attack of brutal drumming and guitar shredding accompanied buy a barrage of vocals coming from all directions it seems! With the third song Celestial Furnace the sound has changed a bit as is somewhat more melodic without loosing any of its culminated force of destruction. Continuing with Nihilistic Overdrive, I notice almost nonstop drumming coming at you with the speed of sound with scorching vocals on its wings, striking again and again! A brief but aptly placed solo near the end is really awesome followed by clean vocals in a verse that remains in your head. Till #5, Parting Ways, shatters that vision with screams and howls of the new clarion call. Venom Leech and the Hands of Rain gives a breath of clarity in this chaotic yest strangely organized musical fest of metallic candy. Enter Liquid Wings with tight but really cool guitar thing which then is followed by more mind thrashing, then abruptly in the middle a bit of downtime reminiscent of Opeth, then more heavy driving metal for your mind. Process of Annihilation seems to be just that: if you are still listening that your hooked, of not you are too shaken to continue, as I mentioned earlier this is one of my favorites. Number nine, another favorite, is called Last Breed. A Taste of Collapse, #10 could almost be a radio offering on some heaver stations. Almost. The vocals are somewhat hypnotic and resounded as the music is driven deeper and deeper cut with the guitar solo near the end. As we finish up with Mouth of War, another really Boss sounding contribution to this great CD.
With speed tracks similar to old Metallica this can only be regarded as a stellar addition to ones music catalog as well as a triumphant return of Disarmonia Mundi! MindTricks can be found at Heavy Rotation in Salzburg, respect for selling quality metal.
rating: 9,5/10