The "funeral" party of this evening celebrates the Endstation. This is the end, but when a chapter ends, another one begins somehow, somewhere. This seems to be a natural law, a kind of hope that cheers us up in this moment, though in Switzerland we will miss this place so much and for so long. It is a loss: it is a loss for the Swiss Dark/Gothic community in Winterthur , but i think it is a loss for the whole Swiss metal scene in general. After almost 3 years of activity, this unique and atmospheric venue must definitely close its doors. The Endstation was created in 2002, financially supported by its 2 founders, who could trust only the help of some colleagues and friends. It seems, on the contrary , that institutions and authorities remained latitant, without granting that interest that would have done the difference. Not either the excellent quality of both live shows and equipment was sufficient to let understand that Endstation was culture too, that was an important meeting point for many, and a place for quality music . In any case, it's good to see that this goodbye is successful : the house is packed, everybody has fun. Much beer is requested, much music is offered. We can enjoy the outdoor barbecue and the indoor dance. It is a cool party /dj evening of good vibes.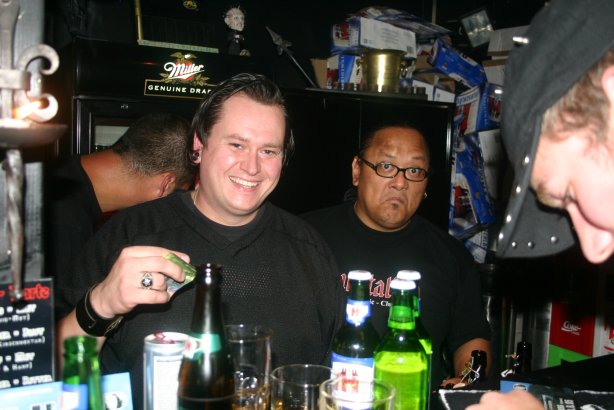 The many people gathered together today ideally thank Tenz, Sini and the whole Endstation - team for the great work done during these years. Artists who played here are, among others, Elis, Unheilig, Die Apokalyptischen Reiter, Turisas, Cinema Strange, L'Ame Immortelle, Flowing Tears, Eisheilig, The Vision Bleak, just to name a few. The last concert in this venue was the memorable gig of Kataklysm, Graveworm and Eminence (Summer Devastation Tour 2005). On the screen, over the stage, the photo slide-show sums up impressions, visions and memories. Winterthur tonight has its little corner of unity. So, let's support the scene and the Underground always and everywhere. Only united we stand.

"Who wants to live forever?
Forever is our today
Who waits forever anyway?"
\m/ EXPECTO RESURRECTIONEM MORTUORUM \m/
dalia di giacomo