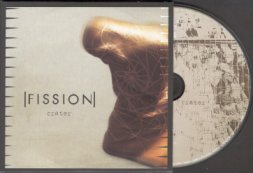 01. Mechanism
02. Crater
03. Accelerator
04. Empty Nimbus
05. Magnetism
06. Catastrophe consumer
07. The Core - 118 Protons of Insanity
08. Mind Vortex
09. The Chaos Algorithm
10. Eremiten
11. Syndrome
Benny Hägglund: drums, guitars, bass
Vintersorg: vocals, keyboard, FX

"He who begins many things finishes but few". This proverb can be applied to the album Crater by Fission. First of all this is an album with many starting points, played with a good technique, an album whose target is an audience who likes Death/Thrash with prog/rock-y/heavy/power -flavoured anthemic insertions. But all those who don't see a point in mixing those things will find this album enough discordant, with too many elements indeed, which not always lead to a clear destination, and with only few tracks that can truly arouse passion in (one name for all: Eremiten that , for me, is the best track). Surely there is a good technical approach in mixing melodies and aggressiveness, in mixing so many styles, but the practical result doesn't reach always the effectiveness hoped. Drums are very varied as well as vocals, set up both by growlings (always top-notch) and sung in clear (not so agreeable in spite of the good voice). There is a small corner for experimentation (instrumental opener Mechanism or The Core 118 Protons of Insanity), there are some virtuoso soli, as well as a moderate use of modern effects. The force of this album remains Death/Thrash metallic on the shoulders of the resolute growlings, and on the shoulders of a mighty rhythmic session. Unfortunately the prog/power/rock inserts which are planned as to be the most agreeable ones and as to be well inserted in the Death/Thrash path, sound somehow forced and a bit intricate. Frankly told all those hybridizations can only annoy and dilute the strokes, like happens in the title track Crater that could be a super track without all those its divagations though they are the sense of song and album: a bit of a paradox. In few words, though these hybridizations should be the soul and enhancement of the musical content, at times they actually only create patch-works. Acoustic elements and even heavy –power anthemic and medieval-coloured take also part in this vision as proven by Accelerator, a cocktail of so many styles, rocky-lead guitar solo included. One can only say "pity with so beautiful heavy riffings!" Actually not always the songs know where to go, cause the musical construction often involve an eclecticism that penalizes the fluidity of the paths (Empty Nimbus for example). Fission are able to push such formidable thrashy-death attacks with the use of remarkable melodies, but, on the altar of the new fashion, they feel the need to intricate some of their songs in the hope to propose something more than the usual. This 2 -members -project founded in 2002 by Benny Hägglund seems however to be very engaged and scientifically inspired concerning lyrics and titles too. Titles as Accelerator, Empty Nimbus, Mind Vortex and The Chaos Algorithm are impressive. The most enthralling thing of Crater is anyway really this: the engagement, an engagement in sound too: recorded in several sessions and in many studios , Crater gives the best underlining to the various sonic components.
Pity that Vintersorg are already Vintersorg and that Disillusion (who apply Prog -streams more to Death and Black anyway) are finally been discovered, the young Italian Kenos are even more technical and opulent, but Fission (if the project will go on) can surely work they way out within the ambience of selected listeners, among which I suggest indeed the Italian ones, complex by nature.

Tastes are tastes, but i think that,

however you want to consider this work, tracks like Magnetism or Catastrophe Consumer (almost a killer) will remain enjoyable, direct, well conceived; while, on the contrary, tracks like Accelerator unclear and avoidable. It is fully true that Fission's

Crater "prove that it is possible to create "in-your-face" metal containing sophisticated passages and transitions and build a diverse identity", the question is whether there is really a need to prove it. Metal can be and is actually a superior way of music, but when you believe to re-enforce Death/Thrash with Prog and intellectual structural abilities (in my opinion those styles don't need it, neither is that the right way to convert to Death and Thrash) you must be very careful. We have a pearl anyway in Crater: the track

Eremiten, extremely heavy but with delicate acoustic finesse inside, a good musical construction with a singing in clear finally very good while the language used makes you think.

Syndrome COULD be an outstanding song , but , like in the case of the title track, so literally ruined by the insertion of

prog/Power which should be the aim. No, not all kind of hybridization are successful, some will ever be improbable, no matter how much you work hard and how able you are.
On the other scale pan we have to consider that the tracks are anyway not too bombastic or too difficult or too tortuous, and that , despite all the perplexities, this album is more than listenable with its many good starting points. Consequently, at the end of story, Crater can become nearly a "must" when you want to know more about Metal. A bit of a paradox.
rating: 7/10