Cottages & Saunas
Journey Man
Fields In Flames
Pine Woods
Spirit Of The Forest
Native Land
Hunting Song
Ryyppäjäiset
Beer Beer
Old Tale
Kädet Siipina (Hands As Their Wings)
Jonne (Vocals, Guitar)
Honka (Guitar)
Cane (Guitar)
Arto (Bass)
Matson (Drums)
Ali (Percussion)
Hittavainen (Violin, Jouhikko, Flutes)


Full of wild, exciting life, from the deep forest of Finland.
After the big success of Finntroll, uncountable bands appeared which play Folk Metal in a style which is similar to the Finnish trolls. Ensiferum, Turisas and Wintersun are just some examples for this. Korpiklaani are another one. The band (also from Finland) was formed in 2003, but "Voice Of Wilderness" is already their second album. In contrary to Ensiferum, who really sound like Finntroll, only not as good as them, Korpiklaani have some big differences in their sound. First of all, they aren't as bombastic and hymnic as Finntroll, the songs are more straight and not so keyboard-dominated. Of course they have a lots of Folk-elements in their sound, also ancient instruments (or synthesizers which sound like ancient instruments), and in some songs, I had the feeling of hearing a Didgeridoo, but the focus is always on the guitars and the voice of Jonne. By the way, this could be the most critical point on "Voice Of Wilderness", Jonne's voice. I think it's not a bad one, could be more marked, but in my opinion, it fits very good to the sound, but I'm sure that some people will really dislike it.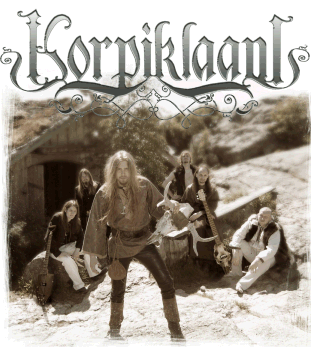 Back to the music: It's obvious that Karpiklaani don't see theirselves as an absolutely serious band, if you look at songtitles lik "Cottages & Saunas" (the great, pushing opener with a cool sing-along-chorus) or "Beer Beer" (a hard, Thrash-influenced banger). The music of Korpiklaani is happy and full of wild, exciting life, and I think that's the most important thing for the Finnish. "Pine Woods" is an instrumental and seemes - like the title says – to come directly from the big deep forest of Finland. Very emotional and full of spirit and with a great percussion-part in the middle.
The tempo is well changed between the songs, for example is the opener "Cottages & Saunas" very fast and "Spirit Of The Forest" is much slower, always in midtempo, with a lot of folky elements and an indeed great chorus, first whispered and then loud and with clean vocals. "Native Land" has a special Goth'n'Roll-touch and is very bangy, and Jonne sings in a cool old-school voice.
In general, "Voice Of Wilderness" makes a lot of fun, but although lots of songs have a happy touch, there is always kind of message behind the music. And that makes it worthy to listen to Korpiklaani. Only one thing: A bit more fast songs next time, the tempo is - as I said – well balanced, but there could be more crushers like "Cottages & Saunas" or also "Hunting Song".
A good, strong album, as well for parties with a lot of beer, but also for more serious moments. Check it out!
rating: 8/10