A temperament which grows in your appreciation.

Guitarist Sami Leppikangas commented: "Hell yeah, we've been waiting (for) this moment so long! Now it's here, the brand new album after six years, it's a long time!" Yes, it's a long time, i remember when Lullacry were the hit after the release of the album "Crucify My Heart". Now after 2005's "Vol. 4" comes out the long awaited fifth album from the Finnish rock, female-fronted band. I say immediately it's really a nice rock: dynamic, not so complicated, in my opinion even not that heavy, but it's fresh and somehow polite. When the band says that they "did things more spontaneusly and it led to an album that is a lot more dark, ambitious and multi-dimensional than its predecessors" and that they "also paid a lot more attention to lyrics, and the production was organic, which made the sounds more dynamic on 'Where Angels Fear'" i could at once second that it's organic and dynamic just by listening to the first two songs. But i didnt know in which measure it could be ever considered so dark. Well, but arriving to song number three Thousand Suns i have heard not only a nice addicting earworm, but a stronger song in comparisons with the openers. Thousand Suns is surely memorable and, although nothing exceptional and clearly influenced in the heaviest fat riff, invites at once to repeat the listening. It was exactly what i was eager toreceive from Lullacry. Thousand Suns could be mainstream considering the refrain but it is very agreable, recommended for alternative radios, even relatively danceable. The song has moreover a very little epic and choir injection in its second part, which saves the previously read definition of "multi-dimensional". It seems to me like a song for nice moments, for a party or for driving. I would never define it as a true Gothic song, as i wouldnt define as such the whole album, in spite of the many typical sorrowful atmospheres. It is the work of the guitars that don't fit into the perfect definition of Gothic. So, it remains to me.. and to you too, actually only one adjective: "dark". Another clear example is given by the harmonious ballade Feel My Revenge, in which the sweet contralto vocals of Tanja are accompanied in duet by the male counterpart sung by Mikko Herranen (ex-vocalist for Misery,Inc.and producer of the album).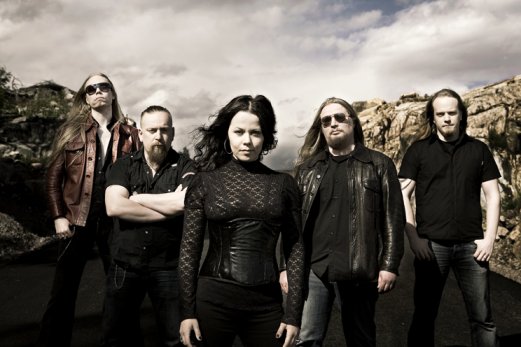 Multi-dimensional we become again by making a big jump towards the raw, fast and modern oriented track Bad Blood, of which we can see the official video, being the first single. Here there is clear a touch of modern Alternative. And the same touch can we feel in the balladesque and more experimental All Behind. In Gone Are The Days i could say that Lacuna Coil "collide" with Guano Apes, and the result is a very interesting song, more interesting than a first listening coul let suppose. This is a song with temperament which grows in your appreciation the more you hear it (and this characteristic can be applied more or less to the whole album). The composition is haunting and of a superior quality in its genre, finally enriched by a solid musical background carpet at the end of the song.
I couldnt listen I Am until the end because i had the impression i was handling with a filler and unfortunately Broken (Into Pieces) appeared terribly boring to me and unoriginal. I was caught by deep disconfort when listening that kind of fusion between Pop and Modern Alternative called Where Angels Fear, the title track. The ultra sorrowful, depressive, almost unplugged Stay lets us understand the ability of the band and the richness of feelings. The cover art takes us back in time and hides a certain menacing omen.
Conclusion: this is not a bad CD, it is more than a simply average album. For those who love also quite, dark and "rainy" tones this can be even a kick- ass album. For me, this album it's interesting only in its cental body, having, in my opinion, a weak beginning and some boredom in its final part. But, as already told, this is, all in all, a various nice work, which can be differently appreciated and it is quite coherent with "Crucify My Heart" and "Vol. 4". While i personally hope that this band will dare more in the future, i say welcome back, Lullacry!

Suggestions: Thousand Suns - Feel My Revenge - All Behind - Gone Are The Days

8/10



written by dalia di giacomo
www.facebook.com/dalia.digiacomo