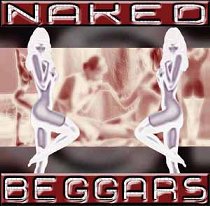 No more
Fallen
Bitch
Open Eyes
Wake me
Got me runnin`
Wastin` Time
Kind of Girl
Discombobulated
Crazy
Bitch (REMIX)
Inga Brittingham - Vocals
Kris Casamento - Electric & Acoustic Guitars
Eric Brittingham - Bass, Guitar, Percussion, Vocals
David 'Doc' Holladay - Guitar, Vocals
Dustin Carpenter - Drums

True good Rock'n'Roll in the 21st century
First album for this US band from Nashville (Tennessee) and no, it's not country music! Simply put this is great rock music. Solid songwriting and performing, Naked Beggars offer us high energy, punchy and inspired songs. Their music definitely makes you wanna play it loud. Playing a very american music that conjures up images of wide landscapes, small towns, dusty roads under the sun, southern atmosphere this album smells of oil and alcohol. So let's embark on a road trip aboard the all rockin' n' rollin' Naked Beggars pickup truck! With a disconcerting easiness, the band reveal different facettes of their talent throughout the album with strength and humor. They don't need to prove anything and when you listen to this album you understand it. These guys are simply together with an obvious aim to plug the Marshalls and rock for us with no other intention than to have a good time. Talking about Naked Beggars one can not miss their singer. Not only because of her fascinating beauty but because she's a voice. And what voice! To be more precise Inga Brittingham has several voices that she uses at will according to the vibe of the song and how she feels. Her voice has so many nuances, she can cover a wide spectrum. Actually you sometimes wonder if she's the only one lead singing on the record. However don't be fooled by her delicate features, Inga is a true female rock singer of the caliber of a Janis Joplin (and coming from me it's not a small compliment!). So don't expect crystal clear little doll-like vocals from Inga though she's able to sing this way. Strong, throaty, nasal, delicate, caressing, deep, 'dirty', clean and fanciful are some of the few adjectives that can describe her very personal singing style. Which is in total harmony with the music and the lyrics. Songs like 'No More', 'Bitch', 'Kind Of Girl', 'Crazy' are a concentrate of pure rock (with a touch of punk on 'Kind Of Girl'), with groovy bass lines, solid drums and great guitar work. All these ingredients are present throughout the album. Guitars have definitely a blues flavor reminiscent of the classic hard-rock blues influenced bands of the 70s. Led Zep, Lynyrd Skynyrd are not very far and it's really good to hear how Kris Casamento makes it all sound fresh and dynamic. The songs mentioned above are surely killers in a live situation and you can't help move your ass, singing along to these great tunes. Choruses get stuck in your brain, especially 'Bitch' chorus. Lyricwise the themes are those you find in rock songs, dealing with everyday life's events, good, bad, funny, all the things one can easily relate to but also feminism and female sexuality are presented in a raw manner but cleverly avoiding vulgarity. There is another dimension to the music of Naked Beggars, a more delicate, melancholy one that can be heard on 'Open Eyes' which is graced with a beautiful bluesy guitar solo supported by a solid rhythm section while Inga's voice floats till reaching the climax which gives you goose bumps, 'Wastin' Time' and the superb 'Discombobulated'. Haunting rhythm and lead guitars, this is a moving song about desperate people, destitution, feeling lost, incomprehension. One of the few slow tracks of this album, 'Discombobulated' is nonetheless strong in its emotional intensity, going crescendo. The band's interpretation is simply accurate and this is what make this song touching.
Last track proposed is a remix of 'Bitch'. Not fond of remixes, i was pretty dubious about this one. The result however is pleasantly surprising and enjoyable. Actually this remix doesn't change the original song but adds some dynamics and pulse to an already strong track. Play it loud! The production on the whole album is clear, powerful, fresh and all instruments and voice are well-mixed and distinguishable. It's a flawless production.

Naked Beggars is the living proof that you can still play true good rock'n'roll in the 21st century and be original.

---
Jelenes 24.04.2007
---
| | | |
| --- | --- | --- |
| | Jimmy T's | Breese, Illinois |
| | That One Place | Fenton (St. Louis), Missouri |
| | HillBillyz | Ellsinore, Missouri |
| | Dingbatz | Clifton, New Jersey |
| | Pepper's | Berwick, Pennsylvania |
| | KISS Expo @ Crowne Plaza Hotel | Secaucus, New Jersey |
| | Brat Stop | Kenosha, Wisconsin |
| | County Line Saloon | West Melbourne, Florida |
| | Club Mojo's | Clearfield, Pennsylvania |
| | Bourbon Street Station | Jacksonville, Florida |
| | Ten High Club | Atlanta, Georgia |
| | LaborFest 2007 | Janesville, Wisconsin |
| | The Back Bar | Janesville, Wisconsin |
| | Ben Biken BBQ Bash | Sparta, Wisconsin |
| | Zabbie's (formerly the Pig Pen) | Clinton, Iowa |
| | Awful Arthurs | Roanoke, Virginia |