If you want to know what it's like to be
on the road to «SeXXX, Booze & Rock'N'Roll»
The task could have been easier for Naked Beggars between the writing and the recording of what was to become «XXX». The band had written material and started rehearsing when the line up used to comprise the excellent guitar player Jeff LaBar and keyboard/fiddle player Kristine Brasuell. From a 6 piece band, Naked Beggars has turned into a 4 piece. A challenge but after the first listen of this new album by the Nashville based rock band, the challenge didn't seem so difficult to take up. A fun mix of hard, southern rock and bitter sweet ballads, «XXX» is a burning hot, deliciously sexy cocktail that will lead you on the road to «SeXXX, Booze & Rock'N'Roll». A cocktail served by a great rock band.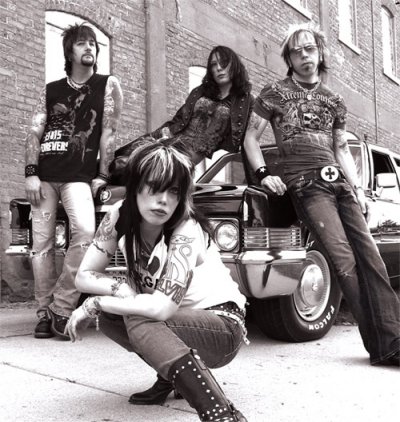 Kicking off with «Never Runaway», the band gives the pitch at once. Up tempo rock song, this is a strong and exciting track in which the talent and style of every band member shines. Lisa's drumming is precise, hard and yet smooth and it matches bass player Eric's style. «Never Runaway» has a heavy and clean rhythm section just like all the songs on this CD have an impeccable and solid bass/drums frame. The guitar in Kris's hands sounds exquisite. Killer riffs, inspired and soulful solos, Mr Casamento is without a shade of a doubt a great guitarist who deserves more recognition. His bluesy, hard rock style will surely appeal to all those 70s guitar heroes' lovers. His guitar parts, be they riffs, solos or acoustic parts are all a pleasure to listen to. As for vocalist Inga Brittingham, the two previous albums had largely proved what a talented singer she is. This new album simply demonstrates that Inga is a phenomenon per se! Mastering every note and nuance with a disarming ease, Inga is part of these unforgettable front-women who know how to kick your ass and stir you with their voice and personality. Plus her enthusiasm is infectious. It's obvious on the tracks «Go Where You're Wanted», the festive «Three Shot Floor» and «Get Down». With many punchy, high energy and fun rocker songs, it's hard not to enjoy «XXX». Remarkable examples are songs like «Never Runaway», «Can't Breathe» with its darker, slightly obsessive atmosphere, cutting edge guitar and poweful bass lines; «Pretty Boy», a groovy, hot and catchy track that shakes and pounds and rocks hard! Quickly followed by «Go Where You're Wanted», the band propels us into another fun and rocking song and once again Kris's guitar has this superb vintage flavor which makes you feel good.
It has to be said that «XXX» is not all about rocking furiously. Naked Beggars has planned some stops during this wild roadtrip. Three ballads very cleverly situated in the album, remind us that the band has also a more melancholy side. «Oh Daddy» is a southern rock style song that bears many regrets and perspires bitterness. However there is a peculiar melancholy tinged with sweetness that emanates from all this and the song will probably get stuck in your brain without you noticing. Only to pop up again when you feel a bit sad and lonely. The same thing happens with «Destiny», another great southern style ballad that will sound even better while driving in the sunset. Last but not least, «The One» closes the album. Written by Inga and Jeff LaBar, it's a very sweet, delicate and tender acoustic ballad, with an unforgettable chorus and again a great work on guitars. A lovely love song to close beautifully a helluva kick ass album! Of course we can't disclose everything in a review and if no mention of the lyrics has been made, it is on purpose. If you want to know what it's like to be on the road to «SeXXX, Booze & Rock'N'Roll», this CD is for you! Go listen to it and pay attention to the lyrics.
With «XXX», the spirit, the attitude of Naked Beggars are intact despite the successive changes of line up. With fervor, tenacity, talent and hard work the quartet keeps the flame of Rock'N'Roll burning bright and «XXX» is a wonderful hymn to it. The band has given us another high energy and fun studio performance. This album has the magical power of growing on you. It would be a shame not to check it out since it's pleasure guaranteed!
Naked Beggars music is available at their online store http://www.nakedbeggars.com/nbstore

---