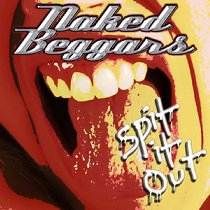 Hole in the Wall
Spit it out
Aint your Mama
What's the Question
Get it on
Creep
Nothin' but Trouble
Too late
Lies
Caught with the Meat....
Playin' the Fool
Lullaby
Inga Brittingham - Vocals
Kris Casamento - Electric & Acoustic Guitars
Eric Brittingham - Bass, Vocals
Jeff LaBar - Electric & Slide Guitars
Shawn Hughes - Drums & Percussion
Kristine Brasuell - Keyboards, Fiddle & Vocals
Refreshing originality which is not encountered
that often these days in such a genre as rock'n'roll
One thing that's for sure is that Naked Beggars are back with a forceful and more technical album. The addition of the talented Jeff LaBar certainly has something to do with it. Still true to their love for good rock music, the band however widens its musical horizon proposing this time more diversity in their songwriting and sound. Where the first album 'Naked Beggars' was all rock'n'roll and energy, 'Spit It Out' is deeper and more subtle. A solid rock album with great guitar parts from Kris Casamento and Jeff LaBar, mighty rhythm section (damn that groovy bass is killer!) and of course the powerful and sensual vocals. Moreover Naked Beggars surprises us with an emotioning piano and some unexpected fiddle parts provided here by Kristine Brasuell and impeccable backing vocals throughout the record. After listening to this album one notices the clever balance between rock/hard rock songs with acoustic or slower tracks and one can only admire the potential and talent of this band.


'Hole in the hole', 'Spit it out', 'Ain't your mama', 'Get it on', 'Nothin' but trouble', 'Lies' and 'Caught with the meat...' are pure rocker songs with propelling guitars which complement each other perfectly, sustained by pounding drums and bass. Strong and melodic, with unforgettable choruses (especially 'Get it on' and 'Lies') and Inga's voice wraps you in fanciful colored notes, some caressing others burning but all definitely delightful. When you expect to hear a guitar solo on 'Nothin' but trouble', you're offered a stunning fiddle one. 'Spit it out' changes of rhythm from mid-tempo to a faster one leading you to a debauchery of guitar notes from bluesy good ol' vintage tonalities provided by Kris to a more metal and exuberant soundscape by Jeff. A highly fun mix that works wonderfully!
Among these rock tracks, one stands out in particular: 'Creep'. The song has a special atmosphere in total accordance with the lyrics. Nasty and heavy, the band transcribes the words through the music and the different voices, like ghosts raving and screaming in a traumatized head. Crushing riffs and haunting fiddle are the background to this delirium while the obsessive slide adds a disturbing touch. 'Creep' is definitely a great track, completely mastered and a total success as far as music and emotions mixed together are concerned.
Emotions indeed. Like mentioned above Naked Beggars also give us some acoustic and slower moments. 'What's the question', 'Too late' and 'Lullaby' show the band's ability to reach a deeper level of emotions in their listeners' hearts. You might want to call it a 'power ballad', 'What's the question' is one the strongest tracks on this album. A true roller-coaster of a song that stir you, Inga has absolutely no difficulty in bringing us a vocal performance that will send shivers down your spine. Kristine's piano present throughout the song is delicate and moving while the guitars solos are simply wonderful and will remind you of these great guitar heroes of the '70s. The whole song goes crescendo and so go our emotions. Another beautiful piece of music is 'Too late' which has a southern and melancholy flavor reminiscent of Lynyrd Skynyrd with that bluesy touch, so timeless. Once again Inga delivers a strong performance alternating sweeter moments with more poweful ones. 'Lullaby' closes beautifully this second album by Naked Beggars. Acoustic song with fiddle and mandolin, 'Lullaby' could be a Led Zeppelin song! Perfectly at ease with acoustic instruments, the band has written here a little gem of nostalgia and delicacy. Guitar, mandolin and fiddle mingle effortlessly, each instrument bringing its own sonorities and nuances and Inga's voice here is warm and tender. Don't miss this one.

Once again Naked Beggars demonstrate with this second album 'Spit it out' a refreshing originality which is not encountered that often these days in such a genre as rock'n'roll. Their songs are like fireworks. All musicians have room to express their own personality and sensibility: from blues and southern rock to hard rock and acoustic stuff, the cohesion, talent and creativity of this band can not be denied. If you haven't listened to them yet, here's your chance to do so. Just check out their myspace pages http://www.myspace.com/nakedbeggars , http://www.myspace.com/officialnakedbeggars and their official website.
---