Could only be done
by masters in music
Brilliant! Absolutely Brilliant!
There is no other way of describing the latest CD from Sirenia. The album was released earlier this year but has a resounding impact and can be enjoyed after repeated listening. Mortan Veland, formerly one of the creative minds on the original line-up of Tristania, moved on and Sirenia was born. The title was taken from Greek mythology and the Sirens there-in. After what seemed like an eternity and a mini-cd to hold the fans over, Nine Destinies and a Downfall was released in February 2007 along with a new female singer, Monika Pedersen. Pedersen was originally from the band Sinphonia and was introduced in 2006.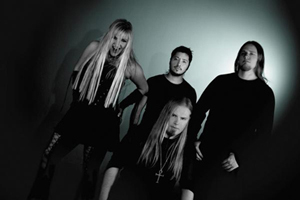 The new CD, Nine Destinies and a Downfall is slightly different to the previous albums. Pedersens vocals are used decisively throughout the pieces entirety. The growls and interplay of male and female voices are not used nor are the heavy guitars that we are accustomed to. Sundown, Seven Keys and Nine Doors and Downfall are the only 3 songs on the album that are reminiscent of anything done by Veland in the past either from Tristania or Sirena. This is another evolution in the creation that is Sirenia. Still greatly evident are the symphonics, atmospheric and just as intense but not as loud or harsh. The songs deal with human existence, emotion and mental confusion beautifully woven in melodic and sironic harmonies.
Incredibly done with such a precision that could only be done by masters in music, such is the case with this band. Veland, Petersen along with Jonathan Perez on drums and Bjornar Landa on guitars, the combination seems to work superbly! The musical abilities and attributes of the individual members seem to fit together and the outcome is a Masterpiece of Metal! . The contract with Napalm Records being complete the following was brought to life by Sirenia and Nuclear Blast
rating: 10/10
---