28.08.2002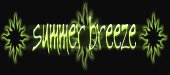 SUMMER BREEZE 2002 - II DAY 23/08 - FIRST DAY - THIRD DAY
ALL PICS BY: © Stefan W. Vogelaar - REVIEWS BY dalia "gryphon-spirit" di giacomo
I would give to this day the name "Winter Breeze day". Why? Dimmu Borgir are the key!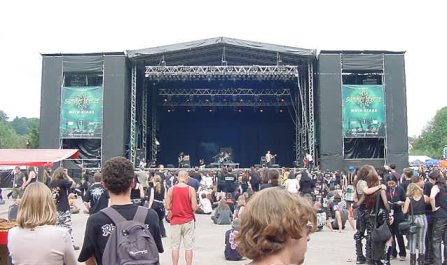 No, no, the title i've given to this second day has nothing to do with the real temperature cause weather is very good and everything seems so that today too we will get a a great time. In the meanwhile, thanks to the organizators and to Thomas Feldmann of concertnews.de , the press tent has been really better coordinated so that journalists and photographers can get a place where to rest and organize work better, where to meet artists and where to follow news and speak one another during the free moments. From the moment that today is Friday, a lot of new metalheads have come here , and the festival area is full of life, shops are working at full rhythm; beer africola, coffee and energy drinks have their moment of glory. The second day has just begun with Real:Dead:Love:, Redrum Inc, Mourning Caress, Mirror Of Deception and Dark At Dawn, who have already played in the morning and on 12:50 Charon are on the Pain Stage: let's see.
CHARON
BELPHEGOR
SOILWORK
BLOODFLOWERZ
NIGHTWISH
DIMMU BORGIR
CHARON
CD review
Methinks that Charon are rather pissed off to be identified as the "little brothers" of Sentenced, and are trying now to find their way, their style and their image. I am very happy to have the possibility to see Charon live here cause, generally spoken, its a band i like, and moreover i know their songs from the times of Sorrowburn and Tearstained. So welcome Charon, it's surely this one an opportunity that i will not lose. First of all i have to say that Charon are doing a cool gig, no mistakes, energy merged with composure, good support by audience, good voocals, heavy riffs united with melancholic dark atmospheres and catchy passages full of rhythm, ok a good gothic metal, just to classify it in a superficial way. So everything ok? 10/10? should we put them on a pedestal? Oh no, for Jaysus sake! Also because they themselves methinks are the kind of guys that put themselves on a pedestal very quickly! I might be wrong but i have the impression that Charon already think that have reached success and more. And if one can clearly see how really happy they were to play on Summer Breeze, frontman JP (Leppäluoto) seems even too much happy and pleased and seems to look with satisfactiom nore himself than the audience, or even better the more enthusiastic is the crowd , the more he smiles a little bit ironic , proud of himself. Well JB, Charon though very talented, have still a lot of work to do, you included. Second thing, it's comic to think that i preferred a lot the previous albums and that the songs of Downhearted , though valuable, are very far from Wortex and As we die, damn people think of As we die, put it on your stereo and then let's listen to Little Angel. Yes the commercial way is worthy but till when? and today of their previous so beautiful songs, no trace, only Dowhearted tracks are presented. Sigh! Too commercial and catchy! You Charon can do better. Anyway today the sound is excellent, the band is well prepared, solos are great, good bass and guitar works. But J P if you put yourself in front of a mirror, it will still tell you "no my dear Juha-Pekka, Sentenced are still better in the reign". The best moment for JP? maybe when the audience is singing the refrain of Little Angel, prooving they know the lyrics. A bravo to Pasi Sipilä, Jasse von Hast and to the perfect bass man Teemu Hautamäki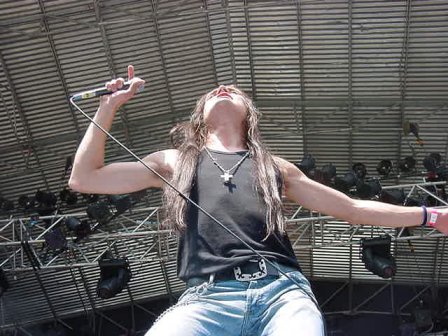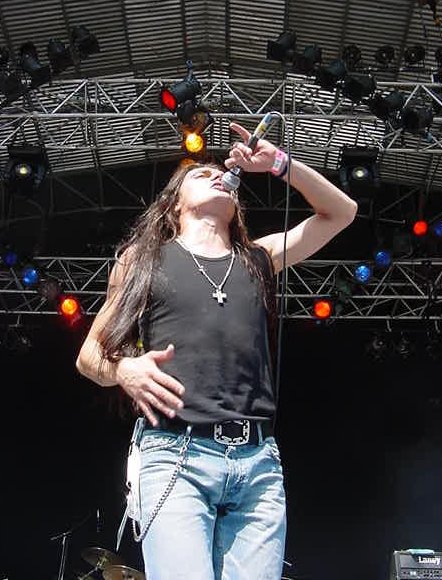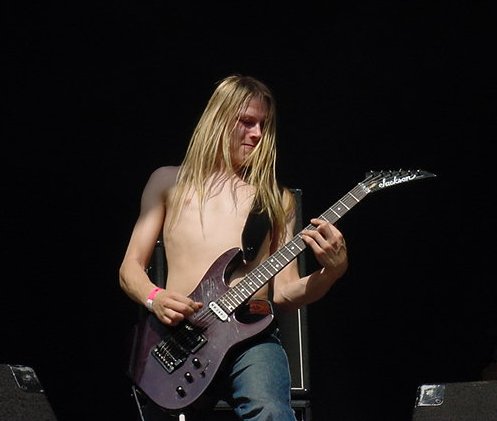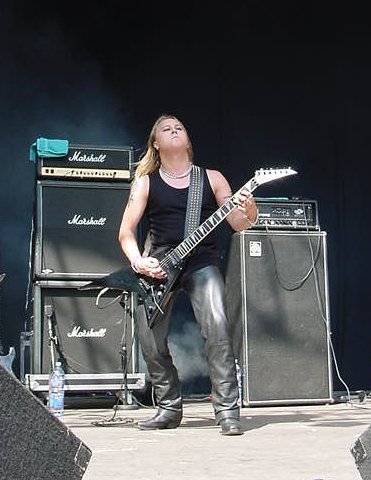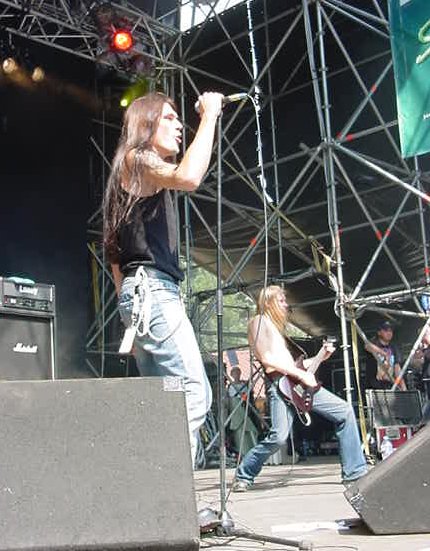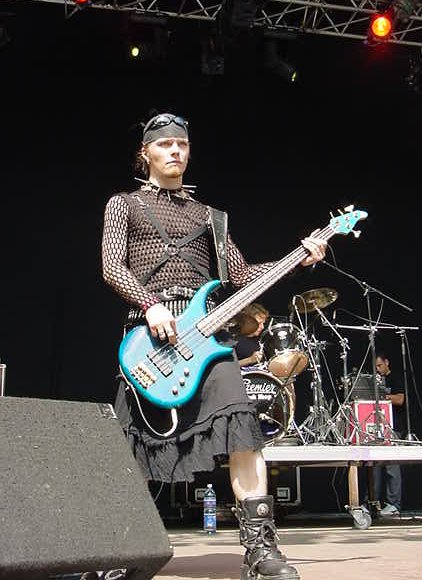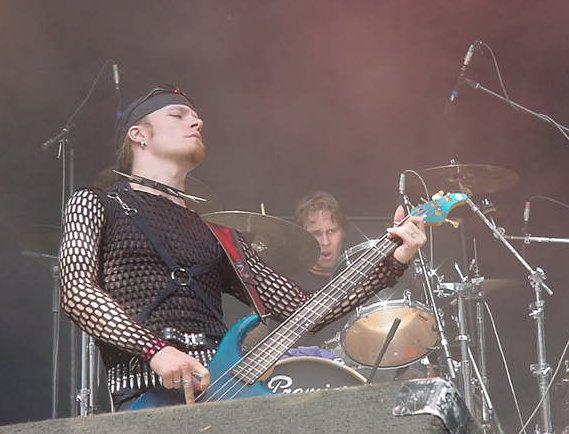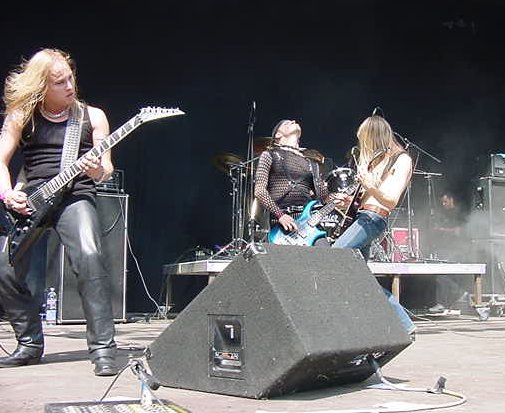 setlist:
sister misery
bitter joy
erase me
craving
little angel
desire you
come tonight
---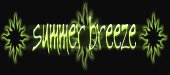 BELPHEGOR
belphegor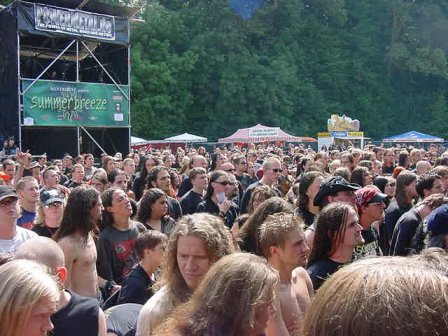 h 13:40 Belphegor are on the Pain Stage now, they should have played yesterday, on the contrary they play today instead of Thorn.Eleven. Yesterday many people were asking "oh gosh were are Belphegor?" Almost desperate. And here they are! The day after, but they play. Needless to say, all this asking about Belphegor has made me curious to see them live. Belphegor is already a cult band coming from Austria, a Black/Death troop able to gather a big crowd acclaiming them. And today we get no exception: I notice at once that their music is hypnotic, fast, brutal enough, aggressive, in one word extreme, a real headbanging joy. The crowd is enthusiastic and we have not to wait long in order to see the first crowdsurfers. I realize that with Necrodaemon Terrorsatan they have improved their style. Listen listen! sometimes they can be also melodic, with Dark Funeral influences. Impressive drums, impressive guitars, impressing sound. So impressive that also a member of the security, when he is totally sure that there are no problems from the crowd, is launching himself in a short (obviously) but perfect headbanging. Belphegor are fully convincing the Black/Death lovers, a beautiful gig.! Congrats.
"Danke Leute!" Helmuth says at the end of performance, and acclamations follow "Bel-phe-gor! Bel-phe-gor! Bel-phe-gor!" Is it blaspheme enough?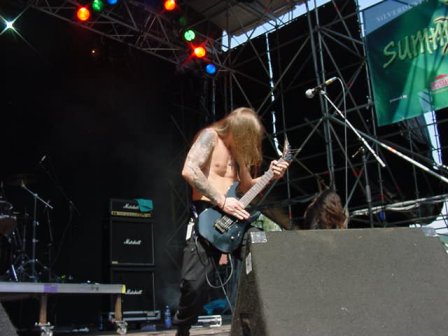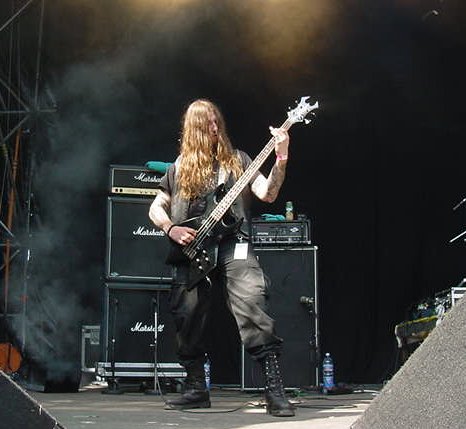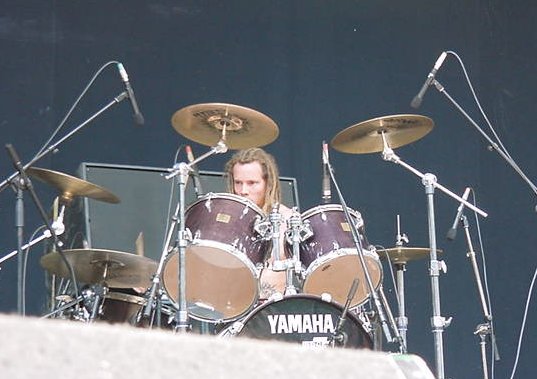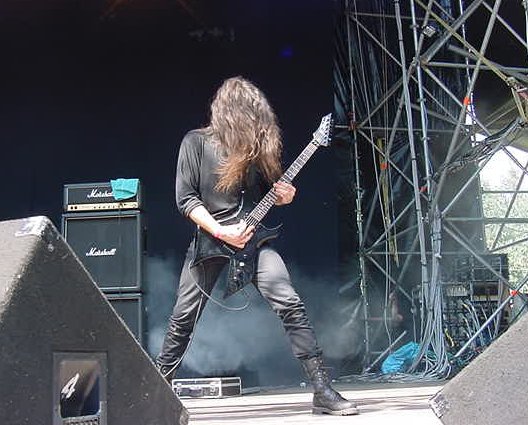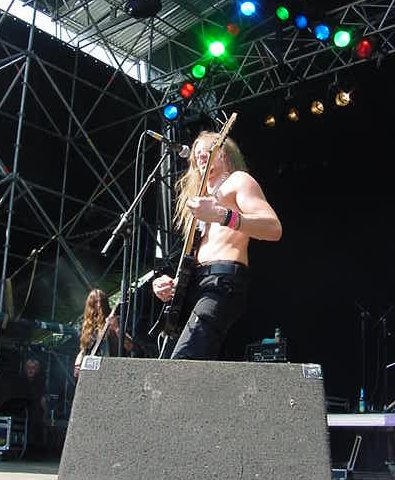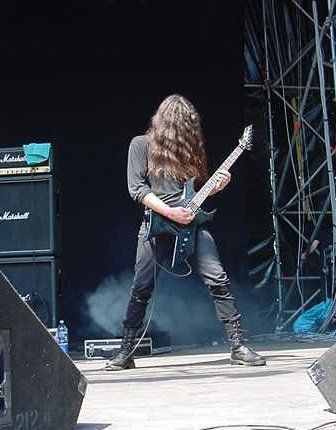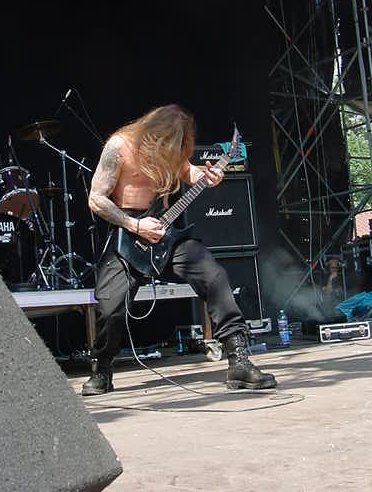 setlist:
march of the dead: intro
necrodaemon terrorsathan
intro: vomit upon the cross
diabolical possession - outro
the last supper
intro: der untergang
swarm of rats
purity through fire
---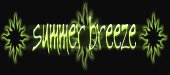 SOILWORK
soilwork

h 17:20 it's Soilwork's turn to be on the Main Stage, after that Mystic Circle have done their gig on the Pain_stage . Soilwork are awaited by a mega crowd and by a sunny hot afternoon. Many ask for more jets of water and in the meanwhile the Swedish begin to play. High quality Death/Trash notes fell like the water on our heads. Strid, wearing a bright red Ferrari shirt, is in top form, his "a little bit guttural" and aggressive voice is clear to be heard, in balance between Dark Tranquillity style and cleaner moments. Soilwork guys execute very well all tracks. The audience can enjoy the staccato riffing and the precision drums and all expectations for a cool metal concert are met. Not only tracks of "Natural Born Chaos " have found an enthusiastic reply but also those from "A predator's portrait" like "Like The Average Stalker". Soilwork are unusual but full of energy and ideas and an excellent live band, suitable for cool metal moments.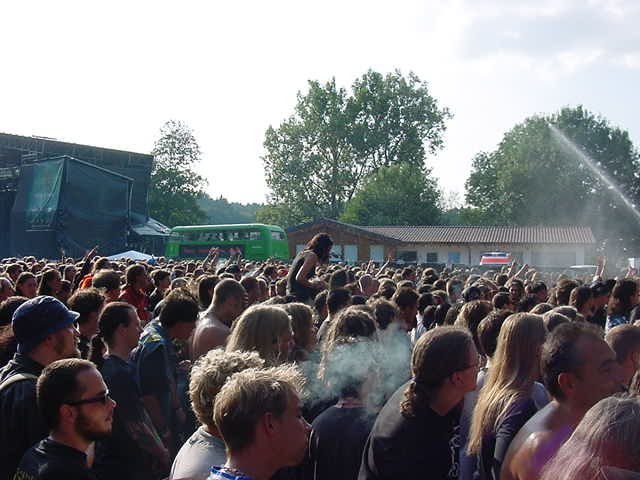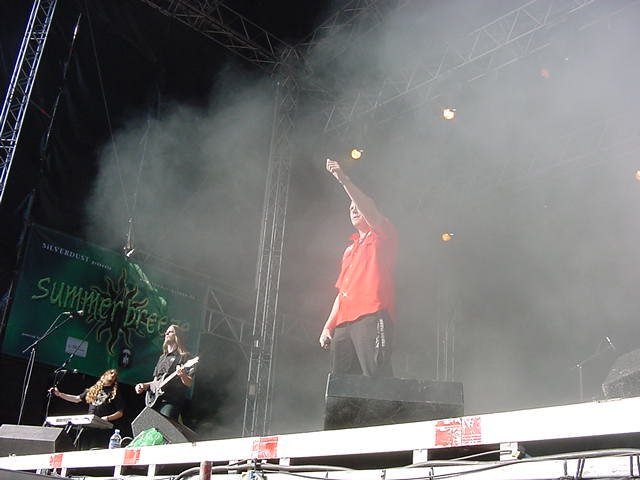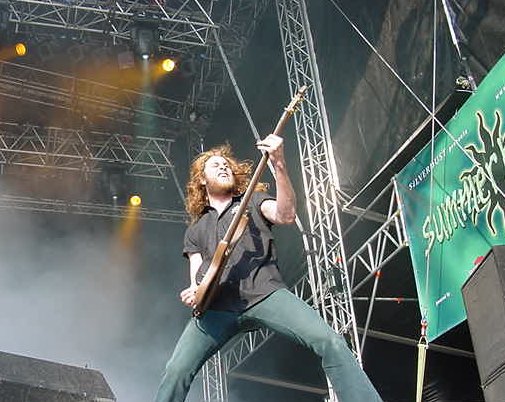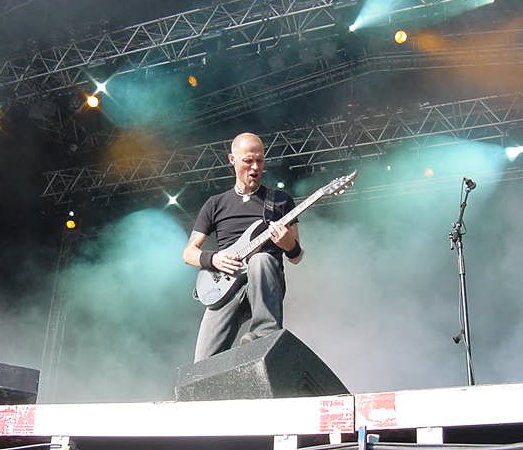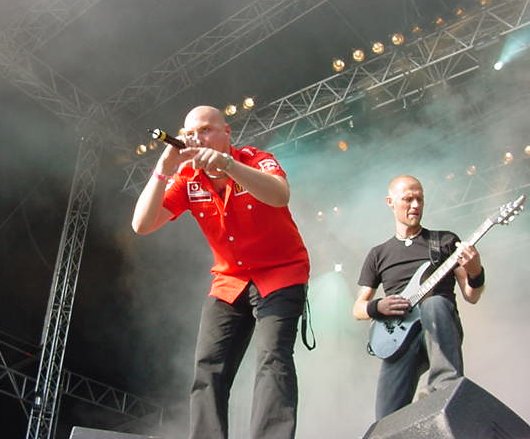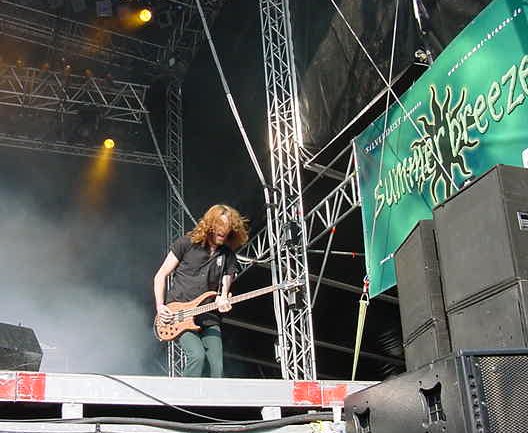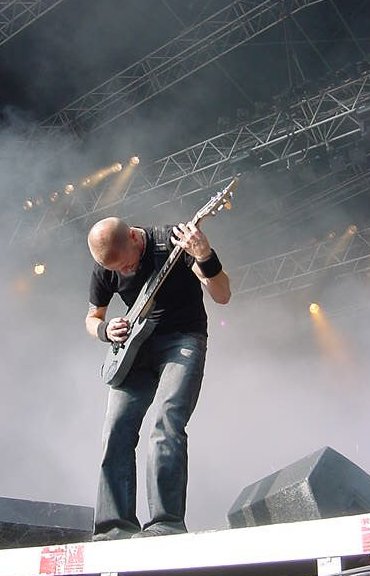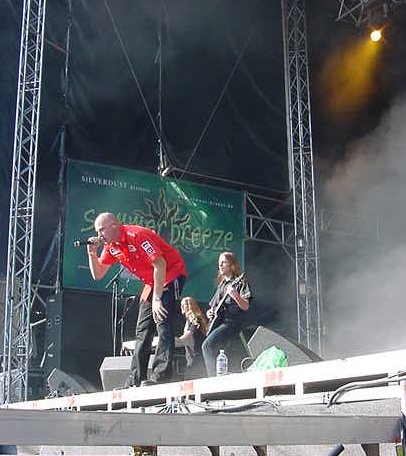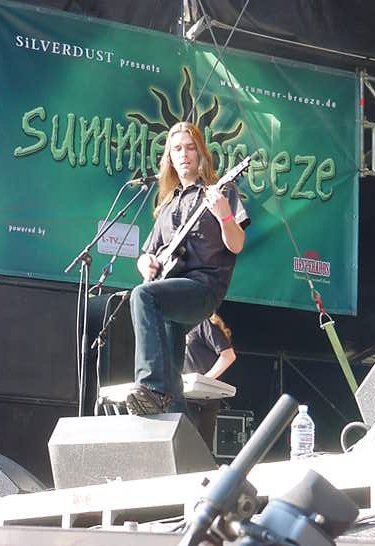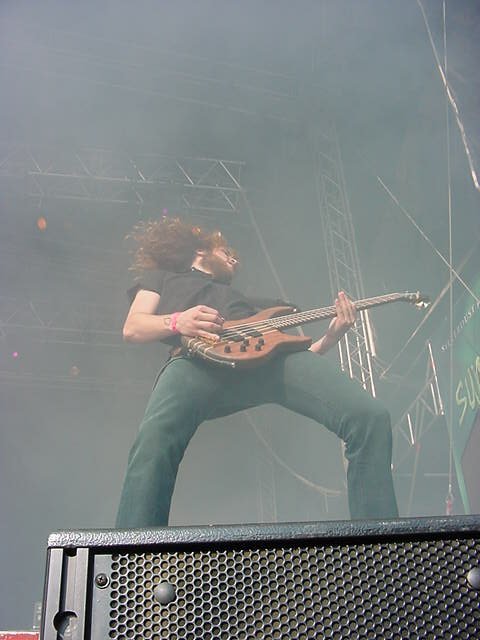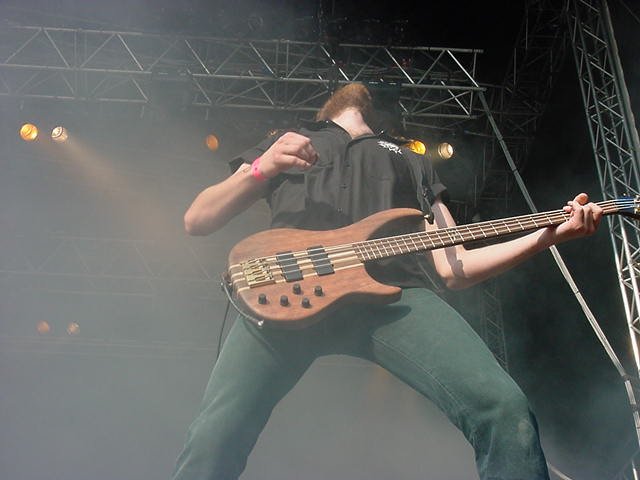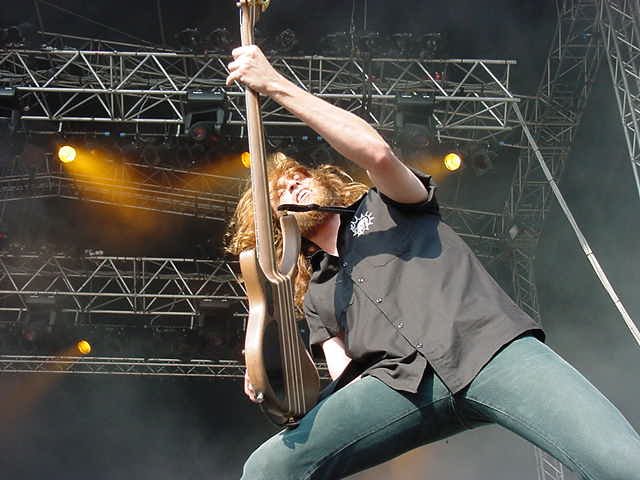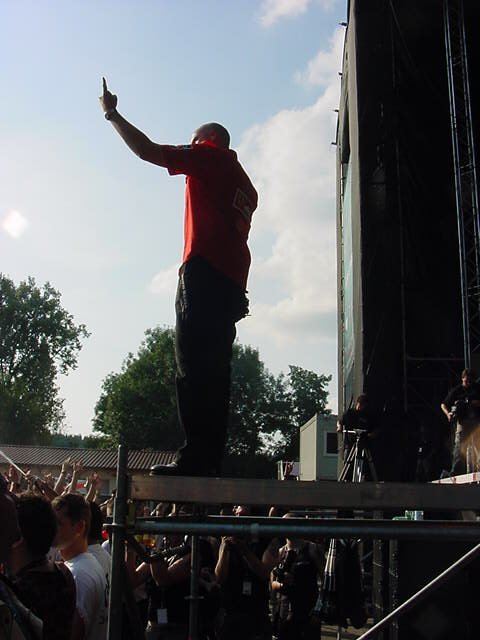 ---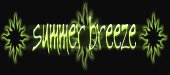 BLOODFLOWERZ
bloodflowerz

h 19:15 Bloodflowerz! Diabolic Angel is the title of the recently released first album of this young German band. And certainly the beautiful singer Kirsten Zahn wonderfully expresses this dualism intrinsic in these words: diabolic angel ! I was so interested to see Bloodflowerz ' gig after having heard some songs and in particualr the very interesting Lovesick, and after having interviewed them. My personal first impressions i 'm getting from the stage are: 1) this is a young and fresh band 2) front woman Kirsten is not only beautiful and lovely, but also very engaged and capable 3) the experience of many members of this band is out of doubt 4) songs are very goog, catchy but not too commercial and easy, expressing a kind of gothic well balanced between rock and metal, that live anyway sounds very heavy and more metallic. A good number of photographers also here in front of the Pain Stage lets understand that this band is really interesting. Loads of persons are following the gig, crowding the place. it's incredible how Kirsten can be sweet but at the same time energetic , and her voice? Well Kirsten can go from bass to high notes with easiness and her voice can sound less or more aggressive when she wants. The general look however is that of a black panther, always ready to a sudden outburst of adrenaline and power. I can say she is one of the most interesting front women of the scene surely, accompanied by a band that is working very much and giving his best with professionality and enthusiasm (very valuable for example it's the work done by bassist Joachim and drummer Tim). Among the songs proposed , a particular attention i've personally dedicated to One Second
in one second
all can change
rearrange
wake up the sleeper
and touch me deeper
to Diabolic Angel, presented saying, in German and English , that in everyone there is an angel and a devil (in uns allen steckt ein Engel und steckt ein Teufel), and to the song i prefer among all: the fantastic Lovesick , with its incredible guitars rather downtuned and its tormenting, but rather speed and energetic proceeding, catchy and a little bit nervous, fantastic bridge, simply irresistible! Nice are also Lovesick's lyrics in rhyme, so full with burning desire and melancholic feeling
moonspell
i fell
a deadly knife inside my hand
a bloody trace is drying in the sand

all starts and ends in one fateful kiss
when we once touch what we ever miss

love me to death and i love you more
take my last breath, it´s a touch to the core
love me to death and i love you more
´cause love is the reason we die for


Eh yes, methinks a star is born....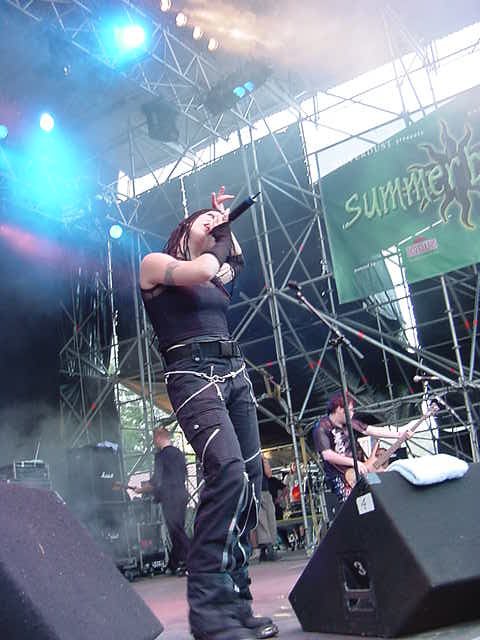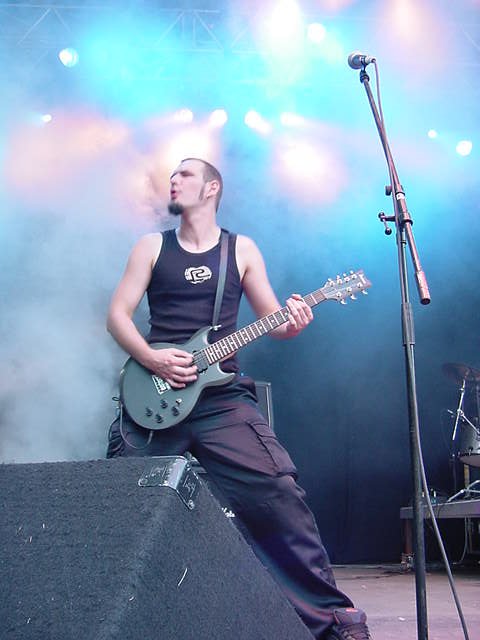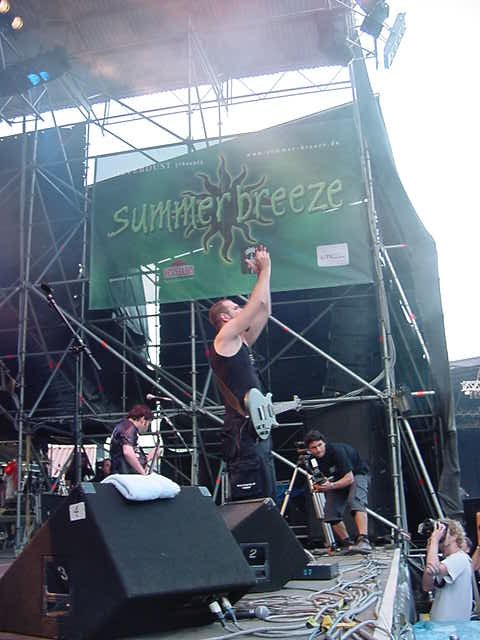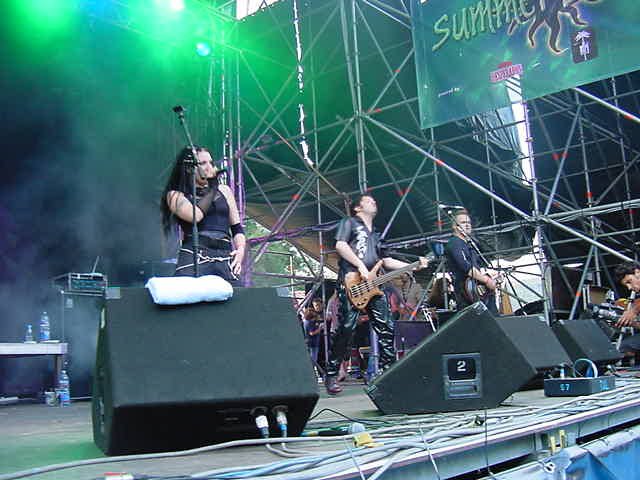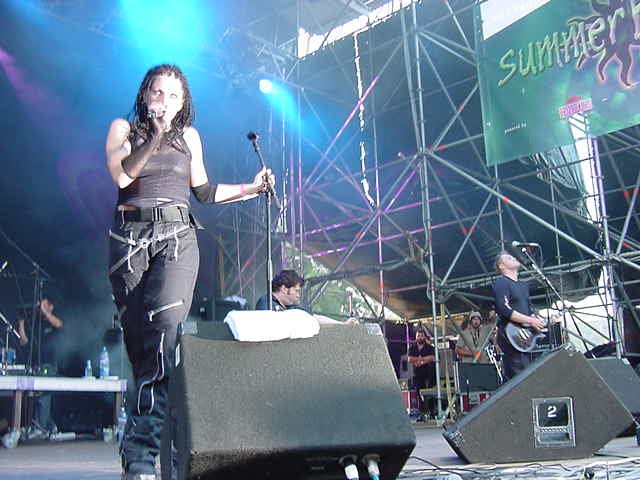 The interview with Bloodflowerz is online.
---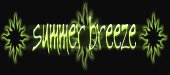 NIGHTWISH
nightwish

CD review
I am hearing Nightwish rather far from Main Stage cause i'm meeting other Weepers, and it is always a nice moment when we Paradise Lost fans spend so a great time together. We are hearing with much interest Nightwish together, and their songs are representing a little bit the music track of this moment. The stage is providing a cool sound, in order to enjoy every performance also when you are many meters away. Ok, i am not seeing the scenography that Nightwish are presenting, but in this moment i don't care very much about it, so happy i am to find these friends, and however Stefan's pictures will be able to "speak" better than me! Nightwish have opened with Bless the Child, and will finish their encore with Wishmaster. Tarja's voice is superb as always, even if it seems to me from time to time that she is a little bit tired. Music is thundering and heavy; on the whole it is a very impressive and magic performance that a huge crowd is acclaiming so much in a sweet summer evening. Class is not water! By the way water: prosit! Up with beer!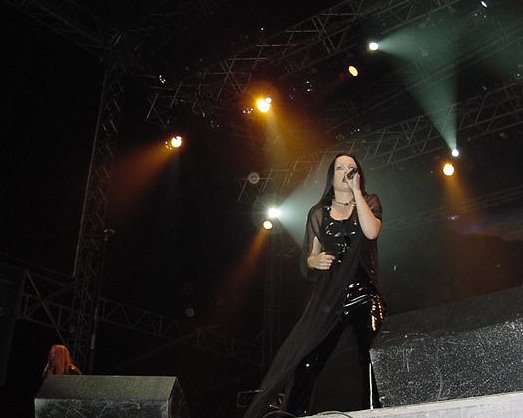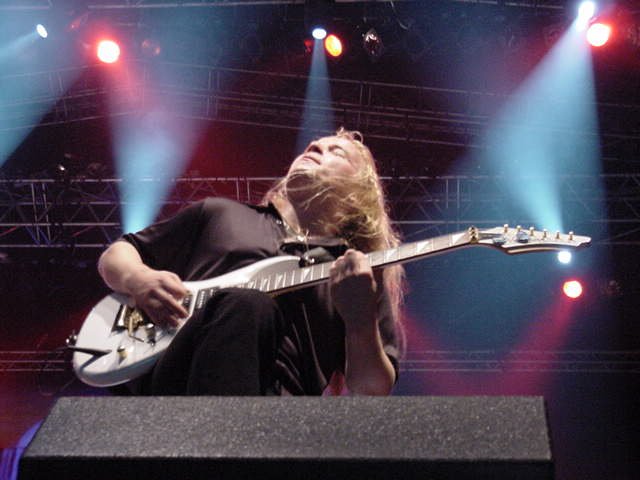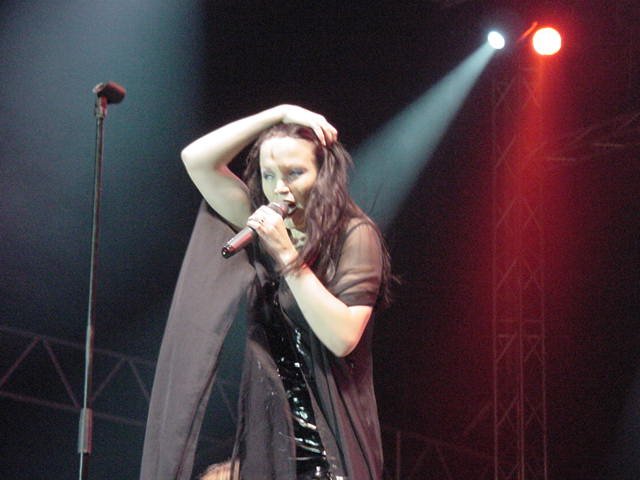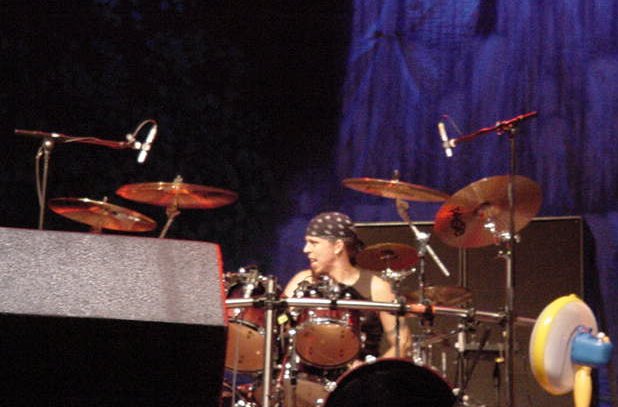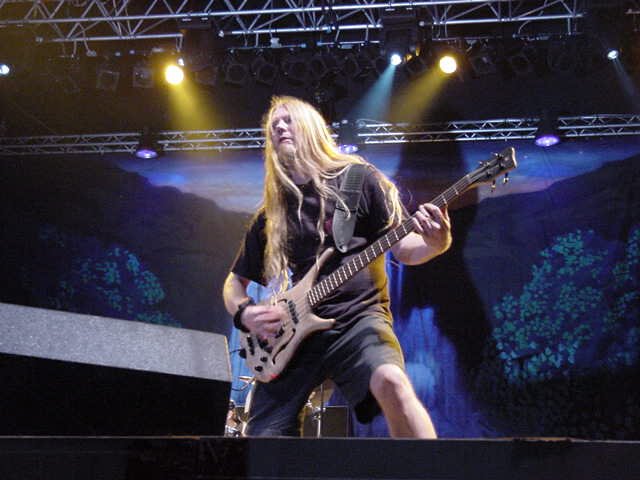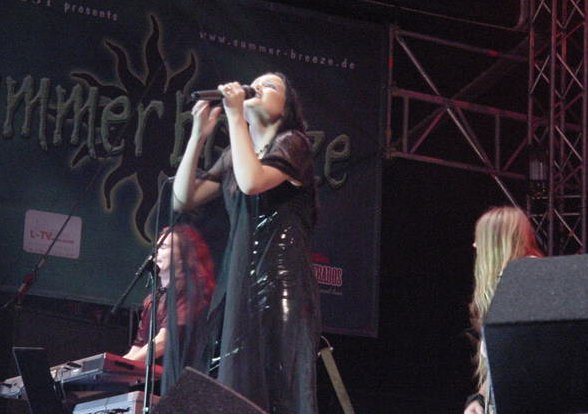 our interview with Nightwish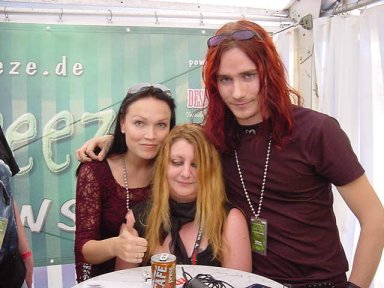 ---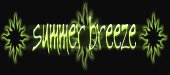 DIMMU BORGIR
dimmu borgir

Just a few words about the super stars of this evening. Acclaimed , adored, appearing on the stage in the middle of a smoke wall, after a waiting that is seeming endless. So endless that a super mega heavy young Black fan, you know one of the guys with black long hairs , spikes and so, is moaning in German , "so are Dimmu coming or "was"? (what) i am hungry!!!" . Long intro, smoke and smoke coloured in red. The infernal atmosphere is created. Finally Shagrath and his band is here . Ovation, ovation! And Shagrath is still so friendly to say to the audience with his typical voice "Hi Summer Breeze, we are happy that we can do some noise here tonight....we will change this summer breeze in..a cold WINTER BREEZE! " Here we are, the miracle of changing season is convincing everybody that this Summer Breeze is hotter than ever!! hehehehehehe. Ciao second cool "winter" day: you have been unforgettable!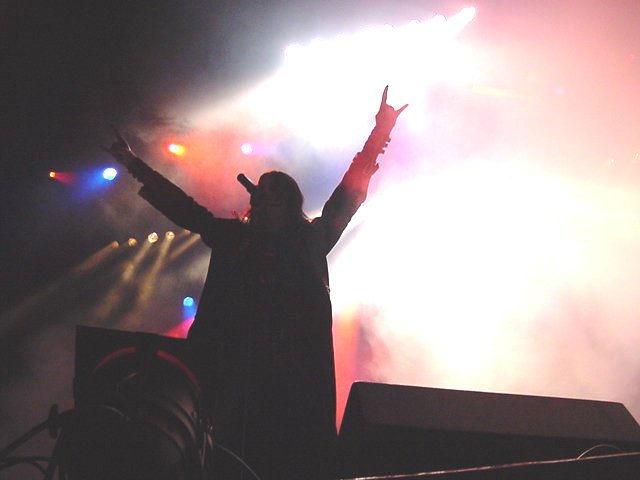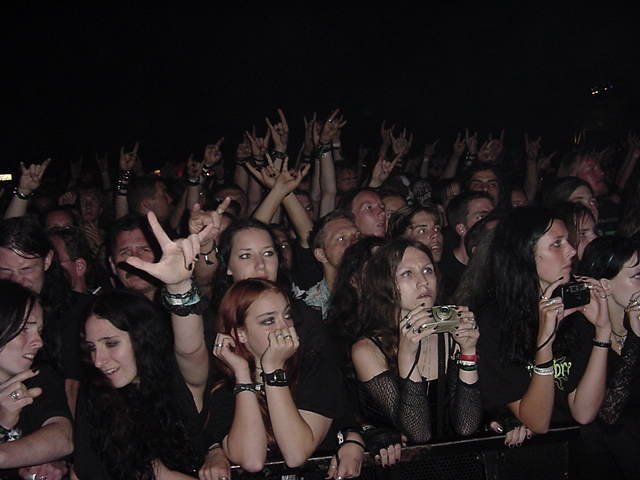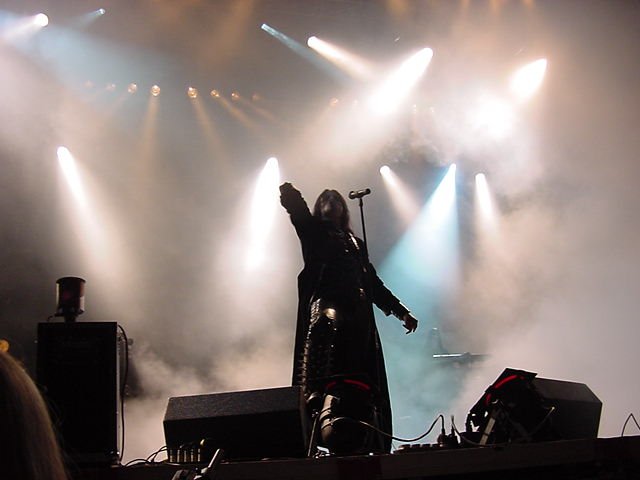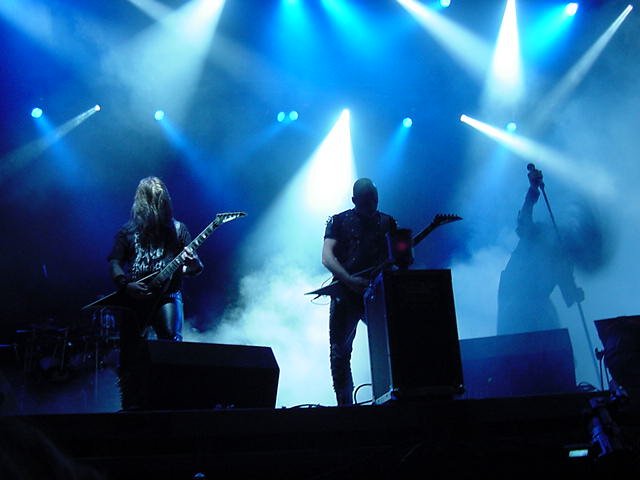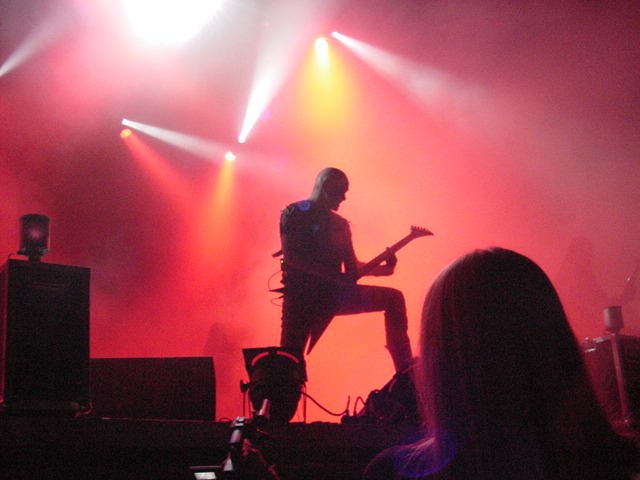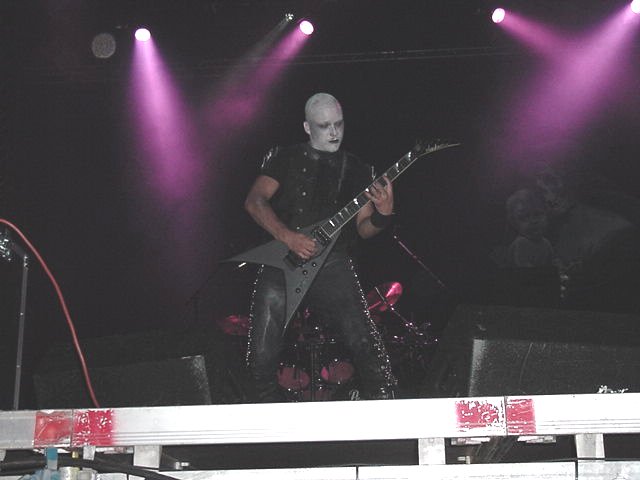 ---