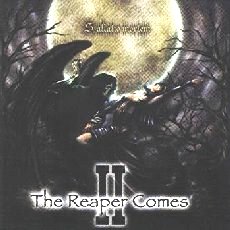 ALIEN GATES "Dark Days Quantum"
ART OF ABYSSUS "Kingdom" from Kingdom
BITTERNESS "T.H.R.A.S.H." from "Dawn of golden Blood"
COMPLEX 7 "Time - Place - Insanity" from Water
DAARGESIN Dracul
DISILLUSION "In vengeful Embrace" from Three neuron Kings
FALLEN YGGDRASIL "Crown of all Creatures" from In no Sense Innocence
JORMUNDGAND "Return of the Pentagram"
M.I.GOD "Fortress of Hate" from Bionic
METAL INQUISITOR "My Sacrifice" from The Apparition
PREDATOR "Predator"
SOLEMNITY "Reign in Hell" from Reign in Hell
VICIOUS CIRCLE "Her face in the Mirror" from Beneath a dark Sky
VORACITY "Shadow Searcher"



This is the kind of compilation i would always see on my desk and not only because of the music presented, but also because of its meaning and purpose. The Reaper Comes II gathers indeed underground or debut bands giving to them a possibility more in order to be known by a wider number of persons, presenting at the same time the newest proposals of young talented acts. And this is not the first edition, from the moment that the Reaper comes II is the successor of the previous first volume.
here one can find songs of interesting bands coming from the fresh up-to -dated scene of Switzerland, Germany and Austria. The musical style is very varied because it ranges from power and Mystic Power Metal , to Thrash , Death, Black (ALIENGATES -Melodic Death/Thrash, ART OF ABYSSUS old school Black Metal, BITTERNESS Thrash/Melodic Death, COMPLEX 7 -Power/Prog, DAARGESIN -Mystic Power Metal, DISILLUSION -Melodic Death/Thrash, FALLEN YGGDRASIL -Death, JORMUNDGAND -Death/Black, M.I. GOD -Cyberthrash, METAL INQUISITOR -Heavy Metal, PREDATOR Power Metal, SOLEMNITY True/Power, VICIOUS CIRCLE -Melodic Black, und VORACITY Thrash). Not bad , eh? And i imagine that every metalhead who is very intersted in knowing the newest musical ideas of the scene cannot miss this compilation, also owing to the fact that the production is of quality and professionality. I mean, it's not a toy, it's a very well structured CD.
Moreover the nice booklet is dedicated to a short presentation of every band, with pics, logos contacts and infos. What i like more is that every band was allowed to structure own presentation page of the booklet and that the first 966 pieces are numbered by hand. On the whole a great project and by the way all the bands who are inetrested in taking part to the already planned third compilation can write to reapercomes@web.de .
just some words more about the musical contents: well here, like already mentioned are presented bands which can be described as good established in the young german underground scene, having already published promos or real debut albums. I have seen live some of them like Bitterness and Voracity (see reviews: Tankard at Wärchhof and V Metal Forces), and the presence alone of the beautiful track T.H.R.A.S.H. from Bitterness, or the presence of Voracity and Fallen Yggdrasil should arise the attention of many.
so, dou you want to listen to this rather rare and valuable CD? ok, you can order it at reapercomes@web.de you can have it paying 6,50 Euros, included mail charges, and the first five who order the cd, with reference of this article can have it without paying mail charges, so for less than 6,50 Euros.
On the back side of the cover the organization is greeting the bands who have participated and all those who have bought the sampler. I allow myself to add my personal greetings too, to the bands, to the organization of the Reaper comes II, and to the metalheads who are really bound to the Metal scene and to good music, supporting both with so faithfully!
Stay metal!
---