Olaf Thorsen + Michele Luppi: great melodies meet power and ability
Melodic, Powerful, Majestic! 3 adjectives to describe this new VD work from which even Timo Tolkki (new producer) has much to learn, considering the latest not great Stratovarius's works. Just last year Vision Divine came out with "Stream of Consciousness" (the first album with Michele Luppi as vocalist) , but in this release many things are changed!!! One is truth...This is a period of great creativity and change for them.

The presence of Michele Luppi gives to the music another feeling and it seems to change the essence of the songs: His beautiful voice gives a magic pathos to the tracks; This new album is the begin of new era for this Italian band!!! There is always the great creativity of Olaf Thorsen, but there's also Michele's awesome touch...all it's in!!!!
Nine pearls in which the melody meets the powerful and very skillful ability of these musicians , who always show their technicality, without forgetting to deliver great melodies with a very special taste.
All songs will leave a mark and, like I said before, this album seems the perfect mix of two styles: Classic Metal and Melodic Hard Rock! It's like to say Olaf Thorsen + Michele Luppi even if I underline that VD are a true band in which every member makes a personal and great work!!! But Let's examine all the songs:
The title track ("The perfect Machine") is a powerful classic metal track with a great melody perfectly sung by Michele with a great timbre. Its refrain is very introspective , while there is nothing to say about the structure that puts in evidence very good keyboard parts perfectly mixed to solo guitars.
The second song "1st Day of a Neverending Day" is a classic metal song full of keyboards and characterized by a very good refrain. Michele is able to sing with his typical unmistakable passion. Itís easy to understand how the band don't use only speed times but prefer to shape articulated structures in order to create great pathos by not only refrains.
It's still between classic metal and melodic hard rock the following song:" The Ancestor Blood" in which the good work by chorus makes it very melodic. Michele is able to give an important mark to this album in every song, so here too, and the band can create the right rhythmic structure to put in evidence its capability, never forgetting both power and solos ...typical characteristics of this band.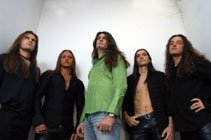 "Land of Fear" is absolutely hard rock style, reminds me of classic hard-rock...beautiful melody and great passion!!!! Of course most of you will think that there's less power metal in this release but I think that this album is the new VD era!!!! A very personal sound that takes inspiration from Power metal but finds the magic touch by Michele Luppi , a singer that is able to sing Power metal through his personal approach to all songs and also the great work made by rhythmic session.

"God is dead" is pure Power-Progressive metal!!!!! What a remarkable song!!!!Perfectly mixed with a good keyboard work and supported by a power-metal riff; Excellent chorus and great atmosphere. Vision Divine are able to create the song by the structure; The rhythmic session seems to create the form , then the melody is the essence, with the add of virtuosities in every song.
"Rising Sun" is another pure Melodic Hard-Rock song; deep and full of energy in which all instruments create a pleasant harmony.
It's now the moment of the slow song: "Here in 6048" ...a ballad ...a great ballad in which Michele shows how to sing a slow song!!!! And the melody is ready to remain in your head for long time!!!! The song is characterized by a melancholic atmosphere and of course I can't but notice the great arrangement in which the piano creates that typical mood that reminds me of those unforgettable power-metal ballad typical of many bands.

"The River" is the less original song of this album. An already known riff supported by a foreseen refrain. Good solos and good rhythmic, but the song is (in my opinion) not so good.
But, for me, the best song is just the last of this album "Now that you've gone" ; a dark atmosphere that goes to hard-rock and to Power-metal. This is the example of what Vision Divine are nowadays. The very good production makes this album a great masterpiece, and if you think that it just comes out after just one year from the previous one ...
Without a shadow of doubt this band has realized a brilliant work for all those who like Melodic Metal.
This is the the new beginning of this band....Olaf Thorsen and Co. are back!!!!!!!