review by dalia "gryphon_spirit" di giacomo____
---
A very mighty and varied Melodic Death -Thrash from Germany, full of heaviness , guitar melodies and with a touch of Doom and Black. Brilliant bass sound, excellent drums and "evil" biting vocals, for a band who is more and more dark oriented and in a phase of evolution.
Bitterness is a German band that is now well known in the German -Swiss scene, and is a very engaged one: a band that really believes in Metal , unmistakable mark of the best underground acts whose passion and flame for music is still genuine and without compromises. In only 3 years they have delivered 3 full length demo-CD's, played many significative concerts with Names like Harmony Dies (see Metal Forces V), Belphegor, Tankard, Necronomicon and Adorned Brood, and taken part in many compilations like Legacy sampler August 2000 - The Reaper Comes I and II . The Reaper Comes has lead them in tour among Switzerland , Germany and Belgium and finally, if you consider the next dates you will find that soon they will play with Purgatory. All this what does it mean? It means that they are very appreciated by the German metalheads that in puncto Death and Thrash and, in general, extreme Metal , dom't admit mediocrity. Bitterness are a mighty band reecently made stronger by the addition of the new guitarist Alex Hinterberger. Started as Bitterness on the ashes of the previous Thrash combo Steel tormentor, drummer Andreas Kiechle and mastermind, vocalist and guitarist Frank Urschler ,found in Sebastian Jehle their ideal bass player. They have recorded demo and played live as a very energetic and massive trio. And now that have a guitarist more, they are literally thundering with their usual great cohesion . Through the album Sweet Suicide Solution , released this year, they show an amazing evolution also in the strictly specific musical field.
Already the previous CD Dawn of Golden Blood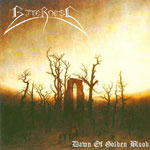 (year 2002 - Gate of Dimensions- Sentenced to live - Escalation of Emotions - Intermezzo - Hate - THRASH - Dawn of golden Blood) was a valuable work , in full Thrash-Death style with songs that will always remain a coat of arms for the band, i mean for example T.H.R.A.S.H., Sentenced to live and Hate; Already mighty but raw and very direct, this CD rocked much with some groovy tones already present at the time (Escalation of Emotions). Sentenced to live was even particularly catchy with an uptempo rocking scheme which faded into thrashy ace riffings with a tremolo technique. With the wonderful Melodic Death song Dawn of golden Blood (imo a masterpiece)- where melodious guitars began to shine- a gate was opened on a dark sometimes even Doom Black-ish turning point, announcing the new characteristics, while the energetic and pushing T.H.R.A.S.H. soon became the symbol of the band, being (fortunately) not immune from groovy elements though the feelings towards the 80's was very strong (some passages and vocal techniques reminded me of Metal Thrashing Mad from the glorious Fistful of Metal by Anthrax)
So this new Sweet Suicide Solution is deeper as far as it concerns sound , less raw but still extremely heavy, clearly dark oriented. Their determination is more complete, more varied , with a more refined technique in playing . Their Thrash is united and mixed with Melodic Death, and so much that the classical old -school elements from the 80's flow towards a more modern and varied vision of Death: result is that they present songs which appear modern and highly enjoyable. In this album we can find furious riffings and hammering attacks, but also guitar melodic arpeggios, relentless rhythms alternated with dark groovy slower passages: indeed there is much darkness, like also the elegant booklet in black and white with obscure themes makes us understand. The points of strength of this band are a powerful and elastic drumming , a mighty bass sound, just consider that Sebastian Jehle masters a 6-string- bass, and a still merciless attitude . The charismatic Frank Urschler (looking a bit like Jesus Christ if i may say) delivers improved vocals with can be very flexible, and always agreeable but above all evil and biting ! Like mentioned before drums are a weapon of this act: they are indeed dynamic, flexible, relentless like a Thrash Death band must have, but they are not square and rough, they are more Black -shaped: pulsing and pushing and crashing in the Black direction, in particular the double bass attacks are pushing and fast but with a soft crepitant touch.
Track number 3 Eve of Destruction .is one of my fav songs cause the various extreme influences are brilliantly melt together letting wide space to the melodies. It begins with a romantic guitar arpeggio but soon we are catapulted in a well composed furious attack in which we can find even some Black elements: from the almost screaming vocals, to some tremolo riffings. Thrashy is the catchy refrain, while Melodic Death passages bind the various moments together. Guitars mantain their raw attitude , biting and cutting with a certain capacity of delivering distorted sounds. And are indeed again distorted and hypnotic notes that open Embrace the Depression, that anyway immediately shows his fast Thrash face, alternated with slower passages, and very good as well is the end with the same modern melodic and hypnotic chords which contrast with the crunchy hyperfast bass drums . Bitterness deliver also an only instrumental track Beyond a subconscious World, almost in acoustic style: a sad theme in which melodic arpeggios are the protagonists. One can recognize the typical raw style of the strings which anyway can offer a good melodious technique, with a good extension of scales. The gentle digression ends when the hard evocation begins again with the fast and overwhelming intro of Portal of haunting Dreams, which gives anyway a couple of windows for superheavy doomy slower bridges.
The title-track Sweet Suicide Solution is mighty and fast, pure evil-ish , tremolo-like and haunting in full Black style, embeddede in a Melodic Death frame . And this song is very significative , cause make you think that Bitterness are on the way to let the old-school Thrash influences behind, in order to evolve towards darker horizons. Question which ones?. I personally can only be really content of this evolution, but the question becomes pressing after you listen to Chain of Command : here we sound hyperdark , bass, uptempo but even with Doom Death insertions , with brachial low growlings , and only some short occasional screaming. Thing confirmed by Troops of Doom that closes the album.
Suicide Sweet Solution is able to be also a moment of maturity , with more refined techniques, and a little "opus" in itself. Though the sound is not so bombastic, like certain well expensive productions are able to create, the studio has done anyway great work, moreover lyrics are interesting though not particularly difficult: immediate and clear. No chorus or synths dazzle us: simply cause what Bitterness do , they do it still with the force of strings drums and their muscles. And all this MUST be considered. Finally Sweet Suicide Solutions show a band in a brilliant evolution towards darker tones . But which ones will be the fellow "companion- in- Death" in Bitterness' vision? this is the big uncertainty and doubt: Black or Doom? Like in all albums of transition we see here various experimentations, all faced by Bitterness in a successful way: we only need now the definitive identity. Fact is that i presume that Thrash will be left behind and will be present in future only as a background echo .
"i wear a mask every time
nobody knows what lies behind
my inner self is cut in two
nobody knows the hell i'm through"