Carrying on the Italian dark new wave.
Welcome back to Dperd! The Sicilian band comes back, after two years, with another good example of dark-wave in 80's style album that puts in evidence the passion of these artists for a genre that will never die….
The passion for bands like The Cure, Lycia, Cranes is in every notes they play…and also the arrangements reflects this sound.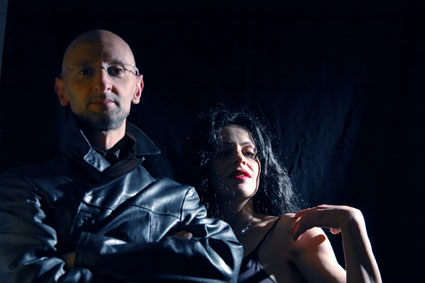 The songs gets personality both through the Italian language that gives poetry to the music…and also through the great attitude to use in a great way a so difficult language….
"Don't Forget The Mobile" begins the album and it's an instrumental track , that is followed by the hypnotic "Non Mi Tradire Mai" sung by the sad Valeria's vocal…..good dark-wave song!
One of my favourite song is "Ho Paura, Sai" that is pure emotional dark music with a sung that seems to be near to Italian pop music…a perfectly succeed mix that show ability also for what that concerns the lyrics…
This album shows me a great surprise …."Amo l'Inverno" is a duet between Valeria and Carlo, into a very dark song…well arranged into the typical mood, that is a mark for the Dperd song….

Without a shadow of doubt, the best songs are " Travel Song" and "Cold Song" …the first one is a pure emotional song in which dark, ambient, and poetry are perfectly mixed….Valeria makes vocalizes in a great way giving a great emotional mood to the song…
The magic formula is repeated also in "Cold Song" that is another suite full of intensity…that could be the intense music for a dark melancholic soundtrack….nothing to add…..

Just a couple of not great ideas for this new release, in particular the repetitive mood of "Ogni volta" and also for what concerns "In giorni lontani".


On the whole the cd always keeps high standard of quality…

The final song is a bonus track in which Carlo' sung gets a punk arrangement that reminds of Sex pistols…a sort of experiment that the band undertakes also to give a sort of surprise for all listeners.

The album is characterized by the typical Dperd arrangement….the production is not great, but on the whole it is almost sufficient…

Dperd…a cult band that confirms to carry on the Italian dark new wave.

rating: 8/10
---