This winter will never end.
It's arrived!!! Like a cold touch of this end of winter, our Sicilian band comes back with the awaited new full length that seems to give us the sensation that this winter will never end…
Carlo & Valeria realize a cd that in my opinion is a very personal way to play dark….
It can be defined a kind of melancholic pop mixed to dark sensations, and, if the Italian language could be a limitation, it gives a touch of poetry and depth….
The important news is that Dperd (with this cd) are under My Kingdom Music contract….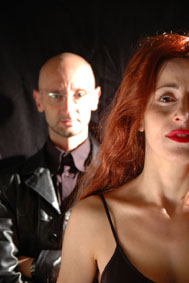 The band comes from Enna…a city often immersed in the fog….and their music seems to describe a day into the fog…
I don't want to make comparisons with others bands… this album is pure dark sensations…from the first to the last song…and it's impossible not to underline the title track that begins with a church pipe organ that sounds a very sad atmosphere in which Valeria sings a very melancholic lyric…or "Piango" that seems to touch the hidden side of your soul through a structure's song born for that lyric….
Carlo is great to give emphasis to every note; a glimmer of hope appears in the latest track "Stropicciala" that gives also romantic visions…
In this cd I want still underline "Ali" a special song with a special dedication for a dead girl…an untypical song concerning the sound…It's nearer to a kind of 80's dark synth-pop ….great!!! A very deep lyric into a cold and sad atmosphere made by crying notes of guitar arpeggio and keyboards….There's also a remake of a Ennio Morricone song revisited into dark key!!!
The cd is also closed by a remix made by Nen.t.e….
The production is fair and, concerning arrangement, I notice a moderate use of loops. Just a couple of not great ideas into a couple of songs...but this music comes from the obscure side of Sicily where the fog makes everything full with melancholia….
rating: 8,5/10
---