Labyrinth has evolved their approach to the music in a sensational way…
The new Labyrinth album is considered by me like the album of consecration!!!!
This is the sixth cd for this band and the title of the cd, "6 days to nowhere", seems to be a perfect one to describe the travel of this band…a Travel that began in 1991…
First of all the band has changed label, and the new one is Scarlet Records; Another important aspect to underline is that the album has been mastered at "Abbey Road": the historical studio in London!!!
It's wrong to say that this band plays the classic power-metal band…Nowadays Labyrinth can be considered like a band able to create good music…great songs with a personal style that gets inspirations from the lyrics and the sensations, and in my opinion the band is mature to become one of those famous ones in the world.
The songs are made around the chorus , the melodies…The technique is used only to give more depth to music…It can't be different if we consider that the band gets one of the best singers of the world metal scene.…
In this album there are traces of nu goth metal Lacuna Coil style together with Dimmu Borgir influences, and also great rock solos…all parts mixed with awesome skill…
I say…the wait is over….Please enter in the fantastic world of this album…..
"Crossroads " opens the album with a great power…A song characterized by a great refrain…the typical power mixed to the sensitiveness of the chords that gives a touch of passion in which Roberto can't but give the perfect approach with all his determination; Very great work made by the rhythmic session…
The next is "There is a way" and I can't but admit how the band is great to give emphasis to get inspiration from the great work made by drums…An involving groove that starts the song, but the evolution of it is full of surprises...the band shows how to create a great melody into an easy arrangement full of technique and taste!
"Lost" is Dalia's favorite song…I want to underline it, because she's very expert in all music, and has immediately understood the great capability of this band to join the taste for the melody to something that can remind even shadows of Dimmu Borgir; Only one word…ORIGINAL!!!! I want still underline the great skill to insert many parts, also acoustic guitars…and great suspended parts!!! It' easy to find the "theatre of music" in this song in which the atmosphere created belongs to the new Labyrinth era!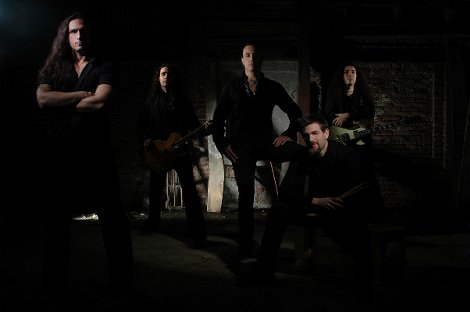 There's still to appreciate the taste for arrangement…Great song the next "Mother earth" in which Roberto creates a great involving refrain full of pathos into a super elaborated mid-tempo song concerning arrangement, in which there's also space for a 70's style guitar solos, great keyboards and in general the ability to mix all with an unmistakable style!

They're great also when there's a not elaborated song….It's the case of "Waiting tomorrow" in which Roberto is still the protagonist of a great and unforgettable melody!

Pier Gonella confirms his ability and in my opinion he's the perfect guitar for this band nowadays…He's able to make great solos delivering different approaches in according with the soul of the song played.

They surprised me when decide to make the Beatles cover "Come together"…If this is a way to wonder the listeners, it can't but be a good way…

In my opinion the less inspired song concerning melody is "Just one day" in which the refrain is not at the top, even if the band confirms the ability to compose great rhythmic parts.

The song that (in the begin) can remind me of the previous album is "What???" but there's an incredible refrain in this song, in which the angelic chorus is mixed into an emotional instrumental part ….It's amazing!!!!

"Coldness" is a touch of sweetness….Lacuna Coil , Evanescence...and Labyrinth…yes…this song can't but remind of pure gothic rock but with the unmistakable Labyrinth style!!! A melody and an arrangement that could have been a single for the already mentioned bands. GREAT!!!
"Rusty Nails" is the evolution of modern metal without electronic parts !!!Great power song characterized by a modern metal riff, an involving and sad refrain and some suspended acoustic parts mixed to power alternative instrumental moments….

The same style for the next "Out of control" in which Roberto gives emphasis to a good guitar riff….The refrain is another unmistakable one….

"Wolves'n' lambs" is pure modern metal characterized by many sensations expressed by the changes of time….The melody is not at the top, but this song re-discovers that typical wildness of metal!!!

But, for me, the jewel of this album is the ballad "Smoke and dreams" . Every time I listen to it I discover all the particulars of a great ballad;

Roberto releases an awesome interpretation into a great melody full of pathos and sweetness…Acoustic parts are perfectly mixed to great power moments….and there's space also for a great Pier's solo guitar….

To not forget the past, the album is closed by one famous song of the past, "Piece of time", re-mastered, in which Roberto reminds us how he's good to give a very sensational interpretation!

Please don't listen to this album thinking to find the typical power-metal band….Labyrinth has evolved their approach to the music in a sensational way…

rating: 10/10