Very far from HIM-clone bands.
It's just a great come back!!! I'm very proud to let you know that Joanne &C. come back with an album full of feelings after the just fair "Anorectic".
The album sounds very "rock" …when rock means not a general style…but just Negative-style rock…an album that even if is full of influences gives to Negative an evident importance for what it represents…
Karma Killer represents the perfect mixture between the melody of 80's rock'n roll and a touch of sadness typical of the Finnish rock bands…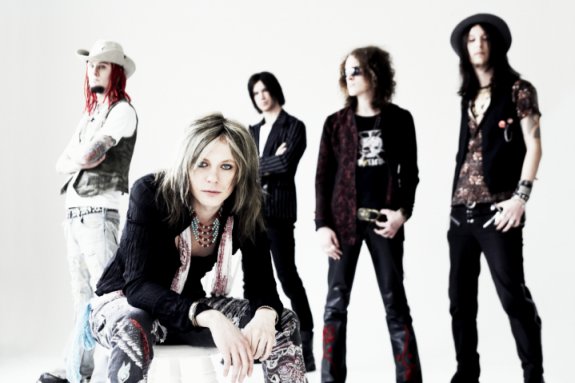 Negative is very far from Him-clone bands and it's impossible no to be impressed by a song like "An Ornament" that can't but remind the best White Lion songs…A mid-tempo track that is full of passion thanks a sensational refrain that is "an ornament" to the best 80's melody with the usual Negative touch…
The single "Won't let go" is a good song that gets an agreeable refrain in which Joanne shows good vocal lines and it's perfect for the first presentation of this album…but the album can offer more and more….
Karma Killer has very great killer-songs like "Dead as we" that gets another great refrain in which the decaying mood is perfectly mixed with 80's hard rock.
One of my favourite song is "Giving up!"…what a killer song!!! There's much creativity in this song in which the groove is built by a perfect rhythmic session and a great melody sung in a fantastic way by Joanne…
I can say that everything seems ok in this album, but if you want to find something that is not at the top I can mention "Anna Simona" that doesn't get an unforgettable refrain even if gets the usual great arrangement…
Ok...let's rock with the power of "Lust n'Needs" that gets another great mood in which Larry find a great riff supported by a perfect rhythmic session…
I don't want to forget the classic love metal song "Sealed" in which Joanne releases a sensational performance…into a great dreaming song…
About arrangements and production I can say that the band gets about the top…A sound that gives value to every song…
After the fair but not sensational "Anorectic", Negative comes back with a diamond. Without doubts if you like this style…you're welcome in the Negative world…with love and damned passion…
rating: 9,5/10