Just a matter of when...
"What the hell, every body ends up dead, just a matter of when"

Last man standing


Sonically multilayered, eruptive, totemic, "Prevail" surprises us also concerning a more modern set of the guitar sound, with moments of appealing distortion and short but intense lead solos (see guest musicians too). Always wonderfully faithful to their style and their unmistakable rhythmic (already immortalized in songs like As I slither), Kataklysm reach a good fusion among the intense feelings of "In the Arms of Devastation", the strength of "Serenity in Fire" and the fresh richness of "Shadows & Dust", mainly underlining however the explosion of hardness and brutality. Important is that these veterans find again that sparkling enthusiasm towards a new genesis of strength suitable to the current decade of the new century. Evergreen yet dramatic, warriors Kataklysm teach what it means to dwell in fire today. As Death lingers is one of the most innovative tracks if we consider how fully urban and modernistic is the impact of its echoes. As mentioned, in this album there is a great stratified sound- work and an extensive maturity in Maurizio's low pitched vocals ( for me still the best voice in Metal, followed by the Swiss Darkmoon) whose grave tones shred but open however the door to the comprehensibility of the lyrics which deserve once more sharp attention, cause we can attribute to them more than one significance (for example consider the lyrics of the very beautiful songs "Blood in Heaven" and "Vultures are watching"). Screams are , as usual, developed as rough evil shrieks, which find less or more place,depending from the songs, and that triumph finally in duet especially in As Death lingers and in The Vultures are watching. The proficiency in tremolos and perfect blast beats is BM oriented; moreover, this time, a certain Old Metallica influence, that surfaced in "In the Arms of Devastation", is here highly smothered privileging typical Melodic Death Metal patterns, tainted with just few Thrash or BM paces.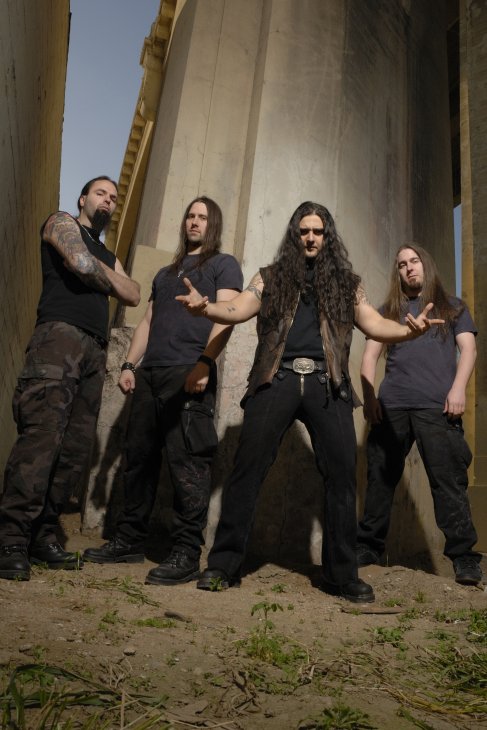 Pity that this ninth full length hides one "minus", otherwise it would be -The Perfect Death Metal Expression-. There is the presence of 3 tracks that may act as mosh- arousing- beasts but that are, in my opinion, lacking in that great ability to compose, trademark of the band. These songs are: To the Throne of Sorrow, Breathe to dominate, Tear down the Kingdom. They occupy the middle/ final part of the album , breaking a bit the rapturous atmosphere built till now. In spite of some good passages or some valid tempo changes, all in all they don't provide any wooooow effect, because their ultimate preoccupation seems the one to appear brutal, ferocious and /or pounding just for the aim to be so, reaching the only goal to be repetitive, even boring. I thought i could save To the Throne of Sorrow for its drumming technique (especially in the intro) and for some harmonic slow down, but, at the end of story, i can spare this fatigue. Actually, the second one of this group, Breathe to dominate, could have become an excellent killer if the composition would have been richer in inspiration, if some better passages would have been included in the crushing rhythmic: the opportunity to create something truly monstrously majestic is lost here.
Gaudium magnum: now let's speak about the jewels through which Kataklym bless us once more and eternally. The first part of the album is extremely compact and soaked with that typical "kataklysmic" talent, able to mix jetsnof brutality with a brilliant harmonic composition, full of movement and superior inspiration in the wake of "Shadows & Dust" or "In the Arms of Devastation". Fortunately also the last 2 tracks are genius, in particular that giant named The Vultures are watching. In order of sequence, is with pleasure that i confess my whole feelings of satisfaction towards the opener Prevail, an intelligent mosh- unleasher that deserve to animate pits and hearts, armored with an incredible riff and a shredding crashing slow down. Or towards Taking the world by Storm that delivers optimal string sonorities (and i mean bass too) with oppressive menace and a good solo. Fantastic its intro with As i slither memories who morph into something ravenously new. The Chains of Power is apocalyptic fear, with pyroclastic bombs who deadly run after you. Guitars and drums express a team- work of first class. In As Death lingers the obscure modern psychosis explodes. At last, let's honor two masterpieces who deserve the crown of tremendous shredding Music : sorrow and terrible rage resound in Blood in Heaven ,while The Vultures are watching appear unexpected, stunning, at the right moment, at the right place, with the right chords. Blood in Heaven and The Vultures are
watching are unforgettable. The good instrumentation and melody of The last Effort (Renaissance II) close an album that could have been megaperfect, signed also by very skilful guest- musicians and by a lively attentive production.
What the hell, every Death Metal maniac ends up Kataklysm fan, just a matter of when...
rating: 9,5/10
---